Windermere High School Senior Ryan Athay Receives 2021 Miracle Network Dance Marathon Distinguished Leadership Award
From the thousands of graduating seniors who have participated in Miracle Network Dance Marathon at the approximately 400 colleges, universities, and high schools across the U.S. and Canada, 27 students were selected to receive the 2021 Miracle Network Dance Marathon Distinguished Leadership Award for making an exceptional impact within their Dance Marathon program, on their individual campus, and for their local Children's Miracle Network Hospital. To see all of this year's recipients, click here.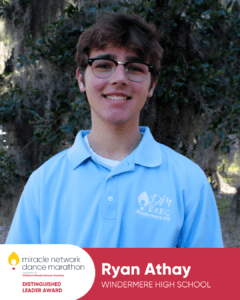 Hometown: Windermere, FL
Degree(s): High School Diploma, Associate of Arts
Dance Marathon Involvement: 
Dancer
Event Director (two years)
Assistant Director
Executive Director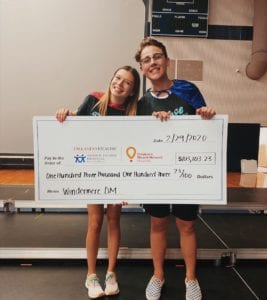 Campus/Community Involvement: 
Class president, church youth group
Seminary class president
Member of Student Government
Member of National Honors Society
Member of National Science Honors Society
Member of Pre-med club
Various leadership roles in Boy Scouts of America, including Senior Patrol Leader and Quarter Master
Awards/Recognition:  
Post-Graduation Plans:
Ryan plans on attending a 4-year undergraduate program on the Pre-Med route. Once he has completed his undergraduate degree, he has a goal to attend a top-tier medical school where he can pursue a career in Pediatric Surgery.
Did Dance Marathon have an impact on your college decision?
"Following High School graduation, I plan to attend the University of Florida in Gainesville. Dance Marathon had a very large impact on where I wanted to attend college. The University of Florida in particular makes such an impact on the community around them and it was an impact that I deeply desire to be a part of. When I attend UF, I hope to immediately get involved with the program and advance to serving on the Executive Board by my senior year."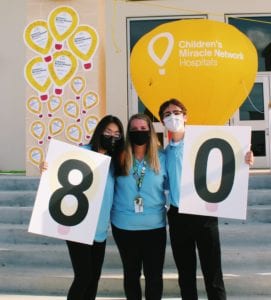 What is your proudest accomplishment from your involvement in Dance Marathon?
"It might be surprising that the proudest moment from my involvement with Dance Marathon is not when we were 12th in the nation for the highest fundraising K-12 program. It's not even the time when we raised over $100,000 as a third-year program. Without a doubt, my proudest moment would be the Circle of Hope ceremony at our 2020 Dance Marathon.
Our 2020 Dance Marathon event offered unique challenges that we as an Executive Board had to overcome. Throughout the year, we had not received administration support which made it difficult to engage our student body. Notable above all, our main event had to be rescheduled with less than a week's notice due to a championship basketball game. I still remember the feeling of defeat upon discovering this news. I wondered how we could be disregarded time and time again especially with such a pressing cause. Discouraged yet motivated, we moved our main event back a day.
We feared nobody would attend our event due to the last-minute changes. As all 200+ participants linked arms in the circle, it was a testament to me that we had accomplished our goal. We had fulfilled the entire meaning of Dance Marathon. We united as one generation fighting for the next—an experience I will never forget."
How has Dance Marathon impacted you as a student leader? What specific skills have you developed during your involvement?
"I have served in many leadership roles throughout high school. Dance Marathon has impacted me the most and helped shape me into the leader I am today. Serving in several roles of leadership within Dance Marathon has taught me how to adapt to circumstances and learn how to complete my duties. As Event Director, I learned how important it is to ensure a feeling of belonging. Whether that be introducing myself to strangers or meeting with sponsors, it has shown me how to immerse myself into a role and step out of my comfort zone.
Furthermore, my time serving as Executive Director has taught me how to work with people. From this role, I've learned to guide and facilitate while still allowing the group to make decisions. I've learned how to address conflict in a caring yet effective way. In the past, I have found it difficult to confront problems directly which has resulted in an unhealthy outcome. Through my experiences serving as Director, I've discovered how to address issues professionally resulting in mutual understanding. Above all, I've learned the essence of communication. Whether the communication is done on a large or small scale, each party must be well informed to ensure effective planning and execution."
Why do you, personally, participate in Dance Marathon?
"When I was 5 years old, I was diagnosed with Rheumatoid Arthritis. At that age, I did not quite comprehend what my diagnosis meant. All I knew was that I would be spending quite some time in hospitals and doctors' offices and less time playing 4-square at recess. Despite the challenges that my condition brought, I always remembered how taken care of I felt when I had to be at the hospital. All while undergoing procedure after procedure, I never really felt like I had been robbed of my childhood. This is all thanks to the amazing child-life specialists that helped me when I was in the hospital.
When I would go in for various procedures, I would notice that there were other kids there that were less fortunate than me. They had to stay at the hospital for extended periods unlike me. Nonetheless, I know that no matter the condition, each child deserves a childhood.
I am why I participate in Dance Marathon. When I am standing for hours on end, I think back to my time in the hospital. I think back to those that were less fortunate than I was. One day there will be no medical illness, sickness, or pain. Until that day, I will fight. I will fight for kids like me that deserve a shot at a happy, healthy youth."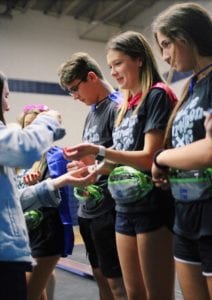 Why should students get involved with Miracle Network Dance Marathon on their campus?
"Getting involved with Dance Marathon on my campus has helped me tremendously in more ways than one. Ideally, everyone would be involved because they are drawn to the cause, however, that is not always the case. When I advertise Dance Marathon to peers who have never participated before, I mention what a useful tool it is for networking. It is a remarkable platform for engaging a large and diverse group of students working towards a common goal. As students get further involved, they understand their impact which then draws them to the cause. In other words, students should get involved for superficial reasons and by doing so, they will find their reason for fundraising."
Why should people donate to their local Children's Miracle Network Hospitals?
"Moreover, students should fundraise for their local Children's Miracle Network Hospital because it gives these kids a fighting chance at a normal childhood. Every child deserves to experience the basics such as attending school, playing with friends, and spending time with family. When this is threatened, it is our responsibility to make such a change for the better. We must ensure that no child or family fights pediatric injury and sickness alone."
---
Miracle Network Dance Marathon is an international movement, involving over 400 colleges, universities and K-12 schools across North America that fundraise for their local Children's Miracle Network Hospitals. These students work tirelessly throughout the year to raise funds one dollar at a time by making the ask to family and friends. Their hard work culminates in a 6-40 hour celebration on their campus, where participants have the opportunity to rally together as a community for their local Children's Miracle Network Hospital. Students involved in Dance Marathon gain valuable skills in fundraising, peer management, delegation and philanthropy. Miracle Network Dance Marathon programs have collectively raised more than $300 million since 1991.
Learn more about Miracle Network Dance Marathon: