The Ohio State University Senior Ishan Patel Receives 2021 Miracle Network Dance Marathon Distinguished Leadership Award
From the thousands of graduating seniors who have participated in Miracle Network Dance Marathon at the approximately 400 colleges, universities, and high schools across the U.S. and Canada, 27 students were selected to receive the 2021 Miracle Network Dance Marathon Distinguished Leadership Award for making an exceptional impact within their Dance Marathon program, on their individual campus, and for their local Children's Miracle Network Hospital. To see all of this year's recipients, click here.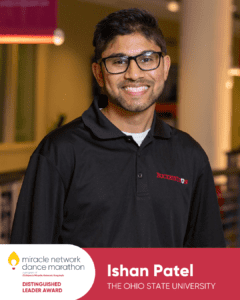 Hometown: Powell, Ohio
Degree: Bachelor of Science (Major: Physics; Minor: English)
Dance Marathon Involvement:  
BuckeyeThon High School Mentor
Executive Vice President
President
Campus/Community Involvement:  
Department of Chemistry at The Ohio State University, Student Research Assistant
Riverside Methodist Hospital, Volunteer
Buckeye Leadership Fellows, 2021 Fellow
 Awards/Recognition:  
Smith Senior Award, Department of Physics
Outstanding Senior Leadership Award, Office of Student Life
2020 Royal Buckeye, The Ohio State University
Smith Sophomore Award, Department of Physics
New Member of the Year, BuckeyeThon
Outstanding First-Year Leadership Award, Office of Student Life
Post-Graduation Plans: 
After graduation, Ishan plans to go to medical school and work towards an MD/MBA dual degree. He plans to take a gap year to fully immerse himself in clinical and research experiences. "Although the road ahead is long, I do hope to specialize in pediatrics, and being involved in Dance Marathon has definitely played a huge role in that. Seeing the impact we have on kids through BuckeyeThon means so much to me, and I hope to have that same impact as a future physician one day. I also want to utilize the leadership skills I have gained through Dance Marathon to obtain my MBA, and affect healthcare systems and policies at a larger level, in addition to impacting patients every day." 
What is your proudest accomplishment from your involvement in Dance Marathon? 
"I would have to say my proudest accomplishment is leading our team through this past year with the uncertainties of COVID-19. After our Dance Marathon in February, our team only had 2 weeks to lead in person before we were sent home for the year. We didn't know what the rest of the year was going to look like, and there was no blueprint at all for what we could do. However, our team was able to pull things together, stay proactive, deal with crises calmly, and eventually have an incredibly impactful year. From adding new leadership roles to creating the BuckeyeThon Day of Play in partnership with Extra Life to hosting our first ever virtual Dance Marathon, our team persevered through these obstacles and eventually ended up leaving a huge impact on our hospital. Even after moving our Dance Marathon to November, and having two Dance Marathons in one calendar year, we raised over $600,000 at our November event, bringing our 2020 total up to $2 million. Although it wasn't the year I expected, I am so proud to look back at our year and reflect on the incredible efforts of our team in achieving some incredible milestones, while outlasting these unfamiliar obstacles."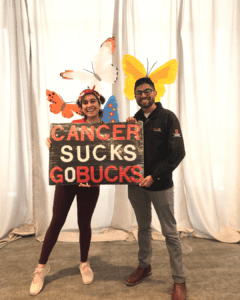 How has Dance Marathon impacted you as a student leader? What specific skills have you developed during your involvement?
"Dance Marathon has been the defining experience of my undergraduate career, and has shaped the way I live and lead. It has helped me recognize the power that people have when they come together, and in turn, has helped me value and form more meaningful relationships with those around me. Dance Marathon has taught me that every single effort you do for something counts, no matter how big or small. Throughout my time in Dance Marathon, I've learned so much about people. I've learned what makes others tick, how to move them, and how to be a servant leader that guides teams through highs and lows. I've learned how to manage my schedule better, and find time to be invested in a cause that means a lot to me. I've also learned how to navigate crisis and discomfort, especially through the COVID-19 pandemic when nobody had any of the answers."  
Why do you, personally, participate in Dance Marathon?
"I joined Dance Marathon as a high school student, as my high school fundraised in support of Nationwide Children's Hospital through BuckeyeThon. I initially joined because I saw the power that BuckeyeThon had in bringing people together, and I knew I wanted to be a part of a special movement that had this ability to impact students and impact kids. When I joined, I found exactly that; I found a community of students that were driven, and wildly passionate about an important cause. I found a way to give back and serve the community around me. Lastly, I also found a family and community through Dance Marathon, that gave me some of my most cherished memories and experiences. Although it was still so important to be fighting for children that I may never get the chance to meet, my why changed when one of my close friends was diagnosed with lymphoma in their second year of college. They were treated at Nationwide Children's Hospital on the same floor that BuckeyeThon raises funds for, and this was a moment where Dance Marathon became extremely personal for me. It wasn't just about raising money for kids we would never meet, it was about fighting for our own friends and family, and the threat of cancer as a whole. This reignited my passion for Dance Marathon, and will continue to fuel my desire to stay involved as an alumnus."
Why should students get involved with Miracle Network Dance Marathon on their campus?
"Dance Marathon is such a unique organization in its ability to bring people together for a common cause, while building community amongst those individuals. There truly is no other organization that allows students to have an opportunity to give back to their community, while providing them the friendships and memories that they will cherish forever. While you do have to put in the work for Dance Marathon, you certainly get so much out of it as well. Dance Marathon cultivates leaders, and is creating the next generation of changemakers through the work it allows students to be a part of. The opportunity to lead and be a part of nonprofit organizations through Dance Marathon is incredibly unique, and something that cannot be replicated anywhere else. The beauty of it all is that it comes together all across the nation, and allows students to be united in their passion for causes that are greater than themselves."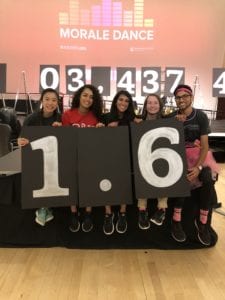 Why should people donate to their local Children's Miracle Network Hospitals?
"Hearing about the lifesaving care that Nationwide Children's Hospital is able to provide with the funds that we raise has transformed my perspective on fundraising for local CMN Hospitals. The funds that are raised are so critical to providing innovative treatments now, but also preventative care in the future. From funding research, to providing mental health support, to even investing in educational opportunities that will leave an impact, CMN Hospitals do incredible things with the funds they are provided, to impact patients and their families as much as possible. The process of admitting and treating your child at a hospital can be a difficult experience for many families. However, CMN hospitals continue to find new ways to support both the patient and their families during these trying times, and those mechanisms for support need the financial backing to make them possible."
---
Miracle Network Dance Marathon is an international movement, involving over 400 colleges, universities and K-12 schools across North America that fundraise for their local Children's Miracle Network Hospitals. These students work tirelessly throughout the year to raise funds one dollar at a time by making the ask to family and friends. Their hard work culminates in a 6-40 hour celebration on their campus, where participants have the opportunity to rally together as a community for their local Children's Miracle Network Hospital. Students involved in Dance Marathon gain valuable skills in fundraising, peer management, delegation and philanthropy. Miracle Network Dance Marathon programs have collectively raised more than $300 million since 1991. 
Learn more about Miracle Network Dance Marathon: 
Facebook – Instagram – Website – Blog – YouTube