All You Need to Know About the Dance Marathon DonorDrive Fundraising App!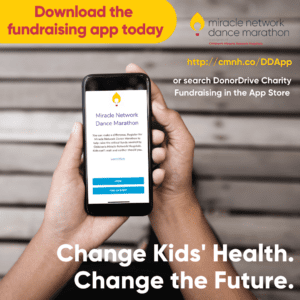 Children's Miracle Network Hospitals and Miracle Network Dance Marathon announce that the first-ever Dance Marathon DonorDrive mobile app is available now for iOS and Android users! Watch the full announcement and see features in action here.
Since launching, the app has served as a great fundraising resources for users:
6079 app users 
App users raise an average of $282.90 – which is $185 higher than non-app users!
We know that you want to make a difference in your community and have a massive impact on Children's Miracle Network Hospitals. We also recognize you have a lot going on and need accessible tools and resources to fundraise for local kids, wherever, whenever. When Louisiana State University brought the winning idea for a mobile app to Hackathon 2020, the Miracle Network Dance Marathon team committed to explore, research, and potentially pilot bringing that idea to life.
The app is live and can serve as your one-stop-shop that does it all! With a simple interface that mirrors the user-experience you know and love on DonorDrive, as well as improved technology and increased capabilities such as QR code creation and a newsfeed with updates from your Dance Marathon program and CMN Hospitals, we believe that through the app, you will raise more money for your local CMN Hospital, continuing to change kids' health and change the future!
Find resources to promote the app including QR codes for easy download, social media graphics, screen recordings previewing features of the app, and a 60 second video (conveniently sized for Instagram) to share the news with your community! From this resources page, head to Student Leaders > Fundraising and Finance > Fundraising app.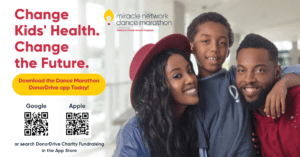 We made a "one link" for the Donor Drive app. It works for both iOs and Android- if you open it on your mobile device, it automatically takes you to either the Apple App Store or the Google Play Store to download the app – check it out here! http://cmnh.co/DDApp
Visit the Apple App Store or Google Play Store now or search "DonorDrive Charity Fundraising" to find and download the app today.
We know that kids can't wait and neither should you. Download the app today so you can continue raising the critical funds needed by Children's Miracle Network Hospitals.
---
Stay up to date on all Miracle Network Dance Marathon events, info, and fundraising resources by visiting DanceMarathon.com and by following on Facebook, Instagram, YouTube and TikTok.