University of Florida Senior Claire Overholt Receives 2021 Miracle Network Dance Marathon Distinguished Leadership Award
From the thousands of graduating seniors who have participated in Miracle Network Dance Marathon at the approximately 400 colleges and universities and high schools across the U.S. and Canada, 27 students were selected to receive the 2021 Miracle Network Dance Marathon Distinguished Leadership Award for making an exceptional impact within their Dance Marathon program, on their individual campus, and for their local Children's Miracle Network Hospital. To see all of this year's recipients, click here.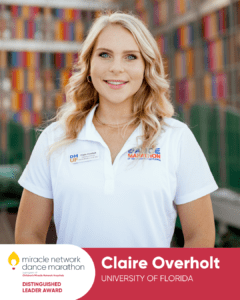 Hometown: Tallahassee, FL
Degree: Microbiology and Cell Science
Dance Marathon Involvement:

Executive Director (2020-2021)
Dancer Relations Overall Director (2019-2020)
Dancer Relations Captain (2017-2019)
Campus/Community Involvement: 
Research Assistant for the Center for Addiction Research and Education with the UF College of Medicine
Teaching Assistant for Introduction to Psychology
Raiser for Southeastern Guide Dogs (provides seeing-eye dogs and service dogs to those in need)
Awards/Recognition: 
UF Presidential Service Award
Post-Graduation Plans:
After graduation, Claire will be pursuing a medical degree inspired by the education and experiences she gained during her time as an undergraduate. Beginning this summer, she has a full-time position working with Dermatology Associates of Tallahassee as a Medical Assistant. During this time, she will also be completing her medical school applications. Thanks to her involvement with Dance Marathon, supporting UF Health Shands Children's Hospital, she seeks to serve those affected by childhood illness as a pediatric physician. Through this organization, she has seen the immense impact that a pediatric physician can have on the lives of not just the children they treat but also on their families and communities.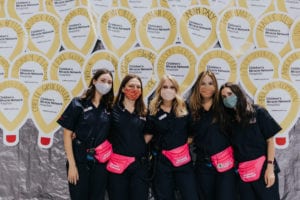 What is your proudest accomplishment from your involvement in Dance Marathon?
"My past two years serving on the Overall Team for Dance Marathon at UF have looked nothing like I imagined. I imagined the years full of smiles, hugs, and crowds but instead have been met with masks and Zoom screens. Despite the changes and challenges that have come with the COVID-19 pandemic, I've never been prouder to be the leader of this generation of UF students fighting for a brighter future for countless children. In the face of adversity, I've seen the members of DM at UF unite together whether that was for our first-ever virtual event or for our upcoming hybrid event. I faced a lot of uncertainty coming into this year about what it would look like, how long we would be facing the challenges of this pandemic, and how that would impact the future of Dance Marathon at UF. Having the opportunity to lead DM at UF through one of its most unpredictable years has been a privilege and shaped me into the leader I am now. One of my proudest accomplishments has been hosting our annual fall fundraising push, Transform Today. Our members were able to gather safely in person for the first time this year and together we raised $578,874.31 for UF Health Shands Children's Hospital.  This event required months of preparation to ensure safety requirements were met, plan engagement for our participants, and create our fundraising programming. Transform Today's success proved that, despite everything, together we are an unstoppable force of students determined to make miracles for every child at our local Children's Miracle Network Hospital."
How has Dance Marathon impacted you as a student leader? What specific skills have you developed during your involvement?
"I have gained many leadership skills as a result of my experiences with Dance Marathon. One of the most important is understanding the true value of communication and cooperation, which allows a team to be successful. I've seen this foster creativity and capitalize on each members' unique strong suits. In these settings, I've learned that I excel at problem-solving, quick thinking, and relationship building. These skills will help me as I pursue a career in medicine when working with other health care professionals and treating my patients. Another skill that I've learned through my experiences with Dance Marathon is how to be flexible and adaptable. Due to the COVID-19 pandemic, most aspects of Dance Marathon had to be altered or rethought from the ground up. For example, when planning any of our in-person events I would need to analyze different locations, capacities, or activities than we've used in past years. I also had to coach my team on using virtual elements to our full advantage. These challenges affected the way that we approached fundraising. Due to the virtual aspect of the year and safety policies, many people expressed feeling disconnected from the cause and the organization. This reflected in our fundraising at different points over the year.  To remedy this, we focused more on shorter, cause-connected fundraising campaigns and alternative engagement opportunities to foster connection among our community. In many cases, thinking outside of the box has allowed us to find novel solutions using untapped resources. Learning how to adapt efficiently has allowed me to lead my peers through unprecedented times and approach issues using a solution-focused mindset."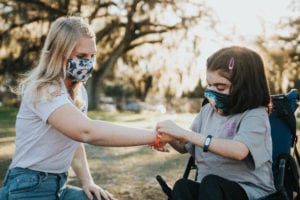 Why do you, personally, participate in Dance Marathon?
"I began my journey with Dance Marathon my senior year of high school. A friend told me about this 'crazy thing where college students stand for over 24 hours' for their local Children's Miracle Network hospital and immediately I knew I wanted to be a part of it. We reached out to FSU and partnered with them to put on our first Mini-Marathon. As this year went on, I became immersed in this movement and could always recenter myself on it when things were challenging. Coming to the University of Florida, I knew this was something I would continue to be involved with. I was so lucky to be chosen as a Dancer Relations Captain my freshman year. Despite being the only freshman on the team, they welcomed me with open arms quickly becoming my family at UF. This sense of community is what sets Dance Marathon apart from any other organization. It's this bond between people in Dance Marathon that drew me into the cause and shaped my entire life. During my sophomore year of college my older sister passed away unexpectedly and I felt the greatest support from people I met through Dance Marathon. This period in my life was so dark yet being a part of something bigger than myself along with countless inspiring individuals brought me hope. I could still feel so much joy knowing that I was making an impact on so many lives, not just the children we fight for in the hospital but also on the people fighting alongside me."
Why should students get involved with Miracle Network Dance Marathon on their campus?
"Every student should get involved with Miracle Network Dance Marathon on their campus if presented with the opportunity. During your years in college there are a million organizations to be involved with, but what sets Dance Marathon apart from each of them is the people you meet. These people band together behind a cause that is so much bigger than any one person. They are the most passionate and caring individuals who will dedicate hours of their time to help a child who they will never meet. During college, this gave me not only a community but a sense of purpose. It is an incredible feeling to know that you are a part of a movement that brings hope to hundreds of thousands of people, even in the face of adversity. Being able to give hope to countless children and families who face insurmountable challenges is unique to Dance Marathon and something that I will cherish being a part of forever."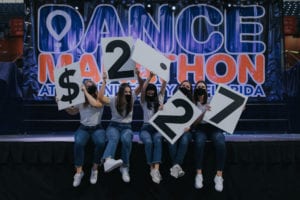 Why should people donate to their local Children's Miracle Network Hospitals?
"Fundraising for your local Children's Miracle Network hospital goes so much further than just your donation. Every dollar translates to a smile, a laugh, or a shred of hope on a tough day. The children and families impacted by CMN hospitals are facing endless unknowns and difficult futures but through each donation, they have one more person uniting behind them. During my time involved with Dance Marathon, my 8-year-old neighbor suddenly became very ill and was rushed to UF Health Shands Children's Hospital two days before Christmas. Her condition rapidly declined over the next week and shortly after she went on the heart transplant list. Brynn's condition continued to worsen and, 10 days later, she was placed on a Berlin heart. Her family got the lifesaving call after she was on the Berlin heart for only 3 days, a new record for UF Health Shands. Now, over a year since getting her new heart, Brynn gets to ride her bike all around our neighborhood, create arts and crafts with her sisters and have a normal childhood. These are the miracles that people fundraising for CMN hospitals make happen every day. These are the stories that show the impact that we can have as this generation fighting for the next."
---
Miracle Network Dance Marathon is an international movement, involving over 400 colleges, universities, and K-12 schools across North America that fundraise for their local Children's Miracle Network Hospitals. These students work tirelessly throughout the year to raise funds one dollar at a time by making the ask to family and friends. Their hard work culminates in a 6-40 hour celebration on their campus, where participants have the opportunity to rally together as a community for their local Children's Miracle Network Hospital. Students involved in Dance Marathon gain valuable skills in fundraising, peer management, delegation, and philanthropy. Miracle Network Dance Marathon programs have collectively raised more than $300 million since 1991.
Learn more about Miracle Network Dance Marathon: