Windermere High School Senior Havin Baik Receives 2021 Miracle Network Dance Marathon Distinguished Leadership Award
From the thousands of graduating seniors who have participated in Miracle Network Dance Marathon at the approximately 400 colleges, universities, and high schools across the U.S. and Canada, 27 students were selected to receive the 2021 Miracle Network Dance Marathon Distinguished Leadership Award for making an exceptional impact within their Dance Marathon program, on their individual campus, and for their local Children's Miracle Network Hospital. To see all of this year's recipients, click here.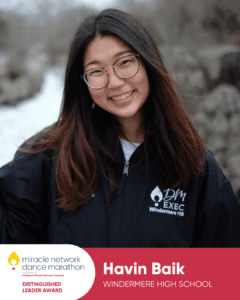 Hometown:  Winter Garden, FL

Dance Marathon Involvement:  
Recruitment and Outreach Chair, May 2019 – May 2020
Executive Director, May 2020 – Present
Campus/Community Involvement: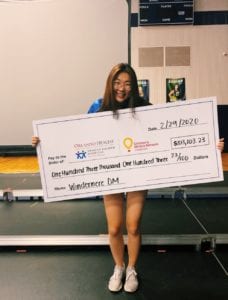 Speech and Debate – Vice President, Student Congress, and Extemporaneous Speaking Competitor
TEDxWindermereHS – Founder/Director
Student Government Association – Senior Assembly Member/Advisor for Underclassmen
Congresswoman Lizzie Fletcher's Campaign – Youth Volunteer
Asian Youth 4 Civic Engagement – Graphic Designer
The National Association for Korean Schools – Teacher's Assistant
Church Youth Leader – Praise Leader, Small Group Leader
Windermere Wrestling Team and Football Team – Team Manager
Awards/Recognition:  
AP Scholar 2020 Award
46th Annual Harvard Forensics Tournament Ranked 2nd In Round
National Association for Korean Schools Junior Leadership Award
Bright Futures Florida Academic Scholars Qualifier
National Honor Society
National English Honor Society
Rho Kappa: National History Honor Society
Post-Graduation Plans: 
Havin is graduating high school and has plans to study Political Science. 
Did Dance Marathon have an impact on your college decision?
"I have applied to 20 colleges and am currently waiting for decisions to come out. So far, I have been accepted at the University of Central Florida and the University of Florida. Dance Marathon has a strong influence."
What is your proudest accomplishment from your involvement in Dance Marathon?
"My proudest accomplishment from my involvement in Dance Marathon is working in the midst of a 'Covid year' to engage the student body, connect the community to the cause, and remembering our rock stars at Arnold and Winnie Palmer Hospitals. Despite all of the setbacks that we faced, our executive board has tirelessly pushed through. Seeing the power of how proactive passion drives a community was so empowering."
How has Dance Marathon impacted you as a student leader? What specific skills have you developed during your involvement?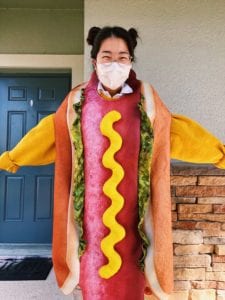 "This past year has been a year full of fighting and pushing, but it was so very worth it. Being a small part of this big cause has taught me what it means to stand for something 100%. With my position as the Executive Director, I was able to see firsthand and hear from the student body what their preconceived notions and ideas towards Dance Marathon were. I was blessed with the opportunity to plan, facilitate and execute our plans. I got to hear and understand from the outside perspective how effective our efforts were. I have increased my skills in talking to and engaging with students, teachers, and parents about Dance Marathon at any place and at any time. I have learned to appreciate the small parts of engaging in a conversation. Most importantly, I have learned what role passion plays in a good conversation. Heart-to-heart communication plays a big role in how people respond."
Why do you, personally, participate in Dance Marathon?
"I am so blessed to know the people who have served on the board this past year. Every single person is an amazing human being. I loved working with them and getting to know them. I think that it was interesting to be on the board as someone who had never experienced Dance Marathon before (having moved to the school in the middle of sophomore year). Though I was new, I think I was able to bring in a new perspective to discussions and contribute opinions from an outsider's point of view. Having moved a total of 16 times, I know what it feels like to be an outsider, and I know what it feels like to belong. I think that my drive for inclusivity and unity of the student body is what is unique about my experience in Dance Marathon. Because I joined this event not having the comfort of knowing Dance Marathon, or SGA, I think I had to build up a level of resilience and passion for Dance Marathon in order to stand for local kids. I think by understanding different perspectives, I was able to bond with the board members and learned to appreciate them as my teammates and as my family. Despite difficulties, whether it had been the lack of resources, finance issues, the lack of a platform, and what sometimes felt like the lack of a voice, I was able to push through and plug myself in with the help of all the amazing board members, Mrs. Hoffman, and the people around me. I wouldn't be who I am today if not for them, and I believe that my intentions for the board, for the cause, and for the kids align well with the ability I have to carry out those ideals.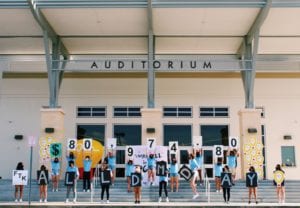 I am still and will forever be so in awe of this amazing cause, community, and the commitment shown by the Windermere High School student body and our wonderful executive board. Being able to participate in this event is in and of itself a blessing. Never did I ever dream of all of the crazy amazing things that would come with it. I am so proud of us for pushing through all the setbacks that we had. We came back stronger every time that we fell short. amidst all the things that divided our school, we were able to be an outlet for unity and a common ground to be shared by all people. Not only are we standing for the kids in our local hospitals, but we are also standing for a change of attitude in our generation. I am so thankful for the executive board for teaching me and reminding me what it means to be an advocate for another human being. they are some of the most selfless and loving people I have ever met. The room full of strangers became my second family through fighting for local kids!! Thank those to all who donated and cheered us on! Thank you for believing in us."
Why should students get involved with Miracle Network Dance Marathon on their campus?
"Getting involved with Miracle Network Dance Marathon is the best way to be a part of a counter-cultural movement that promotes selflessness. Through this cause, we are able to be an outlet for unity and a common ground to be shared by all people."
---
Miracle Network Dance Marathon is an international movement, involving over 400 colleges, universities and K-12 schools across North America that fundraise for their local Children's Miracle Network Hospitals. These students work tirelessly throughout the year to raise funds one dollar at a time by making the ask to family and friends. Their hard work culminates in a 6-40 hour celebration on their campus, where participants have the opportunity to rally together as a community for their local Children's Miracle Network Hospital. Students involved in Dance Marathon gain valuable skills in fundraising, peer management, delegation and philanthropy. Miracle Network Dance Marathon programs have collectively raised more than $300 million since 1991. 
Learn more about Miracle Network Dance Marathon: