University of Iowa Senior Austin Strom Receives 2021 Miracle Network Dance Marathon Distinguished Leadership Award
From the thousands of graduating seniors who have participated in Miracle Network Dance Marathon at the approximately 400 colleges and universities and high schools across the U.S. and Canada, 27 students were selected to receive the 2021 Miracle Network Dance Marathon Distinguished Leadership Award for making an exceptional impact within their Dance Marathon program, on their individual campus and for their local Children's MiracleNetwork Hospital. To see all of this year's recipients, click here.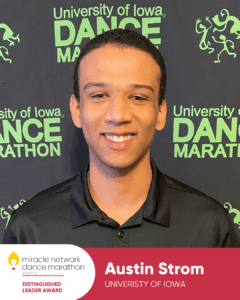 Hometown: Sioux City, Iowa
Degree: Electrical and Computer Engineering
Dance Marathon Involvement:

Dancer
Morale Captain
Event Committee
Event Director
Campus/Community Involvement: 
Undergraduate Teaching Assistant – College of Engineering
Undergraduate Research Assistant – College of Engineering
Graduate Research Assistant – University of Iowa Hospitals and Clinics
Student Ambassador – College of Engineering
Study Abroad – CIMBA Italy
Institute of Electrical and Electronics Engineers (IEEE) – College of Engineering
HackIowa – College of Engineering
Intramurals (Indoor Soccer, Indoor Volleyball, Sand Volleyball, Kan-Jam) – University of Iowa
Awards/Recognition: 
Miracle Maker Award – Dance Marathon 26
Dale Anderson Scholarship
The Philip A. and Florence B. Temple Engineering Scholarship
The Electrical Engineering Undergraduate Scholarship,
The Iowa Scholars Awards
The Engineering@Iowa Scholars Award
The Advantage Iowa Award
E. Lester & Frances M. Williams Fund scholarship
Dean's List for 5 semesters
Post-Graduation Plans:
Austin plans to begin working in the medical field using artificial intelligence to advance predictive diagnostics. "My experience with Dance Marathon has fueled this plan and driven me towards working in the areas of degenerative disease and cancer research."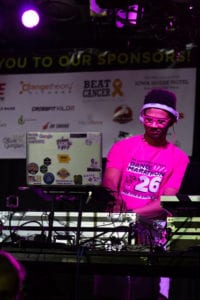 What is your proudest accomplishment from your involvement in Dance Marathon?
"The proudest accomplishment of my time in Dance Marathon was in my final year while I served as the Event Director. The global pandemic greatly changed the way that our organization had to operate as we were forced to go completely virtual for the safety of our kiddos, families, and participants. This brought up a lot of challenges, especially surround our Big Event, as we generally have 3000+ participants in our Memorial Union. We had to find new ways to engage all these participants and families and make sure that they knew that they were just as much a part of the DM family as every other year and that their accomplishments had not gone unnoticed.
We recreated the entire Big Event experience on a livestream including remote entertainment acts, remote sponsors, remote family speakers, and even our Big Event DJs. A new component that we introduced to the event was the ability for participants that would have otherwise just watched the event happen on our website to truly be a part of the event through joining a large 1000 participant Zoom call with us for certain portions of the event. This call was then streamed out to our website for all our families, donors, and external partners to see UIDM coming together and continuing to fight. Within the Memorial Union, we had two large projector screens that showed these Zoom calls and allowed us to interact with all our remote participants. This greatly increased engagement during our traditions such as Halfway There, Fundraising Power Hour, Power Hour, and even our final tote board.
This inclusion of those who cannot attend the event can now be utilized by Dance Marathons for many years to come as we work to increase general engagement as well as our Diversity, Equity, and Inclusion efforts. After receiving feedback from our Dancers, Leadership, and families on the event, I knew that we had truly done all that we could and embodied what it meant to be a Children's Miracle Network Dance Marathon. Even in a global pandemic, we stayed resilient and never stopped fighting for our families."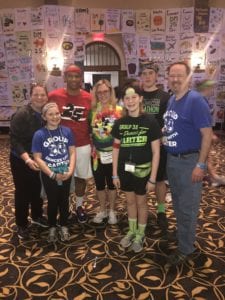 How has Dance Marathon impacted you as a student leader? What specific skills have you developed during your involvement?
"When I joined Dance Marathon, I had no clue how I was going to impact the organization or how the organization would impact me. I had the opportunity to serve with tons of other dedicated leaders and most importantly learn how to become a servant leader. As a captain, I learned how to recruit people from different populations and connect with demographics that I had not previously interacted with. This greatly increased my ability to communicate with others and empathize with those in my group. In my first year on the Event Committee, I was able to develop skills in organization and event planning. In my final year of DM, as a director and a graduate student, I greatly developed my time management skills as I worked to balance school, other student organizations, work, and my Dance Marathon responsibilities. I also learned how to effectively manage a team and delegate tasks as I helped them grow in their own leadership.
The unprecedented year that we experienced required me to be able to adapt and maintain constant clear communication as we navigated the unknown which will be a set of skills that will stay with me as I transition into the professional world. As we reimagined how to engage and our participants and the families we support, I was constantly collaborating with our internal and external partners which greatly developed skills in collaboration. The most important lesson that I learned in my time of Dance Marathon was how to empower others to be the change that they wanted to see in the world."
Why do you, personally, participate in Dance Marathon?
"Even though I have many personal connections to cancer, I joined Dance Marathon not really knowing what it was. I planned to go to a Dancer Meeting to check it out and see what everyone was talking about on campus. At each of our Dancer Meetings, we have a family speaker that comes to tell their story. At the end of my first meeting, I was absolutely blown away and I knew that I was hooked. At beginning of my first Big Event, all of the participants were asked to turn around and face the back of the room which is where the quilts are located that have the names of every kiddo that has passed and is 'Dancing In Our Hearts'. Following this, all the names are read off the quilts as we remember those kiddos. This moment brought me back to the times that my family was affected by cancer and pediatric illness.
When I was younger, my parents fostered children and I had several foster siblings. One was a younger boy that I became very close to very quickly. He was not with our family for very long before he was ready to go back to his dad. A few months after going back to his family, we got a call that they found out that there was an inoperable tumor on his brain, and soon after he passed away. This story, as well as many others that I have encountered, drives me to never stop fighting against pediatric cancer until the day that no parent must hear the words "Your child has cancer". I am in Dance Marathon to fight for more laughs, more tomorrows, and more birthdays."
Why should students get involved with Miracle Network Dance Marathon on their campus?"
"There are so many reasons to be a part of your campus' Miracle Network Dance Marathon ranging from finding a campus community and family to building professional skills that will benefit you in many years to come. Dance Marathon is an opportunity to be a part of something bigger than yourself and to learn not only how to be a part of a large philanthropic effort but why they are so necessary, especially when it comes to the children and families that the Children's Miracle Network supports. Some of the very transferable professional skills that come out of being a part of Dance Marathon include practicing networking, communication, and leadership skills through fundraising and working with your peers. Joining Dance Marathon will give you the opportunity to provide emotional and financial support for incredible families and have a lasting impact in the battle against pediatric illnesses."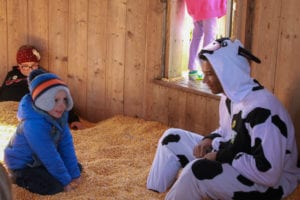 Why should people donate to their local Children's Miracle Network Hospitals?
"After being in Dance Marathon for four years, I have gotten to see so many lives be changed. I have had the opportunity to volunteer on the 11th floor of the Stead Family Children's Hospital and see first-hand how much of an impact that Dance Marathon and the Children's Miracle Network had on the families receiving treatment. I was also able to see the incredible level of care that is provided in these hospitals. It is an unfortunate reality that, without Children's Miracle Network Dance Marathons and their generous donors, this level of care would not be possible. These families would not be able to get receive the support that they need and deserve. By donating, you are joining the fight with our families because none of them should ever have to fight alone."
---
Miracle Network Dance Marathon is an international movement, involving over 400 colleges, universities, and K-12 schools across North America that fundraise for their local Children's Miracle Network Hospitals. These students work tirelessly throughout the year to raise funds one dollar at a time by making the ask to family and friends. Their hard work culminates in a 6-40 hour celebration on their campus, where participants have the opportunity to rally together as a community for their local Children's Miracle Network Hospital. Students involved in Dance Marathon gain valuable skills in fundraising, peer management, delegation, and philanthropy. Miracle Network Dance Marathon programs have collectively raised more than $300 million since 1991.
Learn more about Miracle Network Dance Marathon: