Florida Atlantic University Senior Angelique Ramirez Receives 2021 Miracle Network Dance Marathon Distinguished Leadership Award
From the thousands of graduating seniors who have participated in Miracle Network Dance Marathon at the approximately 400 colleges, universities, and high schools across the U.S. and Canada, 27 students were selected to receive the 2021 Miracle Network Dance Marathon Distinguished Leadership Award for making an exceptional impact within their Dance Marathon program, on their individual campus, and for their local Children's Miracle Network Hospital. To see all of this year's recipients, click here.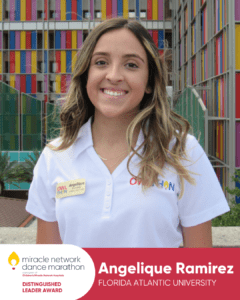 Hometown: Miami, FL
Degree: Major: Political Science Minor: Criminal Justice
Dance Marathon Involvement: 
Phi Mu OwlThon Delegate, Fall 2018 – Spring 2019
Executive Board External Events Chair, April 2019 – April 2020
Executive Director, April 2020 – April 2021
Campus/Community Involvement:  
Leon Charney Diplomacy Program – Delegate at National Model United Nations Conference, 2019
Phi Mu Primary Recruitment Day Chair, Spring 2018 – Fall 2018
Phi Mu Public Relations Chairwoman, Spring 2020
Junior Panhellenic Vice President of Programming, Spring 2018
Fraternity and Sorority Life Ambassador, Spring 2018 – Spring 2020
Primary Recruitment Rho Gamma, Spring 2020 – Fall 2020
Member of Order of Omega
Awards/Recognition: 
Recipient, Outstanding Delegate in Committee Award for representation of Ecuador in Commissions of the Status of Women National Model United Nations
A. Ritter Foundation Scholarship, Leon Charney Diplomacy Program, 2020
Dean's List (Spring 2019, Spring 2020)
OwlThon Female Delegate of the Year, Spring 2019
Post-Graduation Plans:
In Fall 2021, Angelique will be pursuing her law degree. She often goes back and forth on what type of law she wants to practice. As of right now, she wants to practice Civil Rights Litigation. When she was young, she wanted to be a lawyer because she wanted to give people a fair chance at life. Through her work with OwlThon and her own battle with chronic illness, this desire to help others has only grown. "As our country faces new battles every day, I feel a sense of urgency to ensure that there are good people fighting and advocating for those who need it. I have quickly learned that I want to continue being one of those people, long after my time with Dance Marathon comes to an end."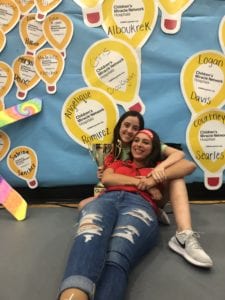 What is your proudest accomplishment from your involvement in Dance Marathon?
"When I first see this question, all the answers people would expect for me to say, initially come to mind. I've raised over $8K during my collegiate years, received awards, and held the highest position in this organization that I could. While I take great pride in the work I've done over the last four years and these accomplishments, they don't mean as much to me as the relationships I have built within this organization. In 2018, I was chosen as my sorority's team delegate. I was a Sophomore at the time, and I knew following my Freshman year that I wanted to get further involved. I had no idea how much my life would change. My organization was paired with a miracle child and family new to our program, Powie and the Patterson family. After an entire year of texting back and forth leading up to our marathon, I met Powie at our marathon in March 2019. From the moment we met, Powie and her siblings instantly became my little best friends. Her parents are a second family to me. The relationship we have built and the impact I have been able to make on their life has been so special. Knowing that Powie and her siblings see a big sister in me and someone to look up to, when I actually look up to them, is something I will always be proud of."
How has Dance Marathon impacted you as a student leader? What specific skills have you developed during your involvement?
"I have been a student leader on my campus since my second semester. I quickly got involved and knew I wanted to make a difference in my community. When I was introduced to Dance Marathon, I learned more about myself than I could've in any other student leader role. Being involved with Dance Marathon helps you develop a different level of patience. At the end of the day, asking college students for donations isn't easy. Each college student has a different set of priorities, most of which often don't align with those who are involved in Dance Marathon. The challenges you face through trying to get others in your community involved, truly build your patience levels. Not only have my patience levels increased, but I have developed other skills through my involvement. I've learned to work efficiently and how to stay organized. While having support from advisors and our university is crucial to our success, most of the work put in by Dance Marathon programs is by the students. Running a student organization of this size and importance teaches you important organizational and work ethic skills. Most importantly, through this work, I have become more empathetic and understanding of others' needs. Learning about the challenges and difficulty the families we support face has only allowed my heart to grow in support of others."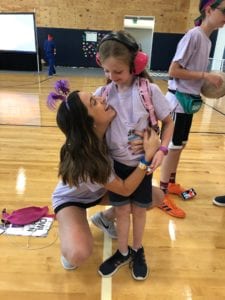 Why do you, personally, participate in Dance Marathon?
"My 'why' started in 2017 before I came to college. Without even knowing it, my life was going to be changed in more ways than one by pediatric illness. I was diagnosed with a chronic illness known as gastroparesis. In short, gastroparesis translates to "paralysis of the stomach." The basic function of my digestive system operates at an extremely slow rate and my food goes undigested for hours or sometimes even days. Gastroparesis leaves me malnourished, fatigued, and in chronic pain. I have seen firsthand the pain in a parent or siblings' eyes as they watch the person they love go through what comes with pediatric illness. While my experience has been painful, it pales in comparison to what the children at our local CMN Hospital go through every day. No child, sibling, or parent should have to experience this pain. They shouldn't have to know the burden of paying for treatment, medication, etc. I participate in Dance Marathon to ensure that children are provided with the care they need and that their loved ones can sleep with a little bit more ease knowing their child/sibling is taken care of."
Why should students get involved with Miracle Network Dance Marathon on their campus?
"Dance Marathon is so much more than a resume filler. It is so much more than making friends and having something to do on your free days. Dance Marathon is about changing lives. Not only the lives of the families and children we support but our own. My life has completely been changed by this organization. Dance Marathon provides hope to families who so greatly need it. It provides hope to its participants, that in a world that often seems dark (especially this past year), there are good people doing good things. I recently told the OwlThon Executive Board team members after our Total Reveal to continue to give their all to this organization because it will give them all in return. Dance Marathon provides love, hope, happiness, and so much more to all that are involved. It gives you a sense of belonging! Students should get involved because not only will they be able to provide support to families who need it, but it will provide them with lifelong memories and a meaningful college experience."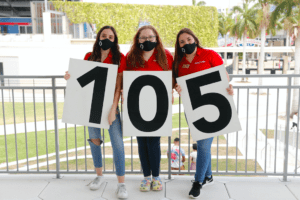 Why should people donate to their local Children's Miracle Network Hospitals?
"Fundraising for Children's Miracle Network Hospitals is not only important, but it is so simple. Whether it be rounding up at your local Publix or Walmart, or donating $5 to a Dance Marathon participant, donors are providing more hope than they will ever know. Just $10, which someone could spend at Chipotle weekly, purchases a pediatric blood pressure cuff. Why is this specialized cuff so important? Ill-fitting cuffs could lead to inaccurate readings, meaning children could possibly not receive the proper treatment they need. $25 that you spend a month on Dunkin Donuts? That amount of money could fund daily arts and medicine workshop supplies. Facing pediatric illness is stressful and being in the hospital comes with increased anxiety levels. Art supplies in hospitals provide children with care to ease that anxiety and worry. Whether a donation is $5 or $500, it is providing something that will specifically impact a child and family's life."
---
Miracle Network Dance Marathon is an international movement, involving over 400 colleges, universities, and K-12 schools across North America that fundraise for their local Children's Miracle Network Hospitals. These students work tirelessly throughout the year to raise funds one dollar at a time by making the ask to family and friends. Their hard work culminates in a 6-40 hour celebration on their campus, where participants have the opportunity to rally together as a community for their local Children's Miracle Network Hospital. Students involved in Dance Marathon gain valuable skills in fundraising, peer management, delegation, and philanthropy. Miracle Network Dance Marathon programs have collectively raised more than $300 million since 1991.
Learn more about Miracle Network Dance Marathon: