West Virginia University Senior Lily Clair Receives 2021 Miracle Network Dance Marathon Distinguished Leadership Award
From the thousands of graduating seniors who have participated in Miracle Network Dance Marathon at the approximately 400 colleges, universities, and high schools across the U.S. and Canada, 27 students were selected to receive the 2021 Miracle Network Dance Marathon Distinguished Leadership Award for making an exceptional impact within their Dance Marathon program, on their individual campus, and for their local Children's Miracle Network Hospital. To see all of this year's recipients, click here.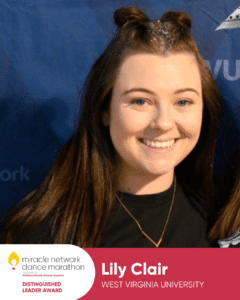 Hometown: Morton, Pennsylvania
Degree(s): Bachelor of Science in Biology
Dance Marathon Involvement: 
Dancer (2017-2018)
Public Relations Director (2018-2019)
External Director (2019-2020)
President (2020-2021)
Personally fundraised over $4,500 for local kids and families being treated at WVU Medicine Children's Hospital.
Campus/Community Involvement: 
Member of the Biomedical Engineering Society
Awards/Recognition: 
Post-Graduation Plans:
Lily plans to pursue a career within a hospital's foundation in either large-gift fundraising or marketing and eventually to work for CMN Hospitals directly. Because of her involvement with Dance Marathon, she discovered her passion lies outside of the sciences and hopes to continue supporting the children and families at CMN Hospitals within her career.
What is your proudest accomplishment from your involvement in Dance Marathon?:
"With everything that's been happening this past year it's definitely been discouraging having our ideas and events not go according to plan. One thing our program has always struggled with is freshman involvement and reaching new students on campus to get involved with our cause. This year my Vice President and I thought it would be a great idea to implement our own leadership program, called the MountaineerTHON Leadership Program, targeted towards new stude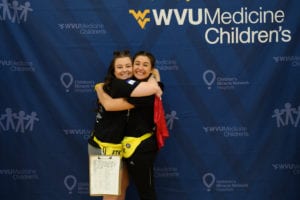 nts wanting to get involved with Dance Marathon. We were expecting around 5 students to join this program in our Fall semester and were blown away when we had 20 students apply. Since the completion of this year's program, these students have joined our executive board and have been contributing their ideas to help out each committee regardless of if they're a member of it or not. These new members have grown so much and are genuinely excited to be a part of a movement. I enjoyed acting as a mentor to these members and introducing them to a cause I hold so close to my heart. They have pushed themselves this past semester to become die-hard Dance Marathon-ers, and I couldn't be prouder of them. They came into their first meeting knowing nothing about MountaineerTHON and Dance Marathon as a whole and are now crafting their own elevator pitches, fundraising in creative ways, and inspiring others they know to join our cause as well."
How has Dance Marathon impacted you as a student leader? What specific skills have you developed during your involvement?:
"I can attribute the growth of my leadership skills, organizational skills, and time-management and multi-tasking abilities largely to Dance Marathon. Since my first year on our executive board, I've wanted to see this organization grow internally and as a whole and continuing to take on different roles within MountaineerTHON has helped me do that. Similarly to everyone else, my senior year has been a challenge navigating the world of Dance Marathon within the scope of a pandemic. The first time our executive board met each other was during our main event, and you'd never know that was the case. I pride myself in being able to create and maintain a family dynamic within our executive board throughout the year. Simple acts such as asking people to share their favorite movie or TV show with everyone at meetings opened the door for deeper connections that hopefully will last throughout their college careers. Taking initiative and being a leader is extremely important no matter what the task is, and I'm happy that I could fill that role this year."
Why do you, personally, participate in Dance Marathon?:
"Dance Marathon is a huge event where I come from. Every high school holds their own event each year, and in my hometown our middle school and high school each has its own Dance Marathon. I've been participating in Dance Marathon since middle school (this is my 9th year dancing) and I wouldn't have it any other way. Coming to college I found myself having a more intimate relationship with Dance Marathon as I was able to meet and connect with families at our event. My sophomore year I met our Champion Child, Ziler, who was diagnosed with Hydrocephalus at 6 months old. This energetic 9-year-old has inspired me countless times since I've met her as she's told me and others so many times 'You can do it. I know you can!'"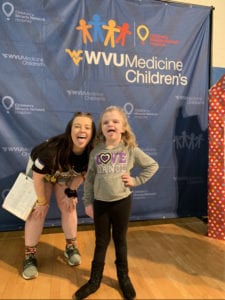 Why should students get involved with Miracle Network Dance Marathon on their campus?:
"Dance Marathon is a great way to inspire students to become something bigger than themselves. Our hospital is currently building a brand-new women and children's tower and that is one of our main talking points when recruiting. It really sticks with people that they will be able to visit our campus in a few years and see what their hard work went towards. Participating in Dance Marathon allows students to feel accomplished and gives them the ability to say that they really made a difference on their campus and in their community."
Why should people donate to their local Children's Miracle Network Hospitals?:
"Fundraising for a local Children's Miracle Network Hospital guarantees that the money raised will stay within that community. Donations made to Children's Miracle Network Hospital will go directly towards providing state-of-the-art care to the smallest members of our community."
---
Miracle Network Dance Marathon is an international movement, involving over 400 colleges, universities, and K-12 schools across North America that fundraise for their local Children's Miracle Network Hospitals. These students work tirelessly throughout the year to raise funds one dollar at a time by making the ask to family and friends. Their hard work culminates in a 6-40 hour celebration on their campus, where participants have the opportunity to rally together as a community for their local Children's Miracle Network Hospital. Students involved in Dance Marathon gain valuable skills in fundraising, peer management, delegation, and philanthropy. Miracle Network Dance Marathon programs have collectively raised more than $300 million since 1991.
Learn more about Miracle Network Dance Marathon: