Florida State University Senior Madison Faller Receives 2021 Miracle Network Dance Marathon Distinguished Leadership Award
From the thousands of graduating seniors who have participated in Miracle Network Dance Marathon at the approximately 400 colleges, universities, and high schools across the U.S. and Canada, 27 students were selected to receive the 2021 Miracle Network Dance Marathon Distinguished Leadership Award for making an exceptional impact within their Dance Marathon program, on their individual campus, and for their local Children's Miracle Network Hospital. To see all of this year's recipients, click here.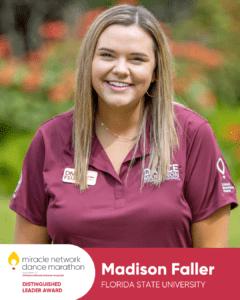 Hometown: Pensacola, FL
Degree(s): Bachelor of Science in Elementary Education
Dance Marathon Involvement:

Freshman year: a member of Inspiring New Leaders (DM at FSU's freshman leadership program)
Sophomore year: Recruitment Coordinator
Junior year: Recruitment Chair on Executive Board
Senior year: Executive Director
Campus/Community Involvement: Active Member of Chi Omega (2017 – Present); Garnet and Gold Key Spring 2021 Inductee
Awards/Recognition: Garnet and Gold Key Spring 2021 Inductee; FSU Elementary Education Practicum (August 2019 – Present)
Post-Graduation Plans:
Madison plans to continue her education for another year as she earns her Masters in Elementary Education at Florida State University. Because of her involvement with Dance Marathon, she's discovered a passion for working with student leaders and in a non-profit environment, so she hopes that she's able to combine both in a future career. She also plans to remain engaged with DM at FSU by joining the Alumni team so that she can "continue giving back to an organization that has given me so much!"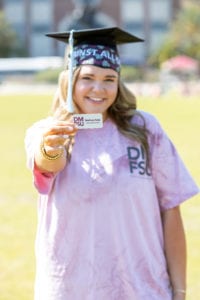 What is your proudest accomplishment from your involvement in Dance Marathon?
"About 6 weeks before our 2021 Marathon, we received news from our university that would change everything that DM at FSU had come to know and love about our annual marathon. After planning throughout the year to have an in-person and COVID safe event, our marathon weekend reservation in our facility had been booked out from us for COVID vaccinations, and our Medical Advisory Committee imposed restrictions that would make having an in-person marathon close to impossible. While this news was extremely hard to process in the beginning, it was important for our team to remember that DM at FSU is not defined by the Civic Center, nor by any four walls. After sharing this news with our Internal team, the support, love, and resiliency that was shown will forever hold a place in my heart. These students did not choose to back down or accept defeat. Instead, they used this as inspiration to continue contributing to the new normal that is 2021 and set out to make Dance Marathon take over our entire campus. This gave us the opportunity to reach so many more individuals than we would if we were restrained to a building. Watching this movement flood through our community on marathon weekend was one of the most rewarding experiences. I am beyond proud to have worked with the student leaders and advisors that made our first-ever hybrid marathon possible and set a precedent for years to come."
How has Dance Marathon impacted you as a student leader? What specific skills have you developed during your involvement?
"Dance Marathon at FSU has made me into the leader that I am today. I've learned the importance of perseverance, adaptability, but most importantly vulnerability. This past year, leading this movement through a global pandemic has brought its fair share of challenges and tribulations. With a multitude of changes to our organization, some by choice and others not, this constantly brought me to the realization that a good leader is not one that hides their emotions from their team in times of grief. A good leader is one that is transparent with their team when things are not necessarily going as planned and is honest about the fact that while this may not be ideal, we will make it through this because the heart of our movement is not in-person events or holding hands in the line dance. The heart of our movement is our goal of creating a world where all kids can be celebrated as rock stars and not worry about the financial or physical burden of pediatric illness and injury. This past year has taught me that our success cannot be measured by a number and that our impact holds so much more weight than a number ever could."
Why do you, personally, participate in Dance Marathon?
"My reasons for participating in Dance Marathon change every day, as the list becomes longer and longer with every encounter. Dance Marathon and the experiences and relationships that I've gained along the way have shaped my college experience into something so much more impactful than I could've imagined. This organization has given me the outlet to fight for something so much bigger than myself and has allowed me to discover my true passion for helping others. The relationships that I've made through Dance Marathon have forever left an impact on me. Through Dance Marathon, I've met students, advisors, and miracle families that I now consider part of my own family. I've met my best friends and my future bridesmaids, as well as role models and mentors that will be a part of my life long after my time ends here at Florida State. I've been blessed with daily interactions with hundreds of the most passionate and dedicated students that I will ever meet. Working alongside student leaders that constantly choose this organization above anything else is beyond inspiring and I'm honestly still in awe that I was lucky enough to be a part of something so incredible. This movement and these people have changed my life and have taught me that I'm capable of so much more than I ever thought I was."
Why should students get involved with Miracle Network Dance Marathon on their campus?"
"Dance Marathon is not only a place to call home but is a movement that will change your life. From the relationships, the experiences, the inspirations – your life will never be the same. Being a part of Dance Marathon means joining a family of people that choose every day to fight for local kids, regardless of the circumstance. This organization enables you to create long-lasting change and make a genuine impact on your community and those around you. Dance Marathon is filled with the most committed and resilient students with an unwavering passion for local kids. These people and this organization will become home, and you will never want to leave."
Why should people donate to their local Children's Miracle Network Hospitals?
"Now more than ever, our miracle children, their families, and our community need you. Any donation, regardless of amount, makes such a huge impact. Because of our fundraisers, we're able to supply various types of equipment, programs, Child Life Specialists, research, and more that help every single one of our miracle children and their families – not just this year, but for years to come. A donation to Children's Miracle Network Hospitals means providing hope for our next generation of miracle makers."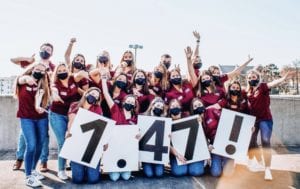 ---
Miracle Network Dance Marathon is an international movement, involving over 400 colleges, universities, and K-12 schools across North America that fundraise for their local Children's Miracle Network Hospitals. These students work tirelessly throughout the year to raise funds one dollar at a time by making the ask to family and friends. Their hard work culminates in a 6-40 hour celebration on their campus, where participants have the opportunity to rally together as a community for their local Children's Miracle Network Hospital. Students involved in Dance Marathon gain valuable skills in fundraising, peer management, delegation, and philanthropy. Miracle Network Dance Marathon programs have collectively raised more than $300 million since 1991.
Learn more about Miracle Network Dance Marathon: