University of South Carolina Senior Grace Lady Receives 2021 Miracle Network Dance Marathon Distinguished Leadership Award
From the thousands of graduating seniors who have participated in Miracle Network Dance Marathon at the approximately 400 colleges, universities, and high schools across the U.S. and Canada, 27 students were selected to receive the 2021 Miracle Network Dance Marathon Distinguished Leadership Award for making an exceptional impact within their Dance Marathon program, on their individual campus, and for their local Children's Miracle Network Hospital. To see all of this year's recipients, click here.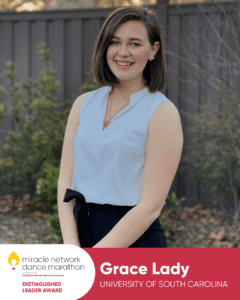 Hometown: Charleston, SC
Degree(s): "The Science of Learning & Teaching: A Student Build Degree in Biology, Psychology, and Education"
Dance Marathon Involvement: 
President, USC Dance Marathon
Vice President of Campus Relations, USC Dance Marathon
Hero Relations Committee Member, USC Dance Marathon
Phi Mu Team Captain, USC Dance Marathon
Campus/Community Involvement: 
Motivation & Emotion in Learning Research Lab Assistant
College Panhellenic Association Recruitment Counselor
Department of Student Life Intern
LEAD (Leadership Enrichment And Development) Cohort
Charleston Hope Fundraising & Community Outreach Coordinator
Phi Mu Lambda Theta Chapter: Mental Health Committee Member
Phi Mu Lambda Theta Chapter: Philanthropy Committee Member
Orientation Leader
Phi Mu Lambda Theta Chapter: General Member
Omicron Delta Kappa: General Member
Awards/Recognition: 
Magellan Scholar Award (highest level of funding awarded to undergraduate students at the University of South Carolina)
2-time Nominee for Greek Woman of the Year Award
Current Nominee for UofSC Hall of Leaders Award
Current Nominee for Steven Swanger Award
Gamecocks Stand Up Hero Award
South Carolina Fellows Scholarship, Dean's Scholarship, Presidential Scholarship, 7 semesters on President's Honor List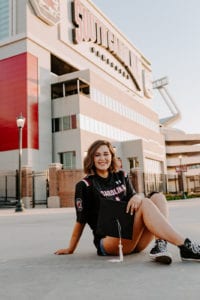 Post-Graduation Plans:
Grace will be attending graduate school to pursue her master's in Educational Psychology & Research. Grace hopes to eventually earn her Ph.D. in Educational Psychology, connect research to classrooms that need it most, and teach at the college level. As of right now, she plans to attend either Vanderbilt University or the University of Texas at Austin in the fall of 2021.
What is your proudest accomplishment from your involvement in Dance Marathon?
"At 9:27 pm on February 27th of 2021, I looked out to see all 190 members of One Team One Dream for the first time all year. Since I stepped into the role of President, we have been living through the greatest pandemic many of our generations have ever seen. Up until that day, we had not seen any form of large-scale event on our campus, let alone physically share the same space as a full team. My absolute proudest accomplishment from my time in Dance Marathon is executing our 2021 Main Event. For a very long time, we were unsure if any form of event would be possible this year. After months of working with the University of South Carolina and campus officials and making adjustments as late as two weeks before our event, we welcomed over 500 students to our very first outdoor Main Event hosted at our Student Union. I am not just proud of hosting an event in the midst of a pandemic, but I am most proud of creating an atmosphere of camaraderie and warmth, and energy for students who were so deprived of traditional engagement and events all year. Seeing dancers on stage and holding a piece of cardboard with a number printed on it were amazing experiences, but nothing makes me more proud than the interactions I have had with students since that day of how USCDM made their year or that it was the best Main Event they had ever been to or that they found their place at Carolina that day. Seeing our entire Staff, Morale, and Ignite teams was a culmination of all of those feelings and the proudest I felt the entirety of February 27th and my four years at USC."
How has Dance Marathon impacted you as a student leader? What specific skills have you developed during your involvement?
"As a leader in my Dance Marathon, I have learned how to hold others accountable as well as support others in order to help a team achieve a greater goal. Serving as both a Vice President of a branch of USCDM as well as President, I often had to have uncomfortable conversations with my peers about their work or lack thereof within their positions. For me, the hardest part of this was not usually the confrontation but the fact that I had to act as someone overseeing a peer and often a friend to some degree. These experiences helped me grow my ability to have those conversations but also my confidence in myself as a leader. On the flip side, one of my favorite skills that I have developed and been able to implement is my ability to create bonds within a team and motivate them to achieve their goals. My first experience ever with this was as a Team Captain in 2018, but year after year I built on my ability to get to know people on an individual level, make connections, and support that team to achieve something bigger than ourselves. These experiences have been some of the most rewarding moments of my time as a student leader. I'm excited to bring these skills of accountability and team building into my professional endeavors after I graduate and will be experiences that I will rely on for many years to come."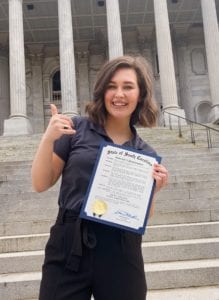 Why do you, personally, participate in Dance Marathon?
"My 'why' over the past four years has changed and grown as I have. There are a lot of people important to my 'why' – from Tap Priester, the first Miracle Kid I ever met at my first Main Event, to Tyler Trent, a leader I had the great privilege of learning about through my DM mentors. However, this year's portion of my why took the shape of understanding rather than a person. On the second Friday of February, I sat in a conference room with our student union director, Kim McMahon, and lost it. After weeks and months of challenges, changes, and subsequent adjustments due to COVID-19, I had finally been pushed over the edge. I was exhausted in every way and remember telling Kim that I just wanted to be done. She looked at me and thoughtfully asked, 'Do you know what this reminds me of?' and she paused. 'This is the feeling that a family is feeling right now at Prisma Health,' she said. So many times this year we had to remind our staff and participants to think of their why when we encountered a setback or change. Yet, I'd lost mine until that moment. Kim was absolutely right – there are innumerable families at CMN Hospitals every day that not only are receiving bad news but bad news after weeks and months of bad news. The news that their child has cancer and then that the treatments are not working. The news that their child has been in an accident and then that the surgeries necessary had complications. But those parents and families do not get to quit; they do not have a choice to step away. And she reminded me that was the situation that I was in and while that feeling is horrible, it is a feeling that I could use to remind myself what we do DM for. For the next two weeks until our Main Event, I thought of those families getting bad news every day. They truly became my why, not just because of their incredible testimonies, but because I had felt a version of their heartbreak and fatigue and had a way to impact them through Dance Marathon."
Why should students get involved with Miracle Network Dance Marathon on their campus?
"The reason I tell others to get involved with Dance Marathon is always because of the people you will meet and the special home that DM provides for students. I not only was impacted immensely by the incredible families and Child Life Specialists at Prisma Health Children's Hospital but I have been impacted by so many of my fellow students in a way I can't describe. I've seen so much light and strength in people I have the joy to call my friends, and that's something I'd never have gotten in college without Dance Marathon."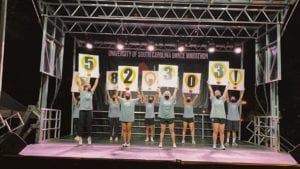 Why should people donate to their local Children's Miracle Network Hospitals?
"Funding for Children's Miracle Network Hospitals very literally transforms buildings of fear and tragedy into places of hope and healing. A child's experience in a hospital is so different from that of an adult in large part because they often do not have the capabilities to understand everything that is happening around them and they cannot fully care for themselves. Children's Miracle Network Hospitals and Child Life Programs provide the extra support needed to not only calm the chaos of hospitals for children but also fill the needs of the families and parents accompanying their child. Without funding from Miracle Network Dance Marathon programs, this support and light wouldn't be there for hundreds of thousands of people every year."
---
Miracle Network Dance Marathon is an international movement, involving over 400 colleges, universities and K-12 schools across North America that fundraise for their local Children's Miracle Network Hospitals. These students work tirelessly throughout the year to raise funds one dollar at a time by making the ask to family and friends. Their hard work culminates in a 6-40 hour celebration on their campus, where participants have the opportunity to rally together as a community for their local Children's Miracle Network Hospital. Students involved in Dance Marathon gain valuable skills in fundraising, peer management, delegation and philanthropy. Miracle Network Dance Marathon programs have collectively raised more than $300 million since 1991.
Learn more about Miracle Network Dance Marathon:
Facebook – Instagram – Website – Blog – YouTube