University of Oklahoma Senior Gabrielle Bittner Receives 2021 Miracle Network Dance Marathon Distinguished Leadership Award
From the thousands of graduating seniors who have participated in Miracle Network Dance Marathon at the approximately 400 colleges, universities, and high schools across the U.S. and Canada, 27 students were selected to receive the 2021 Miracle Network Dance Marathon Distinguished Leadership Award for making an exceptional impact within their Dance Marathon program, on their individual campus, and for their local Children's Miracle Network Hospital. To see all of this year's recipients, click here.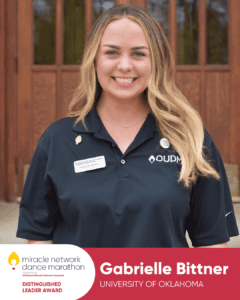 Hometown: Chisago City, MN
Degree(s): Environmental Sustainability, Major. Geographic Information Systems, Minor.
Dance Marathon Involvement: 
Vice-Chair of Moral
Morale Committee
Spring Executive Committee
Choreography Captain
Family Leader
Campus/Community Involvement: 
Research Intern, Dept. of Geography & Environmental Sustainability (June 2019- Present)
Delta Gamma, President 2020, VP Programming 2019 (September 2018- Present)
Thomas More Bible Study, I am in one and I lead one (August 2017- Present)
Teaching Assistant for Freshman Programs (August 2018- December 2020)
Camp Crimson, Small Group Leader (Summer 2018, 2019, 2020)
Green Week, Sponsorship Committee (September 2019- April 2020)
Howdy Week, Programming Committee (February 2018- August 2018)
Awards/Recognition: 
Campus Life Award 2021
Miracle Maker Award 2018, 2019, 2020, 2021
Outstanding Peer Teaching Assistant 2020
Delta Gamma Foundation Scholarship 2020
Cream Colored Rose of Delta Gamma Award 2020
Kerri Beth Adams Delta Gamma Scholarship 2019
Atmospheric and Geographic Science Scholarship 2018
Post-Graduation Plans:
Gabrielle is currently interviewing for jobs in sustainability for urban planning, product development, social awareness, and environmental consumerism. Ultimately, she has goals of working in sustainable development for health and beauty products that will ensure quality and safe options for your everyday routines. As someone who struggles with sensitivity in topical products and a witness to a sister with severe, chronic atopic dermatitis, she knows how it affects body image and self-worth. She wants to create a marketplace for severe conditions of skin to access safe and cleared products for their diagnosis. In several years, she hopes to back to school to receive a Master's in Chemistry or Cosmetic Science to help execute these long-term goals.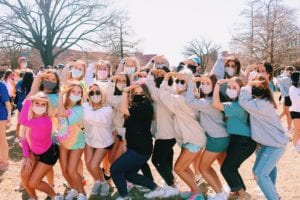 What is your proudest accomplishment from your involvement in Dance Marathon?
"This past year as VC of Morale would mark my most challenging year yet. One of my goals pre-covid was to bring back our act of intentionality. In years leading up to 2021, there was so much success in how big our event had gotten, how much money we were able to raise, and how we stood out on campus. While all these reasonings bring forth a strong presence, I wanted the prominence of relational impact to be what people remembered. After the day of this year, I received a collection of letters that my committee wrote for me. People had disclosed to me that they had finally felt at home, or that they didn't know dancing could bring people so close together, one member even said it helped her from experiencing depression. This space that I was able to cultivate to make others feel comfortable is just a simple act of love that I HOPED to create. My proudest accomplishment was stepping back and watching my committee make this year everything it was with the limitations we had. We walked away with another successful year, but this time rooted in the relationships crafted with one another."
How has Dance Marathon impacted you as a student leader? What specific skills have you developed during your involvement?
"I was once told that in order to give love, you had to have it first. This lens of first receiving and in return giving back to someone was a new concept that was introduced to me in my first year. I learned that being a leader meant you needed to walk with those around you instead of walking ahead of them. My leadership style became direct, task-oriented, and focused while maintaining a fun nature that celebrated others. Morale is known to have an overwhelming number of extroverts. I remember being an introvert those first couple of years and eager to be seen as the loudest person in the world was being seen. I wanted to copy someone else's nature to feel valued, but I found that their ability to speak with force or dance bigger and more wildly than your neighbor didn't mean your love was any lesser, it just looked different. I lived by 'I will never ask you to do something that I would not do myself' and that goes to show that I can be the captain of the ship, but it takes a crew to sail. Everything that I did in OUDM was because there was someone that came before me to create an atmosphere that was fruitful for ownership. Delegating became a foot hole for others to contribute their individual talents to the greater investment of the entire organization and it led me to become Vice Chair in my final year."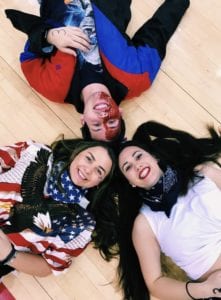 Why do you, personally, participate in Dance Marathon?
"I participate in Dance Marathon because it is the one way, I can show love to the children who fight long battles I don't. For so long, my identity was found in dancing.  When I arrived at the University of Oklahoma as an out-of-state student without knowing a soul and a desire to continue dancing, I felt lost. I came across OUDM with a transformed lens of dance and how it had the magnitude to foster relationships of inclusivity for all, a passion for an organization composed of aspiring college students to serve others, and a force to execute an event for others to partake in to understand the same 'whys' we all hold close. I never had a family member or friend that was helped by a children's hospital and I always felt that you had to have known someone, but I was wrong. While others knew children affected, their purpose became a part of my own. I desired to continue the longevity of care that provides for so many. I will never forget the way the first every spirit tunnel made me feel and to this day the flame ignited in me is fueled by that day and how my intentions were much greater than one person could do on their own being surrounded with college students on OUDM."
Why should students get involved with Miracle Network Dance Marathon on their campus?
"Attending a university with a dance marathon is a unique opportunity. I can think of all the events that I've attended at my school and nothing compares to OUDM. Any event that takes a year to plan and let alone execute is something worth attending. College students can get caught up in the image and academics that they must achieve in their four years. At any dance marathon, you get to show up to something that will leave you feeling that there is a purpose in each of our lives to provide for those that don't live as freely as we do. Heck, being in college makes you feel like an adult and you need the light of a children's smile every once in a while. There is always a little moment or a big moment awaiting you at a Dance Marathon. People are even likely to have friends on the committee carrying out the event and the best support we can give to others is showing up, opening our hearts, and giving our presence to something so special like this."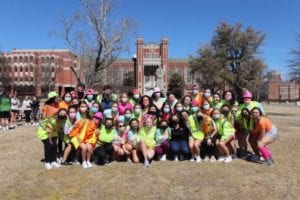 Why should people donate to their local Children's Miracle Network Hospitals?
"When you think of community it involves people around you whether that is a neighborhood, a club, or a religious group. CMN Hospitals is also a community that takes people who are passionate about healthcare, children, and advanced research. When you fundraise for a cause that brings security to others in all these ways, it makes it that much more meaningful. An act of kindness is never too small and fundraising for a local hospital gives you a why- providing for your local community of child's health and uniting people who desire change for the present and future generations."
---
Miracle Network Dance Marathon is an international movement, involving over 400 colleges, universities and K-12 schools across North America that fundraise for their local Children's Miracle Network Hospitals. These students work tirelessly throughout the year to raise funds one dollar at a time by making the ask to family and friends. Their hard work culminates in a 6-40 hour celebration on their campus, where participants have the opportunity to rally together as a community for their local Children's Miracle Network Hospital. Students involved in Dance Marathon gain valuable skills in fundraising, peer management, delegation and philanthropy. Miracle Network Dance Marathon programs have collectively raised more than $300 million since 1991.
Learn more about Miracle Network Dance Marathon: