University of Maryland Senior Smriti Gupta Receives 2021 Miracle Network Dance Marathon Distinguished Leadership Award
From the thousands of graduating seniors who have participated in Miracle Network Dance Marathon at the approximately 400 colleges, universities, and high schools across the U.S. and Canada, 27 students were selected to receive the 2021 Miracle Network Dance Marathon Distinguished Leadership Award for making an exceptional impact within their Dance Marathon program, on their individual campus, and for their local Children's Miracle Network Hospital. To see all of this year's recipients, click here.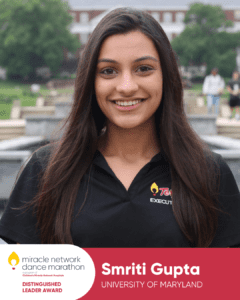 Hometown: Gaithersburg, MD
Degree(s): Bachelor of Science, Biology
Dance Marathon Involvement:

Mini Marathons member
Mini Marathons Chair
Fundraising Chair, Executive Board
Fiscal Director; oversaw five positions on Executive Board
Campus/Community Involvement: 
Volunteer at COVID-19 Vaccine Clinic at Holy Cross Hospital (current)
Research Intern at Kaiser Permanente Sleep Medicine Institute (current)
Patient Care Volunteer at Children's National Hospital (current)
Summer Intern at Children's National Hospital (Summer 2019)
Volunteer at University of Maryland's Help Center (2019-2020)
Summer Intern at U.S. Food and Drug Administration (Summer 2018)
 Awards/Recognition: 
Bright Futures Scholarship (2019)
Post-Graduation Plans:
Smriti is applying to positions in research labs for the upcoming year to broaden her research experience and learn more about how research contributes to the world of medicine. She also plans to continue her time at Children's National as a Patient Care Volunteer. Her long-term goal is to become a pediatric physician in order to improve the quality of life of children.
What is your proudest accomplishment from your involvement in Dance Marathon?
"My proudest accomplishment is leading my team through Terp Thon's 2020 annual Day of Miracles and raising over $42,000 in 24 hours. Planning for Day of Miracles posed a significant challenge due to the difficulties surrounding the pandemic. Not only did Terp Thon have to plan our first-ever virtual Day of Miracles, but we also had to re-adapt fundraising plans from previous years. I created a timeline for all fundraising pushes throughout the day, which included the specific ask we were making to our participants, incentives, and any matching opportunities available. It was important that these fundraising pushes were placed strategically within the event day to maximize fundraising for all participants, including students on campus and donors off-campus. I also wanted to ensure that participants had all the necessary resources to be successful fundraisers and advocates on this day. I decided to delegate this large task of creating resources to Chairs on my Fiscal team. These resources discussed the pandemic and its effects on our local children's hospital. It was incredible to see participants utilizing these resources and posting on social media throughout the day."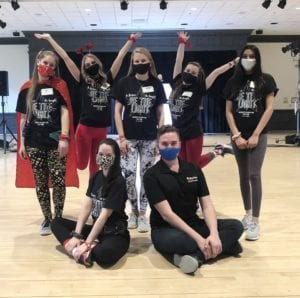 How has Dance Marathon impacted you as a student leader? What specific skills have you developed during your involvement?
"My involvement in Dance Marathon has greatly enhanced my leadership abilities by showing me the importance of servant leadership. I have learned that rather than being in a position of power, servant leadership entails exercising great responsibility. As Fiscal Director, I felt a large part of my role was to be a servant leader to our Executive Board, and specifically various Chairs I oversaw. I made it a goal to listen to the needs of Executive Chairs, allowing them to take full ownership of their positions on the Executive Board. While having the best interest of Terp Thon was a priority throughout the year, I knew that was not possible if my Fiscal team did not have the freedom to share their ideas and opinions.
I also learned important time management skills, such as keeping a calendar, schedule, and to-do list handy when setting up meetings. When I first joined Terp Thon's Executive Board, I found it challenging to keep track of all the meetings and tasks I had. I decided to start using google calendar and task sheets to keep myself accountable for completing all my tasks. Eventually, using those time management strategies became second nature to me and I felt much more confident in being able to complete my tasks efficiently. Time management is a skill that I foresee using throughout my life after graduation, and I am so glad I had the chance to develop it through Dance Marathon!"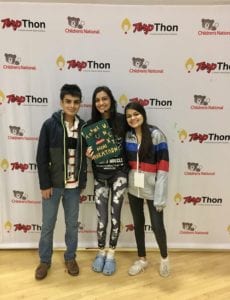 Why do you, personally, participate in Dance Marathon?
"My brother, who is five years younger than I, has a learning disability. In 2007, my parents and brother went to one of Children's National's outpatient centers in Maryland, where developmental specialists diagnosed my brother with Autism. Before this, no other centers in the area were able to diagnose my brother, and I saw my parents struggle to find answers. In addition, clinical assistants provided my parents with resources that could help my brother in multiple ways. These resources included therapy sessions that taught basic life skills and significantly improved his quality of life. In high school, I participated in a Mini Marathon which was dedicated to raising funds for Children's National Hospital. I felt a sense of fulfillment knowing that I had fundraised for an important cause. I joined college with a desire to make an impact in the same direction. I vaguely remembered the name Terp Thon when coming into college, but once I saw a flyer on which a Terp Thon event was described, I immediately decided to attend. I learned that Terp Thon not only raises funds but also increases awareness of pediatric health and the need for resources that improve the quality of life of children. Participating in Terp Thon would provide the opportunity to give back to a hospital that had helped my family through a difficult time."
Why should students get involved with Miracle Network Dance Marathon on their campus?
"Students should become involved with Miracle Network Dance Marathon because they have the opportunity to be a part of something bigger than themselves. Dance Marathon is a community of passionate individuals, and I would encourage all students who enjoy community and doing good to sign up for Dance Marathon. My favorite aspect of Dance Marathon is that anyone can join and make an impact for their local Children's Miracle Network Hospital. As participants, students have the opportunity to be involved in whatever capacity is right for them, whether that is joining a team to fundraise, attending the main event, or taking on a leadership position. Not only will you leave Dance Marathon a changed person, but you will also hear stories from Miracle Kids and families about how philanthropic efforts have changed their lives."
Why should people donate to their local Children's Miracle Network Hospitals?
"People should fundraise for and donate to their local Children's Miracle Network Hospital because they are giving patients an opportunity for a brighter future. As I've learned throughout the years, children's hospitals across the nation are underfunded, and certain costs that improve the quality of life for patients are not covered by insurance. Fundraising efforts are crucial to ensuring that patients and families are receiving world-class care. As a volunteer at Children's National Hospital, I saw the impact that philanthropy has on both patients and families. During one of my volunteer shifts, I remember surprising a patient with a barbie doll from Dr. Bear's Toy Closet. Not only was the patient excited to receive the doll, but her mom was also relieved to see that her child had something new to play with.  Moments like these give kids the chance to be kids even while they are receiving treatment." 
---
Miracle Network Dance Marathon is an international movement, involving over 400 colleges, universities, and K-12 schools across North America that fundraise for their local Children's Miracle Network Hospitals. These students work tirelessly throughout the year to raise funds one dollar at a time by making the ask to family and friends. Their hard work culminates in a 6-40 hour celebration on their campus, where participants have the opportunity to rally together as a community for their local Children's Miracle Network Hospital. Students involved in Dance Marathon gain valuable skills in fundraising, peer management, delegation, and philanthropy. Miracle Network Dance Marathon programs have collectively raised more than $300 million since 1991.
Learn more about Miracle Network Dance Marathon: