University of Iowa Senior Courtney Becker Receives 2021 Miracle Network Dance Marathon Distinguished Leadership Award
From the thousands of graduating seniors who have participated in Miracle Network Dance Marathon at the approximately 400 colleges, universities, and high schools across the U.S. and Canada, 27 students were selected to receive the 2021 Miracle Network Dance Marathon Distinguished Leadership Award for making an exceptional impact within their Dance Marathon program, on their individual campus, and for their local Children's Miracle Network Hospital. To see all of this year's recipients, click here.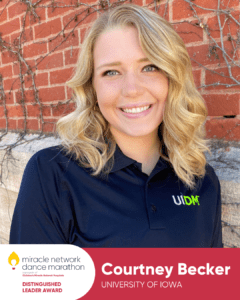 Hometown: Maquoketa, IA
Degree(s): Human Physiology, Major. American Sign Language, Minor.
Dance Marathon Involvement: 
Member of the Operations Sub-Committee
Morale Captain
Member of the Hospital Committee
Hospital Liaison Director
Campus/Community Involvement: 
Undergraduate Research Assistant for the Physical Activity and Women's Health Lab
Simulated Patient for the Carver College of Medicine
Mobile Clinic Volunteer
Nursing Assistant in the Surgery Center at University of Iowa Stead Family Children's Hospital
Certified Nursing Assistant at Maquoketa Care Center
Cabin Counselor at Camp Heart Connection
Awards/Recognition: 
University of Iowa Dance Marathon Miracle Maker, raised over $5,000 her senior year, 2020-2021
Phi Beta Kappa National Honor Society, 2019-2021
Co-Author, "Women's Report of Health Care Provider Advice and Gestational Weight Gain: A Systematic Review," Journal of Women's Health, September 2020
President's List, 4.0 GPA two consecutive semesters for 12 semester hours or more of graded coursework, Spring 2018-Spring 2020
Honors Program Rhodes Dunlap Award for Excellence in the Third Year, 2020
Jackson County Regional Health Center Melba Kunde Scholarship, 2018, 2019, 2020
Honors Program Top Scholar Award Scholarship, 2017, 2018, 2019, 2020
Honors Program Rhodes Dunlap Award for Excellence in the Second Year, 2019
Iowa Study Abroad Scholarship, 2019
Jackson County Regional Health Center Auxiliary Scholarship, 2017
Post-Graduation Plans:
After shadowing a Pediatric Oncology Physician Assistant in her sophomore year of college, Courtney decided to pursue a career as a Physician Assistant because she truly admires how the profession values the patient-provider relationship. Her favorite part of my Dance Marathon experience has been the relationships she has developed with families, and she knows as a Physician Assistant she will continue building these relationships for the rest of her life. After she graduates in May with her BS in Human Physiology, she will continue living in Iowa City and attend the number one ranked Physician Assistant program at the University of Iowa Carver College of Medicine. After completing her Master's in Physician Assistant Studies, she hopes to work as a Physician Assistant in the Dance Marathon Pediatric Cancer Center at the University of Iowa Stead Family Children's Hospital.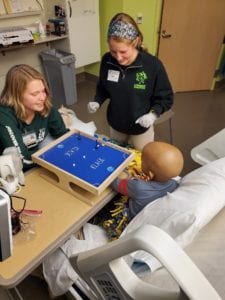 What is your proudest accomplishment from your involvement in Dance Marathon?
"Serving as the Hospital Liaison Director during the COVID pandemic and making sure all patients, families, and hospital staff felt supported by Dance Marathon has been my greatest accomplishment. In March 2020, our in-person presence in the hospital was eliminated, so our organization could no longer provide volunteers in the Pediatric Cancer Center.
Following numerous emails from Child Life Specialists about how much patients missed having volunteers to spend time with, I was determined to find creative ways to support pediatric cancer patients. First, I initiated Zoom volunteering, using 36 volunteers, 10 hours a day, Monday-Friday. Next, I developed a guide to use while volunteering with conversation starters and online games. Additionally, I created a YouTube channel to post videos of volunteers doing crafts, yoga exercises, and science experiments. Child Life Specialists broadcast these videos on hospital televisions to further engage patients receiving treatment.
When the school year started, I brought back weekly playtimes on Zoom. Each week, craft kits were dropped off at the hospital, and I hosted a Zoom meeting at 6:00 pm on Wednesday nights for patients to put together their crafts, participate in trivia, and connect with Dance Marathon volunteers and other patients in the hospital. For the past year, I remained steadfast in my pursuit of making sure that each patient is able to experience the magic of Dance Marathon during their hospital stay."
How has Dance Marathon impacted you as a student leader? What specific skills have you developed during your involvement?
"My leadership skills have grown tremendously through my involvement in Dance Marathon. As a Director, I have learned how to delegate tasks to my chairs and committee and how to listen to their valuable input based on their experiences and perspectives. Since I wanted my committee members to feel the impact of Dance Marathon, I provided experiences to create these life-changing effects. For example, I established the first-ever Dancing In Our Hearts Day, a day to recognize the angels among us, pediatric cancer patients who have passed away. Because we could not celebrate in person, I knew I wanted to send each of our 250 DIH families a special box, so I met with my committee to listen to their input. Giving them the opportunity to think about our DIH families reminded my committee that Dance Marathon steadfastly supports these families forever. Getting to be part of that support helped them understand their role and significance.
Additionally, I have learned how to effectively adapt my conversations while interacting with others. Leading quarterly Dance Marathon meetings with hospital staff has given me the confidence needed to communicate with healthcare providers. I have also engaged in conversations with a range of Dance Marathon families, including active treatment families, forever families, and new Dancing in Our Hearts families. This year has taught me how to adapt my communication in each of these conversations to make each type of family feel supported."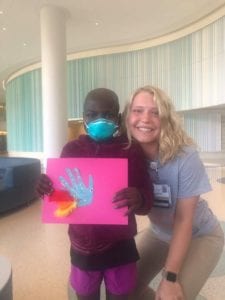 Why do you, personally, participate in Dance Marathon?
"My 'why' for participating in Dance Marathon began my junior year of high school when I met Kale, a five-year-old battling non-Hodgkin's Burkitt's lymphoma. Spending time with Kale honestly changed my life. As I witnessed the resiliency of this five-year-old fighting cancer, I knew I wanted to continue to fight every day for kids like him battling cancer.
As a hospital volunteer, I frequently visited Emily, a ten-year-old girl waiting for a bone marrow transplant. Emily was told her hair was going to fall out and she would spend most of her summer at the hospital. Every time I volunteered, I checked on Emily and her mom. One day, Emily was no longer in the hospital. That night, I walked into a Dance Marathon activity and was greeted with an enormous hug from Emily. She had been cleared to go home and wanted to say goodbye before leaving the hospital. I participate in Dance Marathon to foster relationships with amazingly strong families.
Finally, I participate in Dance Marathon because it gives people hope in their scariest days. I will never forget a sixteen-year-old girl named Rachel. When I knocked on Rachel's hospital room door, she began talking intensely. A mass had been found in her chest, and she was terrified about what this meant for her life. I reassured Rachel and her mom that they were not in this fight alone. As I left the room, Rachel's mom gave me a hug and whispered her thanks for supporting Rachel during the scariest day of her life."
Why should students get involved with Miracle Network Dance Marathon on their campus?
"If students let it, Dance Marathon will change their life. So many students go to their first Dancer meeting because they want to make new friends or they think it is 'cool,' but I promise that once students hear their first Dance Marathon family speaker they will be hooked. Listening to the resilience and optimism of a family battling cancer lights a fire in students and completely changes their perspective about everything that they think is important.
Dance Marathon gave me my life's purpose – and I am not the only one who has experienced this. Many students go to college thinking they know what career they want to pursue, but when they experience the world of Dance Marathon, they may change their mind. Some students decide they want to go into health care, either as a Child Life Specialist, Nurse, Physician Assistant, or Physician. Others decide to continue their work in philanthropy and pursue careers that allow them to fundraise for causes near and dear to their heart. Additionally, some students seek government positions that allow them to impact policy development and advocate for funding directed towards areas that need it, such as pediatric cancer research. The list goes on. I encourage every student who has the opportunity to get involved with Miracle Network Dance Marathon to try it with an open heart, and I promise that it will change their life forever."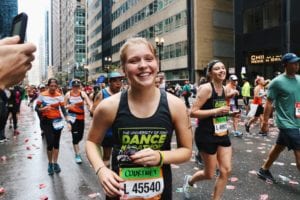 Why should people donate to their local Children's Miracle Network Hospitals?
"4%. This is a statistic often used at my campus. Only 4% of government funding for cancer research goes specifically towards pediatric cancer. Because of this statistic, the University of Iowa Dance Marathon's mission is to fight for pediatric cancer patients and their families to create new opportunities for research that lead to new treatments and cures. The 1,134 families the University of Iowa Dance Marathon supports are not strangers. These families live in our state and in our community. People should fundraise for their local Children's Miracle Network Hospitals because they are incredible resources that directly support families battling pediatric cancer.
UI Dance Marathon funds projects for pediatric cancer patients and their families at the level of $7 and $5 million. We made a $5 million contribution to build the Pediatric Cancer Center in the new University of Iowa Stead Family Children's Hospital. We also donated $2.2 million to fund a Research Chair in Pediatric Oncology to bring the best treatments and advancements in medicine to our patients. Additionally, we give each newly bereaved family $5,000 to cover funeral expenses for their child. We also provide scholarships for survivors of pediatric cancer and offer families thousands of dollars to help with pharmacy co-pays, gas cards, meals at the hospital, wigs, and so much more. No one has to fight cancer alone with Dance Marathon and the Children's Miracle Network Hospitals on their side." 
---
Miracle Network Dance Marathon is an international movement, involving over 400 colleges, universities and K-12 schools across North America that fundraise for their local Children's Miracle Network Hospitals. These students work tirelessly throughout the year to raise funds one dollar at a time by making the ask to family and friends. Their hard work culminates in a 6-40 hour celebration on their campus, where participants have the opportunity to rally together as a community for their local Children's Miracle Network Hospital. Students involved in Dance Marathon gain valuable skills in fundraising, peer management, delegation and philanthropy. Miracle Network Dance Marathon programs have collectively raised more than $300 million since 1991.
Learn more about Miracle Network Dance Marathon: