Leon High School Senior Jamie Knox Receives 2021 Miracle Network Dance Marathon Distinguished Leadership Award
From the thousands of graduating seniors who have participated in Miracle Network Dance Marathon at the approximately 400 colleges, universities, and high schools across the U.S. and Canada, 27 students were selected to receive the 2021 Miracle Network Dance Marathon Distinguished Leadership Award for making an exceptional impact within their Dance Marathon program, on their individual campus, and for their local Children's Miracle Network Hospital. To see all of this year's recipients, click here.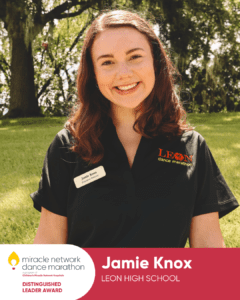 Hometown: Tallahassee, FL
Dance Marathon Involvement: 
Technology Chair
Co-Dancer Relations
Co-Executive Director
Campus/Community Involvement: 
Florida State University's Museum of Fine Arts – Extern/Intern
Student Government Association – Historian
Florida Association of Student Councils (FASC) – Head of Registration
Mosaic Art and Literary Magazine – Co-Editor-In-Chief
Junior Class Secretary
Junior League of Tallahassee – Member of Teen Board
Mosaic Art and Literary Magazine – Design Editor
Student Government Association – Member
Lafayette Park Summer Play Camp – Counselor-In-Training
Good Shepherd Church Nursery – Employee
Awards/Recognition: 
Honor Roll
1st Place at the district History Fair in 2020
Post-Graduation Plans:
Jamie is leaning towards a liberal arts career. Her intended major when applying to colleges is Art History which has a lot of flexibility career-wise. Still, her ideal path is to work as a museum educator or curator. She also hopes to live in a big city like Boston or Chicago one day.
Please list the name of the college you are attending. Did Dance Marathon have an impact on your college decision?
"I have not decided yet! Most of my decisions will be released on April 1st, and I plan to evaluate my choices then. However, Dance Marathon, or a program similar to Dance Marathon, has been a major factor during my college application process. A majority of the colleges I applied to have an organization like Dance Marathon, so I am excited to continue my involvement after high school. "
What is your proudest accomplishment from your involvement in Dance Marathon?
"Proud is definitely an understatement of what my school has been able to accomplish this year. It's difficult to pinpoint an exact moment, event, or fundraiser I can label as my proudest accomplishment because this past year has been remarkable in its entirety. When I was appointed as Co-Executive Director, I knew there would be a lot of uncertainty due to the global pandemic. There seemed to be a general consensus that this year would not be as successful as previous ones because of the enforced restrictions from COVID-19. Rather than siding with these doubts, I viewed them as an opportunity – a chance to innovate, collaborate, and remind others of why we continue to do Dance Marathon each year. Developing a cause-connection has never been so important during a year when hope felt lost. The response I received from donors, sponsors, and dancers was overwhelming in the best way possible. Our love and commitment for this cause prevailed, and I led my school to accomplish a new fundraising record, raising a total of $140,181 which is a $10,000 increase from last year. After reflecting on the teamwork and effort shown by the Executive Board, student body, and community, I am more than proud of our continued dedication for this organization and for proving to others what we can accomplish against all odds. Our marathon brought hope to so many kids and reminded them we will never stop fighting. I am beyond proud of this year and the memorable marathon I was able to lead."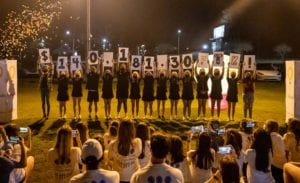 How has Dance Marathon impacted you as a student leader? What specific skills have you developed during your involvement?
"Dance Marathon has shown me the power behind collaborative growth when navigating difficult roadblocks. Because of the pandemic, we had to rethink traditional avenues of fundraising, student engagement, and community outreach. As complicated as it may seem, in actuality, it brought us a new window of opportunity. I embraced the concept of green light thinking, which generated new ideas and feedback to easily build on. From these ideas, I learned how to thoroughly plan for an activity or fundraiser, a skill I had not fully developed before Dance Marathon. It was important not to shy away from asking questions and develop detailed outlines that allotted for flexibility if an issue arose in our original plan.
As the year progressed, however, so did everyone's stress levels. I realized encouraging communication was just as important as professional communication on our internal board. It was important to refocus and remind ourselves why we willingly dedicate our time and energy to this program, but most importantly, we should also have fun doing so. This led to icebreakers at the beginning of each meeting and personal messages from myself and my other Co-Executive Director. These small acts strengthened our dynamic, and I discovered how a little effort can go a long way towards motivation and teamwork. I learned what it means to truly listen and how to use each person's voice, creativity, and hard work to our advantage."
Why do you, personally, participate in Dance Marathon?
"I have always wanted to make a difference, but I didn't know how. During my freshman year, I remember social media being clouded with teenagers, like myself, raising awareness for causes important to them. I longed to be a part of something that makes an impact, but I felt I was too young and inexperienced to make a real change. When registration opened for Dance Marathon, I did not hesitate to take advantage of this opportunity. I discovered Dance Marathon was the perfect outlet to make an actual difference. The Circle of Hope was the moment I knew this organization would have a long-term effect on my heart. I saw how my efforts have the power to provide care for another patient and save another life. I want to bring comfort, reassurance, and hope to the children and families fighting the unimaginable. Ever since I always strived to better myself in this organization. The transformation from a fun event during my freshman year to the tremendous movement that it is today has been extraordinary to witness. My Dance Marathon experience has brought me a space to grow, a family, and an opportunity to do something that matters. Dance Marathon has touched my heart in so many ways, and I participate to do the same to others."
Why should students get involved with Miracle Network Dance Marathon on their campus?
"Dance Marathon is not your average club or organization that is offered on campus. It is so much more. It allows you to be a part of something remarkable. It is a movement that grows every day with each new fundraiser and enables you to make a real difference for those most in need. By joining Dance Marathon, you'll form life-long relationships with other students, miracle families, and your community. It touches the lives of each person involved by spreading a message of hope and compassion. The work you put into Dance Marathon will allow for miracles and breakthroughs within the medical community, creating an impact that expands far beyond campus. Dance Marathon will empower you to set your goals high, fight the unimaginable, and achieve the impossible. It is so rewarding to witness the tremendous effort a group of individuals can bring towards a common goal. The difference you make will not just end on campus, but it will carry on for a lifetime."
Why should people donate to their local Children's Miracle Network Hospitals?
"The money that is raised for CMN Hospitals goes directly towards children fighting pediatric illnesses. This includes medical equipment, ambulances, and services to uphold the highest form of critical care. It is not only imperative for children to receive their necessary care but to also receive a sense of normalcy in the hospital. CMN Hospitals distribute funds to purchase playrooms, activities, and materials to give children an escape from their tough situation. They prioritize giving children a comforting environment despite the surrounding stress and uncertainty. Funds are also used for research purposes and advancements in modern medicine. By fundraising for CMN Hospitals, you are making an investment for the future. Any dollar truly makes a difference."
---
Miracle Network Dance Marathon is an international movement, involving over 400 colleges, universities, and K-12 schools across North America that fundraise for their local Children's Miracle Network Hospitals. These students work tirelessly throughout the year to raise funds one dollar at a time by making the ask to family and friends. Their hard work culminates in a 6-40 hour celebration on their campus, where participants have the opportunity to rally together as a community for their local Children's Miracle Network Hospital. Students involved in Dance Marathon gain valuable skills in fundraising, peer management, delegation, and philanthropy. Miracle Network Dance Marathon programs have collectively raised more than $300 million since 1991.
Learn more about Miracle Network Dance Marathon: