Johns Hopkins University Senior Abbie Bowman Receives 2021 Miracle Network Dance Marathon Distinguished Leadership Award
From the thousands of graduating seniors who have participated in Miracle Network Dance Marathon at the approximately 400 colleges, universities, and high schools across the U.S. and Canada, 27 students were selected to receive the 2021 Miracle Network Dance Marathon Distinguished Leadership Award for making an exceptional impact within their Dance Marathon program, on their individual campus, and for their local Children's Miracle Network Hospital. To see all of this year's recipients, click here.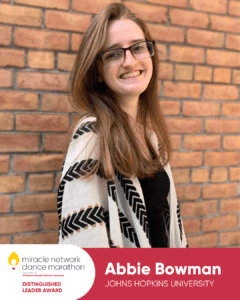 Hometown: Little Mountain, SC
Degree(s): Molecular and Cellular Biology & Psychology
Dance Marathon Involvement: 
Committee Member
Internal Director
Executive Director
Campus/Community Involvement: 
Student Manager for JHUnions and Programming
Student Researcher in the Johns Kim Lab
Woodrow Wilson Research Fellow
Vice President of Finance (2019-2020) and member of Pi Beta Phi Fraternity at Johns Hopkins
Development Intern with the Johns Hopkins Children's Center
Fundraising Chair (2018), Production Manager (2019), and President (2020-2021) of the Hopkins Student Ballet Company
Child Life Volunteer in the Pediatric Emergency Room at the Johns Hopkins Children's Center
Post-Graduation Plans:
Post-graduation, Abbie will be working at the NIH as an Intramural Research Training Award (IRTA) Post-baccalaureate researcher. She will be working closely with researchers in the NIAID to study immunological based diseases for a year before attending medical school starting in 2022. She hopes to attend medical school and pursue a career in pediatric allergy and immunology or Obstetrics and Gynecology.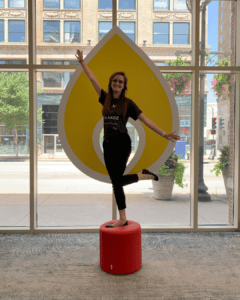 What is your proudest accomplishment from your involvement in Dance Marathon?
"My proudest accomplishment in Dance Marathon has to be this past year. I started serving as Executive Director in November of 2019 and had our new exec board finalized by the beginning of February of 2020. After many issues in the previous year, I took over only having 4 members (out of a 16-person team) continuing and was tasked with rebuilding the organization. We had an extremely successful first two months, running a huge Valentine's day fundraiser and planning future events that would bring the campus together and spread awareness of HOPthon. But then COVID struck, everyone was sent home, and we were lost in how to function virtually and in a world of chaos. However, even with the challenges, we faced with COVID, we had an extremely successful year. Our team increased from a 5-person team to a 29-person team, we surpassed our fundraising goal for 2021, raised a similar amount to the previous year, and we started new programs in addition to having a successful virtual event. As Executive Director, I directly led the change in our team dynamic, increased our executive board, and onboarded the new Extra Life and High School Dance Marathon Program. Despite all circumstances, we were able to succeed and make a difference, helping all of the kids who are at the Johns Hopkins Children's Center."
How has Dance Marathon impacted you as a student leader? What specific skills have you developed during your involvement?
"Dance Marathon is what made me a leader. I know that sounds extreme, but it's the truth. Starting as a director for Dance Marathon in my second semester of freshman year, I had to quickly learn how to manage my time and communicate effectively with others. Most importantly, however, Dance Marathon taught me that being a leader doesn't mean you do everything for everyone. It taught me that your position as a leader is to support others. While you are able to see the big picture and how everything fits, your role isn't to put the puzzle pieces together but to help support others, so they discover how the pieces fit and put them into place. After attending my first DMLC, I adopted the strategy of servant leadership, something that I am still constantly working on. As executive director, I implemented a new organizational structure where our executive board had concrete responsibilities and roles, and we worked together to make sure that everyone felt valued and respected in their work. As a team of directors, we were there to support and oversee, letting our team run the show. As I start other positions and jobs in life, the skills I learned through Dance Marathon will always stay with me and help me continue to make a difference."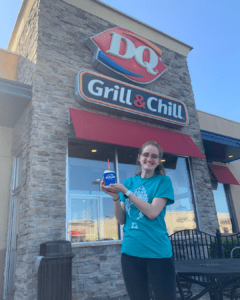 Why do you, personally, participate in Dance Marathon?
"Growing up, I had extensive food allergies. I was constantly told by doctors and dietitians that I would never be strong enough to play sports or dance and that it would be impossible to eat out in a restaurant and have it be a safe experience. I was told that sleepovers would be a danger zone and eating at school could have life-threatening results. This experience greatly impacted my life as I grew up feeling like I wasn't able to live and have a childhood like so many other kids. When I first heard about Dance Marathon, working closely to make sure that kids are able to still have a childhood and be a kid, I knew I wanted to get involved. Every kid deserves the chance to have laughter and joy, and support, even if the world is against them. Finances should not get in the way, and the hospital should not be a scary place where their lives end. The hospital should be a place where their lives can still continue, despite all circumstances, and every kid has the chance to be a kid. Participating in Dance Marathon meant I would help kids have the support networks and activities that help them connect with others and conquer anything, while still enjoying their time as a kid."
Why should students get involved with Miracle Network Dance Marathon on their campus?
"Students should get involved with Miracle Network Dance Marathon on their campus for a variety of reasons. First, Dance Marathon programs provide students with leadership development. Students can build skills and characteristics that are relevant to any field of interest, whether medicine, business, customer service, or even engineering. The ability to communicate a mission and why something is important is critical to any job, and Dance Marathon definitely teaches you how to do exactly that. Another reason is that Dance Marathon allows you to connect with students from all around the nation. I am still in touch with other executive directors that I met at DMLC and have been able to form amazing relationships that expand beyond the Dance Marathon program. Dance Marathon also allows people to make a difference, directly within their community and is tangible no matter where someone is. Short on time? Dance Marathon participation takes no time at all. Can't travel due to restrictions or lack of a car? You can make a difference from your home, school, or anywhere. Dance Marathon has no requirements or restrictions on being able to make a difference. But finally, students should get involved with Dance Marathon because it is fun. Not only do we get to have an amazing celebration at the end of the fundraising year, but every meeting and tabling event is full of laughter and smiles. Your team becomes your family, and in my experience, are the people that can always light up your day."
Why should people donate to their local Children's Miracle Network Hospitals?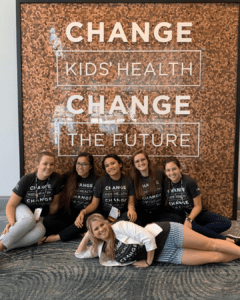 "When we think about the standard expenses that arise from a visit to the hospital we typically think about the cost of treatment. How much the procedure cost, medicines, room expenses, etc.
But there is so much more to a visit that isn't often thought about or covered by medical insurance. When a person raises money for their local Children's Miracle Network (CMN) Hospital, these are the expenses that they are raising money for. They are raising money for the lodging that the parents need to stay in, emotional and mental health resources, like Child Life, that help kids process their diagnoses and treatment options while also providing opportunities to have fun, as well as the games and activities that kids get to enjoy and take home. When people fundraise for their local CMN Hospital, they are providing kids with the opportunities to laugh and have their support networks stay with them. They are providing kids with activities and extra care. And fundraisers are relieving the financial stresses and burdens of a hospital stay from the parents and families. When you fundraise for your local CMN Hospital, you get to make a difference in a kid's life, and you know the proceeds stay local and make a true difference."
---
Miracle Network Dance Marathon is an international movement, involving over 400 colleges, universities, and K-12 schools across North America that fundraise for their local Children's Miracle Network Hospitals. These students work tirelessly throughout the year to raise funds one dollar at a time by making the ask to family and friends. Their hard work culminates in a 6-40 hour celebration on their campus, where participants have the opportunity to rally together as a community for their local Children's Miracle Network Hospital. Students involved in Dance Marathon gain valuable skills in fundraising, peer management, delegation, and philanthropy. Miracle Network Dance Marathon programs have collectively raised more than $300 million since 1991.
Learn more about Miracle Network Dance Marathon: