Stetson University Senior Jake Sadoway Receives 2021 Miracle Network Dance Marathon Distinguished Leadership Award
From the thousands of graduating seniors who have participated in Miracle Network Dance Marathon at the approximately 400 colleges, universities, and high schools across the U.S. and Canada, 27 students were selected to receive the 2021 Miracle Network Dance Marathon Distinguished Leadership Award for making an exceptional impact within their Dance Marathon program, on their individual campus, and for their local Children's Miracle Network Hospital. To see all of this year's recipients, click here.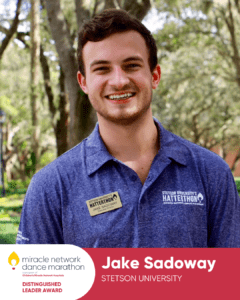 Hometown: Ipswich, Massachusetts
Degree(s): Business Management and Corporate Finance
Dance Marathon Involvement: 
Participant
Recruitment Chair
Team Captain
Executive Director
Campus/Community Involvement: 
Student Ambassador
Resident Assistant
Study Abroad Office, employee
Orientation Leader
Career Peer Teaching Assistant
Post-Graduation Plans:
Post-graduation, Jake will be moving just 20 minutes from Stetson University, where he will be working as an Area Manager for Amazon Logistics in Daytona Beach, FL. He is excited to bring the leadership skills he has learned through Dance Marathon to motivate his employees at Amazon. He is grateful for the growth opportunities Amazon provides and hopes to gain more experience. He plans to take these experiences back into a non-profit management position in the future. Through his Dance Marathon experience, he has recognized his passion for inspiring and leading others to make a difference. He is determined to find his way back into the non-profit industry in my career. An absolute dream is to work for Children's Miracle Network as he is drawn to the leadership development, investment into future leaders, and the overarching cause that brings Children's Miracle Network its name. He is excited to use the skills, passion, and determination to continue being this generation fighting for the next in his future endeavors.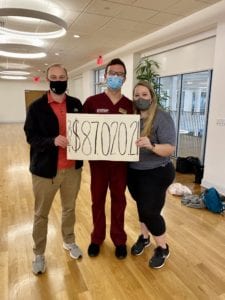 What is your proudest accomplishment from your involvement in Dance Marathon?
"As someone who fears the unknown, my proudest accomplishment is that this year despite everything being unknown, I was able to lead, inspire, and create the strongest year that Hatterthon has ever seen. Through virtual coffee hours to sharing personal life updates, I opened myself up to individuals I had never met. Even in the most challenging times, I knew that the mood and energy I put towards Hatterthon would create a difference in how this year would go for the entire program. Despite the pandemic, Hatterthon was able to see an overall increase in fundraising even though our participant registration had seen a 16% decrease year over year.
I am most proud of the community that I was directly able to create this year because of my ability to inspire. Despite the Hatterthon internal team not having a single meeting in person until just two weeks before our main event, the connections forged between my board made our accomplishments possible. Our internal team of over 40 members became inseparable within days because of the relationships I supported and developed within our team. Because of this foundation, we were prepared to overcome the many obstacles we faced the week leading to our main event. From struggling to get participants for Stetson's first large-scale in-person event during the pandemic to pivoting into our rain backup plan under 24 hours before the main event, our team stayed committed to Hatterthon, our cause, and each other. Throughout all of this, Hatterthon brought together over 300 participants virtually and over 115 miracle makers in-person for our first-ever hybrid event – more than double what we have seen over the past four years at a typical Hatterthon main event.
Throughout this program, the heart and determination I set forth were to always put others first while making every member of Hatterthon feel appreciated. My hope with putting others first was to create a ripple effect in the Stetson community because Hatterthon was one of the only organizations on campus brave enough to continue with our goals for the year. People have raved about how the Stetson community will remember the Hatterthon main event forever and that it has impacted individuals across campus more than ever before. From seeing applications fly in for Hatterthon 2022 leadership since the main event to personal text messages from my team, I can genuinely see the impact that my drive to bring the community together created. I am proud that I proved to the Stetson University community that there are no barriers, no limitations, and nothing stopping us from changing kids' health and the future despite the pandemic."
How has Dance Marathon impacted you as a student leader? What specific skills have you developed during your involvement?
"Dance Marathon has significantly impacted me as a student leader because it showed me that I could create a difference by impacting just one person and one community. As someone who has never been a confident individual, Dance Marathon has led me to become my most confident self. From my experience as a leader in Dance Marathon, I have seen my true potential. What has impacted me the most isn't the direct cause and effect of fundraising dollars raised or the number of miracle makers participating; it is the knowledge that I affected every individual on my team who created the miracles Hatterthon has developed.
By being my true self in Hatterthon, I was stepping out of my comfort zone but remained confident that if I wanted my team to fight through the challenges of 2020-2021, I would need to connect to each of them personally. Not only did Dance Marathon impact me as a student leader, but it moved me as an individual. It showed me that I could affect and change other people's lives by being my authentic self.
From adaptability to my willingness to learn, the skills I have gained by being a student leader with Dance Marathon have been beyond any expectation. This past year especially has tested my commitment as a leader and tested my patience and flexibility. I was able to mentor at a capacity I never imagined by shaping our organization's vision and goals while helping others understand them and make them their own. I not only learned how to trust my team and the work they were able to do, but I also learned that trusting myself is even more critical. Without showing confidence in myself, my team would not have felt confident in what we were trying to accomplish throughout this program. Despite the challenging times we faced this entire year, I remained true to myself every step of the way, which I saw filter down throughout my team, allowing them to have that same confidence as individuals and as leaders."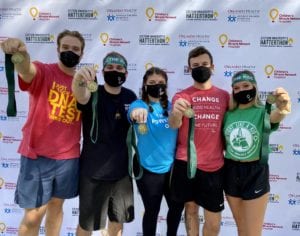 Why do you, personally, participate in Dance Marathon?
"I grew up always seeing my parents put others first, opening up our home to families that needed a place to go in tough times. What drew me into Dance Marathon was the community and the actual impact created during the main event and my first full year participating in the program. The first year that I stepped into a leadership role with Hatterthon, I felt that I had the opportunity to put others first, just like my family, by creating community, making an impact, and inspiring others through the work of Hatterthon. As the recruitment chair, I worked with hundreds of students in the Stetson community to understand our cause and relate to the importance of Children's Health in Central Florida. Serving in that role, I knew I was making a difference as I was part of the Hatterthon Family, inspiring others in our community to put others first and connect to the larger society within Stetson and beyond.
Through my role as recruitment chair, I knew I wanted to serve as the Executive Director because of the impact I saw the previous Director make on the larger community. When I was finally able to have the opportunity to step into this role, I was beyond excited to serve as the 2021 Executive Director for Hatterthon. When COVID-19 began, and motivation ran low, I knew that I wanted to focus on doing what I could to create the most significant impact possible still. I dug deep and made my driving force my inspiration. My driving force was the inspiration that I saw in my family to put others first, so even when I was facing the most difficult challenges as a leader in Hatterthon and my personal life, I knew I wouldn't give up on Hatterthon.
When it comes to Hatterthon, putting others first is the organization's base—creating the most meaningful community within Stetson University by serving the community and always putting our Miracle Children and the overall meaning of children's health first. Through my work with Dance Marathon, I have created an impact by putting others first. As Executive Director, I developed my management team's understanding of being a leader and manager. From co-creating project lists and timelines to having critical conversations, I enforced their confidence to lead and put their personal development first. Participating in Dance Marathon is about raising funds for the kids and being this generation fighting for the next. But what most don't realize about Dance Marathon is that there is so much more to it. From leadership development to building a sense of community, all based around one cause, Dance Marathon not only changes the future of pediatric illness and injury, but it changes the future by creating the strongest leaders I have ever seen."
Why should students get involved with Miracle Network Dance Marathon on their campus?
"The complex layers that genuinely build Dance Marathon's foundation to change kids' health and change our world's future are what makes getting involved in Miracle Network Dance Marathon so rewarding. Dance Marathon embodies the idea that what you put in, you get double in return. By investing in Dance Marathon, you are investing in yourself through the efforts to join, share, and fundraise so you can grow and impact the nation. From pediatric illness and injury to developing our future leaders, Dance Marathon creates a better future. With the most demanding challenges comes the best reward, and Dance Marathon provides a tight-knit family that helps individuals lead, inspire, create, and grow. By getting involved with Dance Marathon, students can become a better version of themselves. Personally, I was pushed to become a better version of myself by separating my relationships as a leader and my personal relationships. This helped me stand my ground and develop more as an individual due to challenges between friends who were a part of the Hatterthon internal team. Through sleepless nights, long meetings, and days that felt never-ending, Dance Marathon taught me what it means to be a leader. I would not trade my experience within Dance Marathon for anything, and I would encourage any student to take the leap of faith to get involved with Dance Marathon. From being a miracle maker, internal team member, or even an Alumni Miracle Maker, Dance Marathon has something for everyone. The relationships you can create are unlike any other and genuinely sets Dance Marathon apart."
Why should people donate to their local Children's Miracle Network Hospitals?
"By fundraising for their local Children's Miracle Network (CMN) Hospitals, people create an impact that goes much deeper than the surface level. When you donate to local CMN Hospitals, you help create a better future for the children and families affected by pediatric illness and injury. But, what many don't realize is that you are developing our world's future leaders when you make that same donation. When you make that donation or raise that $5, you create an impact beyond your wildest thoughts. Something that may seem insignificant goes a long way in purchasing lifesaving equipment that changes thousands of lives. This inspires the growth of programs like Dance Marathon to continue to raise and challenge the status quo. This year, hosting Hatterthon's Hats On Challenge, we challenged fundraising's status quo by pushing our community to raise more funds in 26.2 hours, in Hatterthon's 5th year, than what Hatterthon raised in our first year overall ($10,861.17). I worked to educate my team on how to connect their fundraising efforts back to their why. Due to this connection to the cause, miracle makers felt more connected to the fundraising, which inspired them to do more and helped us raise over $13,026 in just one day.
In a time where our kids and our hospitals need our help more than ever before, fundraising creates a day where children aren't labeled sick but are celebrated for the lives they lead. Fundraising for programs like Dance Marathon to support our local Children's Miracle Network Hospitals allows students to understand the impact that one person can create, empowering our young leaders to find their why and their passion for inspiring and leading for a better tomorrow."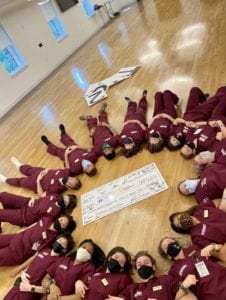 ---
Miracle Network Dance Marathon is an international movement, involving over 400 colleges, universities, and K-12 schools across North America that fundraise for their local Children's Miracle Network Hospitals. These students work tirelessly throughout the year to raise funds one dollar at a time by making the ask to family and friends. Their hard work culminates in a 6-40 hour celebration on their campus, where participants have the opportunity to rally together as a community for their local Children's Miracle Network Hospital. Students involved in Dance Marathon gain valuable skills in fundraising, peer management, delegation, and philanthropy. Miracle Network Dance Marathon programs have collectively raised more than $300 million since 1991.
Learn more about Miracle Network Dance Marathon: