University of Florida Senior Kelsea Henry Receives 2021 Miracle Network Dance Marathon Distinguished Leadership Award
From the thousands of graduating seniors who have participated in Miracle Network Dance Marathon at the approximately 400 colleges, universities, and high schools across the U.S. and Canada, 27 students were selected to receive the 2021 Miracle Network Dance Marathon Distinguished Leadership Award for making an exceptional impact within their Dance Marathon program, on their individual campus, and for their local Children's Miracle Network Hospital. To see all of this year's recipients, click here.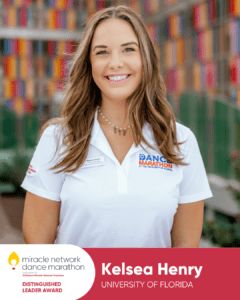 Hometown: Tampa, FL
Degree(s): International Business, Finance, and Mathematics, Major(s). Communication Studies, Minor.
Dance Marathon Involvement: 
Emerging Leader
Fundraising and Organization Development, Captain
Fundraising and Organization Development, Overall Director
Finance Manager
Campus/Community Involvement: 
University of Florida Panhellenic Council Executive Board: Finance Vice President and Assistant Finance Vice President
University of Florida Honors Program: UF Honors Admissions Peer Evaluator and Professional Development for Women in STEM Teacher Assistant
Circle of Sisterhood Foundation UF Senegal Trek Team Leade
Mathematics Department Calculus 1 Learning Assistant
Delta Delta Delta Sorority
Awards/Recognition: 
University of Florida Presidential Service Award
University of Florida Anderson Scholar: Highest Distinction
University of Florida Presidential Scholarship
UF Order of Omega
College of Liberal Arts & Sciences Dean's List
Warrington College of Business Dean's List
Post-Graduation Plans:
After graduation, Kelsea has accepted a job at Citrix in Fort Lauderdale in their Financial Leadership Development Program as an Associate Financial Analyst. She has a passion for analyzing situations and finding ways to improve ideas. It is her ultimate goal to work for a company that allows her to make a tangible difference in the lives of others. Kelsea has always been a solution-driven person and had a strong desire to make an impact. While she doesn't know where her career will lead her long term, she does know that she will be in a role that allows her to look back and know that what she did mattered.
What is your proudest accomplishment from your involvement in Dance Marathon?
"One of my most important responsibilities this past year was planning our annual 26.2-hour fundraising push day, Transform Today. It is typically a day in which we take over the campus, meet in crowded rooms, and engage with Miracle Children and the larger community to raise over $600,000. When I learned that this day would look much different than in the past, I quickly started finding new ways to adapt our efforts. I started by reflecting on my experience working with student organizations the year before and what has been proven to motivate our members to participate. We found new and safe ways to bring people together and listen to inspirational speeches and Miracle stories in a virtual format.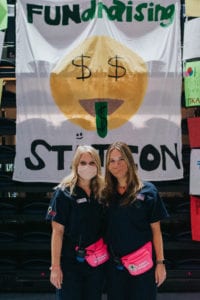 One of my biggest areas of concern was with more limited programming, people would only fundraise at certain times instead of the entire push. As someone driven by competition, I knew we should capitalize on that within our internal teams. I started the first Transform Today fundraising competition where teams competed bracket-style every few hours to be crowned the champion. It required teams to continuously fundraise and not just receive a couple of large donations to win. We saw a 30% increase in internal team fundraising despite the added challenges.
In a year with so much financial hardship, we still raised nearly $600,000 with 20% fewer participants. I am so proud of the hard work and innovation that allowed for a fundraising push day to still be so successful."
How has Dance Marathon impacted you as a student leader? What specific skills have you developed during your involvement?
"When I first joined this organization 4.5 years ago, I was eager to help make an impact, but never expected the difference the organization would have on me. I immediately gained mentors among the most inspiring, driven, and ambitious individuals on our campus. They challenged me in ways I never thought possible and motivated me to push my comfort level in applying for leadership positions. I have gained the confidence necessary to lead thousands of students involved in our cause through student organizations. I have learned how to effectively communicate, written and oral, in ways that inspire and encourage college students to act. This extends further to understanding individual's motivations and how to be the leader they need. DM at UF has taught me the balance of being both a friendly peer and an authority figure, showing me when to push and when to relax.
Beyond personal leadership skills, my involvement has helped me develop challenging and transferable skills. In my role as Fundraising and Organization Development Overall, I learned how to use Excel and create spreadsheets that automatically adjust for all 90 organizations. I now can successfully pull reports, analyze data, and understand the financial implications. This experience will prove vital in my future career. "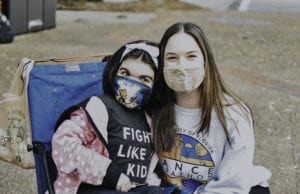 Why do you, personally, participate in Dance Marathon?
"At 4 years old, I was so excited to have a new playmate when my cousin Jordan was born. As I got older, I started dreaming about what it would be like to have our own kids together someday and that they would also be best friends! That reality became much harder when I learned that Jordan had been diagnosed with Cystic Fibrosis.
Jordan has a terminal illness that currently has no cure and becomes increasingly more difficult with age. In 2002, our family was told she wouldn't live to be 11 years old. Today, she is a happy college student and first-year Dancer for DM at UF! Still, her future is unknown as the average life expectancy is only 37 years old. To me, that means our fight has only begun.
I joined Dance Marathon at UF because the dream of being a mom alongside my cousin someday is still my biggest wish in life. I joined the Overall Team because I wanted a bigger role in making a difference and creating a lasting impact. I want to smile at the hope we are creating for so many families. I am immensely grateful for those that gave me far more years with Jordan than I first thought possible. I hope to be that person for someone else and give them more time with their loved ones. I want every child, family member, and friend to be able to dream."
Why should students get involved with Miracle Network Dance Marathon on their campus?
"We've all heard it said, but Dance Marathon is a family and I mean that with the most sincerity. Growing up I attended the same small school from Kindergarten to 12th grade. This made coming to UF and being one of 50,000 students terrifying, to say the least. Almost immediately after coming to campus, I got involved with Dance Marathon and quickly felt a sense of belonging. The mentors within my Emerging Leaders Program showed me around and truly took an interest in my success as a student. Throughout these past 5 years, I have made some of my best friends through our shared passion for this cause. Every person you meet is the kindest, genuine, and selfless. It takes a special group of people to dedicate so many hours to helping people they may never even meet.
Beyond lifelong friendships, Dance Marathon gives students a sense of purpose during very uncertain years in life. Not everyone can say that they truly helped save lives during college. I have seen firsthand the importance of raising money to fund lifesaving research and equipment. It is an immense honor to know that students can make an impact that one day could save their own child's life. Miracle Network Dance Marathon gives students a platform to be their most authentic and caring selves on campus. "
Why should people donate to their local Children's Miracle Network Hospitals?
"On average we each take 20,000 breaths a day. It takes breathing to laugh, to cry, to sing, and to dance. Breathing keeps us all alive, yet we often take it for granted. When learning about my cousin Jordan's diagnosis, we were told it's like breathing through a straw every day. Her childhood, like many others, was filled with hospital visits, needles, medication, and treatments. She wasn't able to run around the playground or spend the night at friends' houses because of her illness.
Children's Miracle Network Hospitals represents the single most important thing for children and families: hope. Hope that tomorrow brings a new treatment. Hope that one day a cure is found. By fundraising for this remarkable cause, we each become a part of that hope. Hope that our best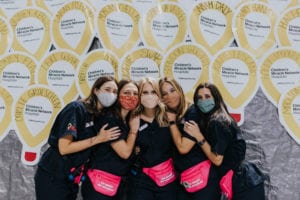 friend, sibling, or loved one doesn't go through the same hardships so many others face.
Every dollar raised for CMN stays local and helps kids just a short distance away. Every donation helps researchers develop new ideas, hospitals buy innovative equipment and doctors provide superior care. We fundraise so that every child can laugh, cry, sing and dance without difficulty. We join together to make a lasting impact for kids like Jordan and the countless others that need our funds to stay alive. "
---
Miracle Network Dance Marathon is an international movement, involving over 400 colleges, universities, and K-12 schools across North America that fundraise for their local Children's Miracle Network Hospitals. These students work tirelessly throughout the year to raise funds one dollar at a time by making the ask to family and friends. Their hard work culminates in a 6-40 hour celebration on their campus, where participants have the opportunity to rally together as a community for their local Children's Miracle Network Hospital. Students involved in Dance Marathon gain valuable skills in fundraising, peer management, delegation, and philanthropy. Miracle Network Dance Marathon programs have collectively raised more than $300 million since 1991.
Learn more about Miracle Network Dance Marathon: