Dance Marathon at San Diego State University Receives 2023 Collegiate Marathon Programming Award
Miracle Network Dance Marathon recognized top performing Dance Marathon programs at the Dance Marathon Leadership Conference (DMLC) held in St. Louis, MO from August 3-6.
The Marathon Programming Award recognizes an organization that implemented exceptional and engaging programming during their Dance Marathon event that positively contributed to the participant experience. This year's collegiate winner, Dance Marathon at San Diego State University used survey feedback to design the event for the following year, aiming to make strategic decisions about their event programming that would meet the needs of their participants.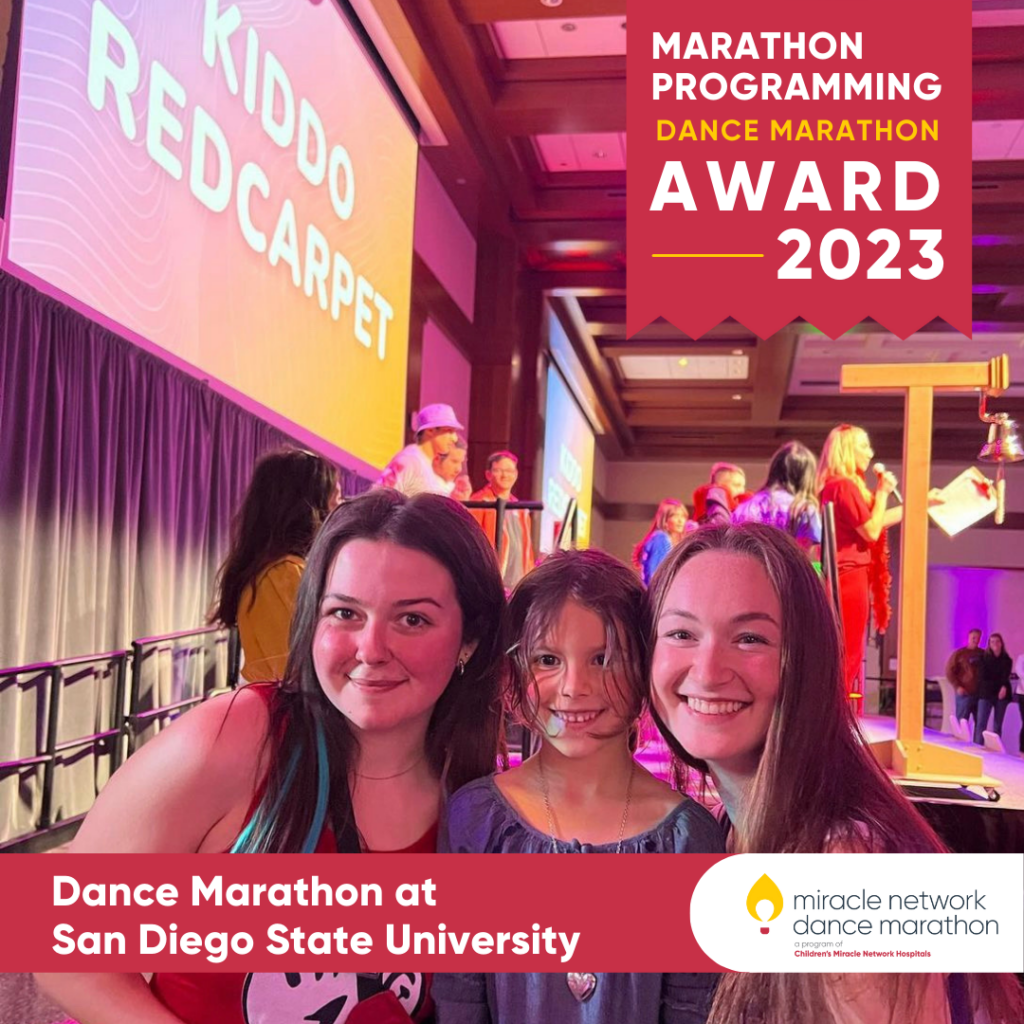 Their data from last year pointed to low retention rates during the overnight hours of their marathon, and that participants felt there wasn't enough free time for people to enjoy time with their friends or just dance and enjoy the music. To solve the overnight retention rates, they strategically planned for family stories to occur at the top of every hour and concentrated the highly anticipated entertainment acts during the overnight hours to keep participants in the venue. They also worked to incorporate free dance and buffer time in-between different speakers and entertainment acts – this also allowed participants to get to know each other and their miracle families, something that was a highlight from the previous year event.
DM at SDSU also worked with their hospital advisor to invite families who could tell stories that represented all different areas and types of lifesaving care that Rady Children's Hospital provides, from cancer treatments to premature infant care and trauma.
They also wanted to incorporate more participant involvement in their entertainment acts this year, so they introduced the first ever SDSU Dance Marathon Bachelorette with a participant as a bachelorette as well as minute to win it games for participants to partake in. Feedback from their event shared that these types of events and programming along with opportunities to learn more about the hospital and miracle families inspired participants to stay the entire night.
Congratulations, San Diego State University!
---
Miracle Network Dance Marathon is an international movement, involving over 400 colleges, universities and K-12 schools across the United States and Canada that fundraise for their local member hospital of Children's Miracle Network Hospitals. These students work tirelessly throughout the year to raise funds one dollar at a time by making the ask to family and friends. Their hard work culminates in a celebration on campus or virtually, where participants can rally together as a community for their local member hospital of Children's Miracle Network Hospitals. Students involved in Dance Marathon gain valuable skills in fundraising, peer management, delegation, and philanthropy. Miracle Network Dance Marathon programs have collectively raised more than $350 million since 1991.