CalTHON at the University of California, Berkeley Wins 2023 Best New Collegiate Dance Marathon 
Miracle Network Dance Marathon recognized top performing Dance Marathon programs at the Dance Marathon Leadership Conference (DMLC) held in St. Louis, MO from August 3-6.
CalTHON at the University of California, Berkeley is the collegiate winner of this year's Best New Dance Marathon! As a new Dance Marathon, at a university known for a campus culture rooted in student activism, social justice, and civic engagement, they focused on uniting campus behind one cause; to save the lives of future Golden Bears. Knowing that 74% of patients at UCSF Benioff Children's Hospitals were uninsured or underinsured, CalTHON pushed not only a message of fundraising but also one of social justice, aiming to show students how they could make a tangible difference in the local community while boosting school spirit all throughout campus.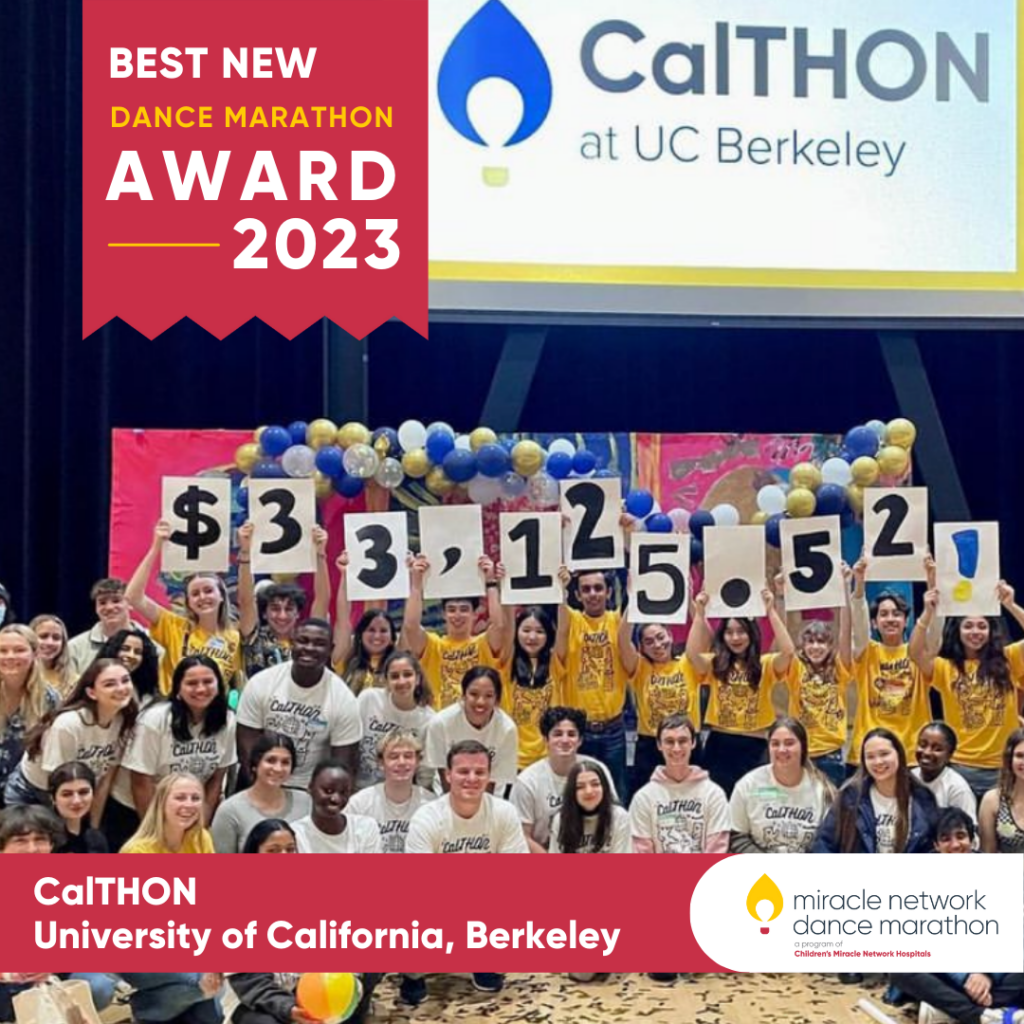 In their first year, they successfully registered 512 participants and raised $33,125 by partnering with established organizations on campus, emphasizing grassroots-level organization, and fostering meaningful relationships with participants. Through partnerships with the Associated Students of the University of California (ASUC) and Student Body President they established Dance Marathon as a program run through the office of the Student Body President. This allowed them to present CalTHON updates to 60 members in the Office of the President all-staff meetings while utilizing student government Instagram accounts and gaining access to high-level administrators who could provide support to the program including getting their event space for free.
They also established a presence for themselves on campus by using their program Instagram account, tabling and hosting in-person presentations to organizations, establishing their program as a fun, engaging and community-centered fundraising initiative. These efforts allowed them to collaborate with various clubs and organizations leading to 31 teams participating in the event, spanning from Greek life to sports teams, clubs and more. They also garnered support from local businesses to receive both monetary and in-kind donations. Congratulations, University of California, Berkeley!
---
Miracle Network Dance Marathon is an international movement, involving over 400 colleges, universities and K-12 schools across the United States and Canada that fundraise for their local member hospital of Children's Miracle Network Hospitals. These students work tirelessly throughout the year to raise funds one dollar at a time by making the ask to family and friends. Their hard work culminates in a celebration on campus or virtually, where participants can rally together as a community for their local member hospital of Children's Miracle Network Hospitals. Students involved in Dance Marathon gain valuable skills in fundraising, peer management, delegation, and philanthropy. Miracle Network Dance Marathon programs have collectively raised more than $350 million since 1991.