Naz-A-Thon at Nazareth Academy wins 2023 Best Independent High School Dance Marathon 
Miracle Network Dance Marathon recognized top performing Dance Marathon programs at the Dance Marathon Leadership Conference (DMLC) held in St. Louis, MO from August 3-6.
This year's winner of Best High School Dance Marathon for an independent program is Naz-A-Thon at Nazareth Academy!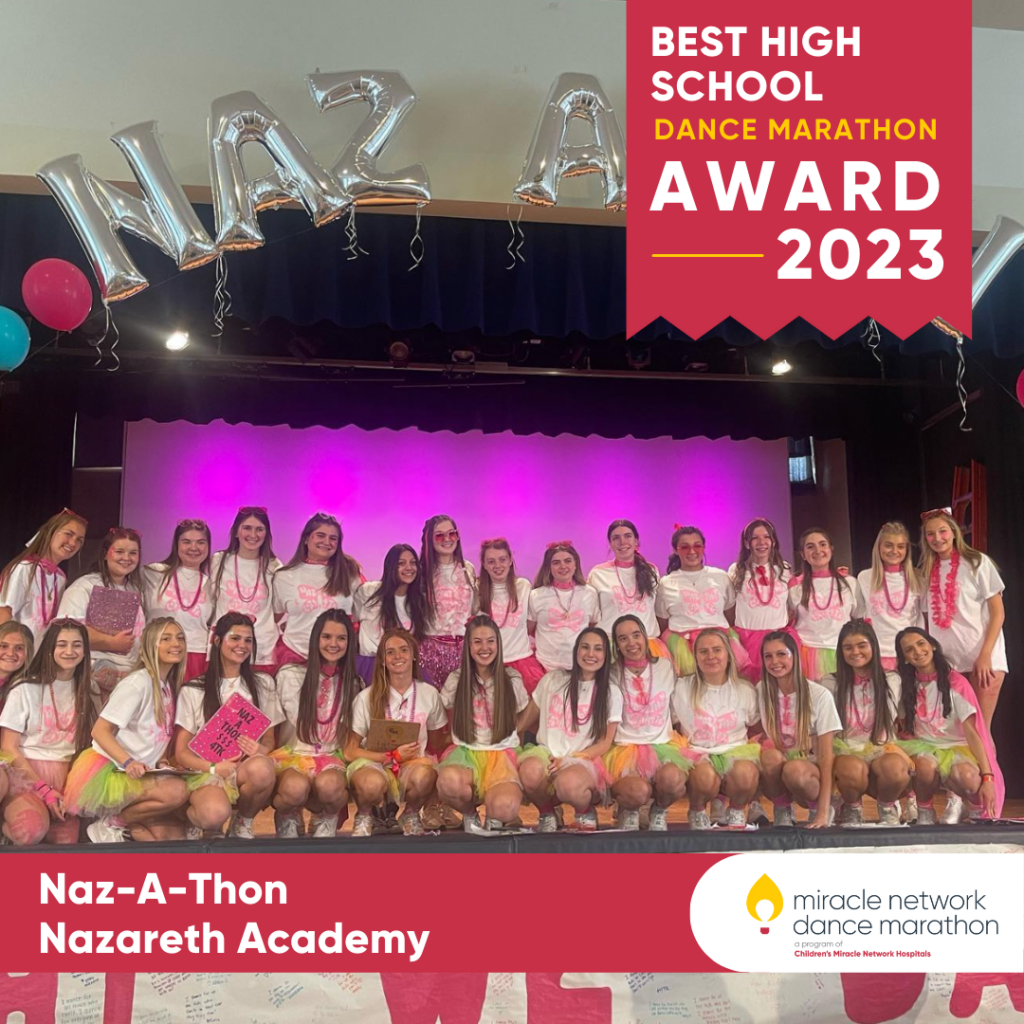 Naz-A-Thon excels in many areas of their program, which has allowed them to surpass a cumulative fundraising total of over $1,000,000 in support of Children's Hospital of Philadelphia over the last nine years!
Through marketing and publicity efforts, Naz-A-Thon has established a strong presence on their campus. By utilizing their homerooms, social media, flyers, and frequent meetings they ensure that all students on campus are aware of upcoming events and opportunities to get involved. They've also expanded involvement beyond just their campus – hosting a 3v3 basketball tournament with their "brother school" in the Philadelphia area that served as a fundraiser for the organization.
Throughout the year they host a variety of fundraising events including dine-outs at restaurants, selling merchandise, change wars between homerooms, and more. These events combined with their peer-to-peer fundraising efforts have allowed the program to not only raise funds but bring additional awareness to their program.
Additionally, Naz-A-Thon helps create cause connection for their participants by bringing in their CHOP representatives who share CHOP stories and information to help members understand how large of an impact they are making on the patients, families, doctors, nurses, and staff at CHOP. They also share miracle family stories, including those from students at Nazareth Academy – demonstrating that they aren't just helping strangers, but also people whom they walk the halls with every day or alumnae whom they have looked up to over the years.
Lastly, Naz-A-Thon excels in their event planning and execution, with a jam-packed schedule full of food, games, miracle families, music, raffles and dancing. Working to improve upon the event year-over-year they work hard to retain participants by making sure there is always something that their participants will be interested in doing throughout the event.
Congratulations, Nazareth Academy!
---
Miracle Network Dance Marathon is an international movement, involving over 400 colleges, universities and K-12 schools across the United States and Canada that fundraise for their local member hospital of Children's Miracle Network Hospitals. These students work tirelessly throughout the year to raise funds one dollar at a time by making the ask to family and friends. Their hard work culminates in a celebration on campus or virtually, where participants can rally together as a community for their local member hospital of Children's Miracle Network Hospitals. Students involved in Dance Marathon gain valuable skills in fundraising, peer management, delegation, and philanthropy. Miracle Network Dance Marathon programs have collectively raised more than $350 million since 1991.