Dance Marathon at Cocoa Beach Jr/Sr High School Receives 2023 K-12 Marathon Programming Award
Miracle Network Dance Marathon recognized top performing Dance Marathon programs at the Dance Marathon Leadership Conference (DMLC) held in St. Louis, MO from August 3-6.
The Marathon Programming Award recognizes an organization that implemented exceptional and engaging programming during their Dance Marathon event that positively contributed to the participant experience. This year's K-12 winner, Cocoa Beach Dance Marathon, incorporated new events and fan favorites into their marathon experience to ensure participants were actively engaged throughout their six-hour marathon.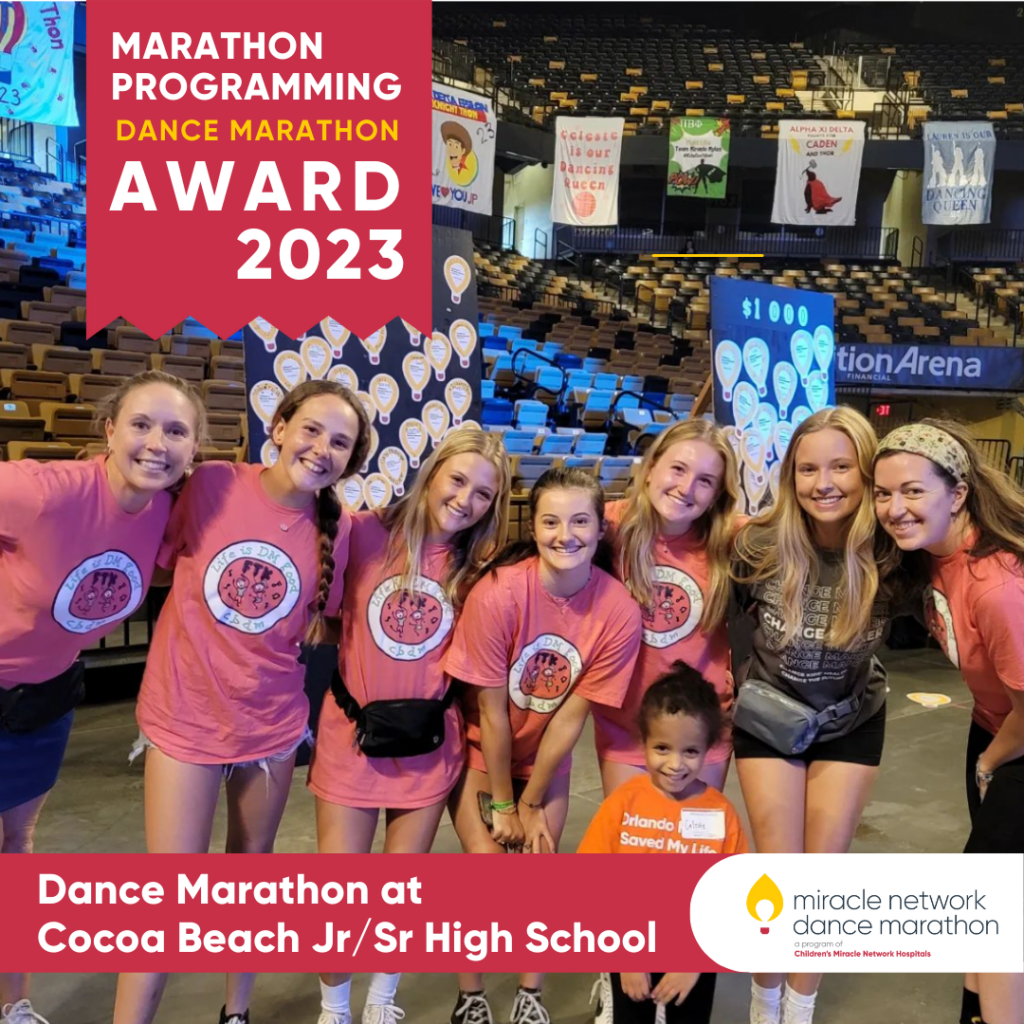 Some of the fan favorite events that Cocoa Beach Dance Marathon incorporated this year included a Lip-sync Battle, Rave Hour and MyHipHopFit choreographed led dance sessions. A new activity that the program implemented this year was Trivia. Participants were divided into teams, and then had to answer trivia questions about Cocoa Beach Dance Marathon and Cocoa Beach Jr/Sr High School. Teams were awarded points for correct answers, but they also incorporated a fundraising element into the activity allowing teams to donate more than $5 to receive points equal to the value of their donation. The students became very competitive, and this ended up resulting in over $1,000 raised during that hour.
For Rave Hour, the program invited a previous program award winner to return and DJ, while filling the room with glow sticks and light up rings – creating a fun and exciting atmosphere that inspired one of their miracle kids to join in and participate!
Before the total reveal they recognized individuals who went above and beyond through awards given out to Comma Club members, top individual fundraisers, top corporate sponsors, and a legacy award that is given to a graduating senior who has made a significant contribution to CBDM and intends to participate in Dance Marathon in college.
Through exciting and interactive programming, CBDM has done an outstanding job of creating an event that keeps participants coming back year after year. Congratulations Cocoa Beach Dance Marathon!
---
Miracle Network Dance Marathon is an international movement, involving over 400 colleges, universities and K-12 schools across the United States and Canada that fundraise for their local member hospital of Children's Miracle Network Hospitals. These students work tirelessly throughout the year to raise funds one dollar at a time by making the ask to family and friends. Their hard work culminates in a celebration on campus or virtually, where participants can rally together as a community for their local member hospital of Children's Miracle Network Hospitals. Students involved in Dance Marathon gain valuable skills in fundraising, peer management, delegation, and philanthropy. Miracle Network Dance Marathon programs have collectively raised more than $350 million since 1991.