Loras College Senior Elena Denton Receives 2021 Miracle Network Dance Marathon Distinguished Leadership Award
From the thousands of graduating seniors who have participated in Miracle Network Dance Marathon at the approximately 400 colleges, universities, and high schools across the U.S. and Canada, 27 students were selected to receive the 2021 Miracle Network Dance Marathon Distinguished Leadership Award for making an exceptional impact within their Dance Marathon program, on their individual campus, and for their local Children's Miracle Network Hospital. To see all of this year's recipients, click here.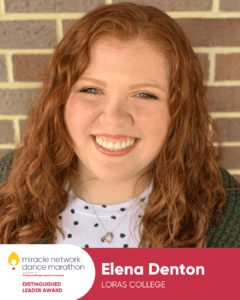 Hometown: Moline, Illinois
Degree(s): Biology, Major. Chemistry, Minor.
Dance Marathon Involvement: 
Participant
Delegate of the Family Committee
Morale Captain
Morale Chair
Co-President
Campus/Community Involvement: 
 Member of the Loras College Honors Program
Awards/Recognition: 
Dean's list
Honors Degree
First-Year Chemistry Award
Post-Graduation Plans:
After graduation, Elena is planning to take a gap year to work as a CNA to build up her patient contact hours. After this step in her journey, she will be applying to Physician Assistant Schools.  Her experience in Dance Marathon has allowed her to build a relationship with kids and manifest personal desires to work with kids specifically in pediatrics.
What is your proudest accomplishment from your involvement in Dance Marathon?
"While this pandemic has caused many setbacks and cancellations, my role as Co-President was still able to continue. The pandemic has created a general 'it is what it is' attitude. However, in my role, I was able to work with my team as a leader to be able to find creative ways to move past that mindset and strive to fulfill our role as an organization. My overall proudest accomplishment in Dance Marathon is being able to hold a successful and safe event for families, peers, other student leaders, and faculty. One of our motives as an organization is to bring families together and even though it was a smaller scale, I am forever grateful that we were able to see smiling faces (under masks of course) and dance together one last time for my college Dance Marathon career. For a few hours, life felt real again, and I am grateful, I was able to end on a happy note."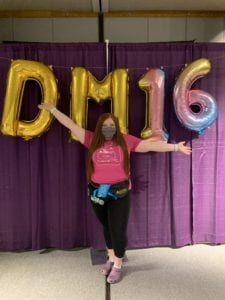 How has Dance Marathon impacted you as a student leader? What specific skills have you developed during your involvement?
"There's a lot of stress that comes from being in a leadership position. Personally, being involved in Dance Marathon has allowed me to moderate my stress levels. I have learned how to delegate responsibilities between team members and trust that they will follow through with their part. I have also learned how to manage my time between school, Dance Marathon, Honors Program, and most importantly, spending time with friends and family—which is a huge part of my self-care routine. I have learned to appreciate that I can only pour into others when I have something to pour from. We have developed a motto of 'Not my monkey, not my circus' meaning that if it doesn't pertain to me, then it's not my responsibility to worry about it. This motto has taken a lot of the worry out of being a leader. I have trust in my team that they will do what they need to do to get their jobs done. Leadership doesn't have to be serious. One of my favorite parts about being involved in Dance Marathon is laughing and spending time together. While leadership often has a reputation of being serious; it doesn't always have to be. Not only has Dance Marathon provided me with people to look up to, but I have also made some fantastic friends from it who inspire me to be the best version of myself and push me to work harder to get the job done."
Why do you, personally, participate in Dance Marathon?
"I personally participate in Dance Marathon because of my personal connection with kiddos that have been treated at the University of Iowa Stead Family Children's Hospital. An older classmate of mine, Jordan, was diagnosed with multiple rare types of cancer when he was very little. Unfortunately, Jordan lost his battle and flew to heaven when he was only a sophomore in high school. Jordan was the nicest person you could ever encounter. He did not let his disease affect his positive personality. Jordan was one of the strongest people I have ever met and I strive to be like him every day. I dance so that one day kiddos do not have to suffer anymore. They deserve to live their lives to the fullest."
Why should students get involved with Miracle Network Dance Marathon on their campus?
"Students should get involved with Miracle Network Dance Marathon for multiple reasons. The first being that it builds great leadership and fundraising skills. Having Dance Marathon on your resume shows employers that you are hardworking and that you can work in a team of peers. Dance Marathon also develops your leadership and interpersonal skills. Moving away from the professional side of things, Dance Marathon also provides you with a second family. Your teammates are all working for the same goal as you and you build the strongest bonds you will ever have. Through this organization, I have gained so many role models and so many new friends. Dance Marathon can also give you stress relief from school and other activities."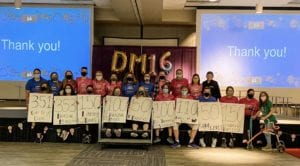 Why should people donate to their local Children's Miracle Network Hospitals?
"There's so much in life that we take for granted. Often, we don't even recognize those little things until it's too late. No child or family should have to face the most devastating news of their life alone. Even if it's a cup of coffee, a snack, a little peace of mind, for the families, that's what it's all about. In alliance with our theme, the little things make life so much sweeter. People should fundraise for their local Children's Miracle Network because it helps celebrate more birthdays." 
---
Miracle Network Dance Marathon is an international movement, involving over 400 colleges, universities and K-12 schools across North America that fundraise for their local Children's Miracle Network Hospitals. These students work tirelessly throughout the year to raise funds one dollar at a time by making the ask to family and friends. Their hard work culminates in a 6-40 hour celebration on their campus, where participants have the opportunity to rally together as a community for their local Children's Miracle Network Hospital. Students involved in Dance Marathon gain valuable skills in fundraising, peer management, delegation and philanthropy. Miracle Network Dance Marathon programs have collectively raised more than $300 million since 1991.
Learn more about Miracle Network Dance Marathon:
Facebook – Instagram – Website – Blog – YouTube