Florida International University Senior Gabriela Torres Receives 2021 Miracle Network Dance Marathon Distinguished Leadership Award
From the thousands of graduating seniors who have participated in Miracle Network Dance Marathon at the approximately 400 colleges, universities, and high schools across the U.S. and Canada, 27 students were selected to receive the 2021 Miracle Network Dance Marathon Distinguished Leadership Award for making an exceptional impact within their Dance Marathon program, on their individual campus, and for their local Children's Miracle Network Hospital. To see all of this year's recipients, click here.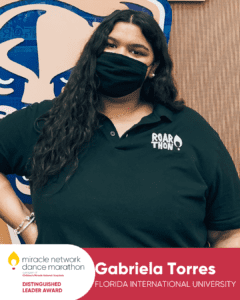 Hometown: Miami, FL
Degree(s): Psychology
Dance Marathon Involvement: 
Participant
Dancer Relations Committee
Director of Recruitment
Executive Director
Campus/Community Involvement: 
Peer Mentor
Panther Camp Facilitator
Alternative Breaks Participant
Relay for Life Participant
Minority Women Interested in Medicine Director of New Members
Alpha Chi Omega Vice President of Philanthropy
Awards/Recognition: 
Senior Outstanding Student Leader Award Nominee
Dean's List
Post-Graduation Plans: 
Her post-graduation plans are to take the summer off and dedicate her time to continuing to grow as a person and finally give herself a break. She loves to give back to her community and sometimes doesn't realize she doesn't give herself enough time. Aside from taking the summer off, she hopes to be beginning her Masters of Science in Psychology come Fall 2021! 
What is your proudest accomplishment from your involvement in Dance Marathon?
"My proudest accomplishment from my involvement in Dance Marathon has to hands down be receiving the Overall Director position. I went through years of dedicating my time to DM and always felt so fulfilled to be able to volunteer and give back to a community that needs it the most but I never saw myself being able to lead a team In continuing to make miracles. My advisors saw a potential that I didn't always see in myself and I am so grateful that they gave me this opportunity. If these covid times taught me anything it's that you always have so much room to grow and prosper into a better version of yourself. While this position may be my proudest moment it is also something that has grown me so much as a professional, student leader, and overall just as a person and I could never thank the individuals who believed in me to be able to do this enough."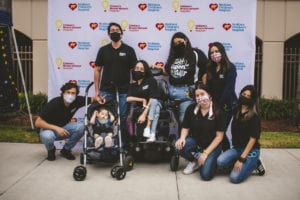 How has Dance Marathon impacted you as a student leader? What specific skills have you developed during your involvement?
"I entered Roarthon with some student leadership experience, but DM is something that lights up a wholly different passion for me. As a Dance Marathon student leader I have learned how to adapt quickly to change, defuse conflict in order to push forward towards a bigger picture, lead my peers and grow them as individuals, take initiative in order to work towards a goal, delegate out tasks to my team, and of course work in team/ group dynamics. The person I am today is hands down due to not only my leadership experience within DM but more importantly due to the opportunities I was given from being involved in Roarthon."
Why do you, personally, participate in Dance Marathon?
"My Dance Marathon journey started as I said earlier back in 2018, after my sister who participated in THON at Penn State every year told me that if she could do it for 46 I could DM for 17 hours. I am so glad that she pushed me to get involved my freshman year. Personally, I participate in DM to be able to give miracle kids a second chance and so that they never have to worry about not making it to achieve all their goals and dreams. In 2018 my team's miracle child Melanie got up on stage and spoke to us about how all she wanted was to be able to sit in our shoes and DM for kids just like her. I have taken those words with me throughout the years and have continued to DM for not only her but every miracle child in any CMN Hospital because I can and I will fight for them even when they can't."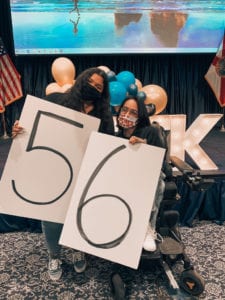 Why should students get involved with Miracle Network Dance Marathon on their campus?
"As a student, it is really easy to fall into your everyday schedule of class, work, homework, sleep and trust me when I tell you getting involved at your college is the best thing you can do for yourself. Now, getting involved in DM is something you should do not only for yourself but for all the kids who may not ever be given the chance to do so. Be the change you wanna see in the world, and it all starts with our little kiddos."
Why should people donate to their local Children's Miracle Network Hospitals?
"There are thousands and thousands of families who can not afford health care for their children with pediatric illnesses and that alone should not be the reason why kids cant get the quality medical attention and treatments that they deserve, that's why I fundraise for CMNH and is something that should inspire you to help raise funds as well. Every dollar counts!"
---
Miracle Network Dance Marathon is an international movement, involving over 400 colleges, universities and K-12 schools across North America that fundraise for their local Children's Miracle Network Hospitals. These students work tirelessly throughout the year to raise funds one dollar at a time by making the ask to family and friends. Their hard work culminates in a 6-40 hour celebration on their campus, where participants have the opportunity to rally together as a community for their local Children's Miracle Network Hospital. Students involved in Dance Marathon gain valuable skills in fundraising, peer management, delegation and philanthropy. Miracle Network Dance Marathon programs have collectively raised more than $300 million since 1991.
Learn more about Miracle Network Dance Marathon:
Facebook – Instagram – Website – Blog – YouTube