Ball State University Senior Alli Kimmell Receives 2021 Miracle Network Dance Marathon Distinguished Leadership Award
From the thousands of graduating seniors who have participated in Miracle Network Dance Marathon at the approximately 400 colleges, universities, and high schools across the U.S. and Canada, 27 students were selected to receive the 2021 Miracle Network Dance Marathon Distinguished Leadership Award for making an exceptional impact within their Dance Marathon program, on their individual campus, and for their local Children's Miracle Network Hospital. To see all of this year's recipients, click here.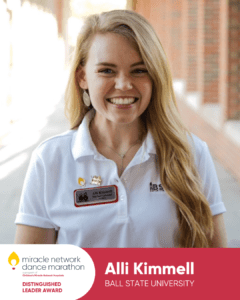 Hometown: Fishers, Indiana
Degree: Major: Psychological Science, Minors: Spanish and Leadership Studies
Dance Marathon Involvement: 
Leadership Team
Stewardship Committee Member
Director of Administration
President
Campus/Community Involvement: 
Campus Tour Guide
Welcome Center Student Assistant
Founder, fundraising coordinator, and volunteer for a local nonprofit
Awards/Recognition:
Presidential Scholarship recipient
Dean's List
Nominated for President of the Year for involvement in Dance Marathon
Nominated for Student Employee of the Year for work at the Office of Admissions
2020 Dance Marathon Hackathon finalist
Post-graduation plans:
Alli plans to take time to delve into a few different opportunities and get a better understanding of where her professional interests, skills, and passions lie. No matter where she ends up after graduation, she plans to stay involved in her Dance Marathon program through joining the Alumni Association.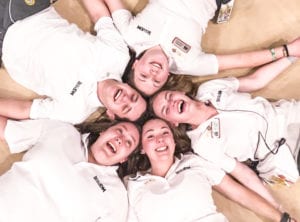 What is your proudest accomplishment from your involvement in Dance Marathon?
"My proudest accomplishment was leading Ball State University Dance Marathon through all of the adversity this past year. Specifically, I am most proud of how we adapted our marathon event to follow through despite receiving the decision that only a small group could gather, and the event could only be 4 hours long. Rather than fearing this change, I made it a point to generate excitement and reinforce this as an opportunity for the program. This change allowed us to envision innovative ways we could connect with our community to celebrate hope and healing for Riley. We created Miracle Maker participant kits and scaled-down our marathon to its most crucial and traditional events to be showcased on a 4-hour live stream. Our live stream was hosted on our website with pages for traditionally in-person events such as the inspiration room, merchandise sale, fundraising help, and more. This event turned out to be incredibly successful all thanks to the collaboration and flexibility of our Executive Board. In four hours, we have 1,604 people, spanning across 32 states and 6 countries, watch the event and we were able to raise $30,083.18. You can watch the full event here!"
How has Dance Marathon impacted you as a student leader? What specific skills have you developed during your involvement?
"Dance Marathon has grown my leadership capabilities in ways I did not think possible. I have built skills in event management, strategic planning, professional fundraising, project management, and more. One of the most crucial skills developed through my involvement within Dance Marathon was communication and public speaking. My involvement in Dance Marathon gave me the confidence to speak up in meetings and share my insight with team members. It allowed me to go beyond the limits of my comfort zone by connecting with strangers about my passion for Dance Marathon. In serving as President, Dance Marathon gave me the unique opportunity to speak at many events on behalf of my program. Writing and delivering these speeches would have been a daunting task before my involvement, but my experiences in Dance Marathon have taught me the power of motivating and inspiring others through words. I now see speaking engagements as opportunities to share my passions and connect with others all thanks to being involved in my Dance Marathon program."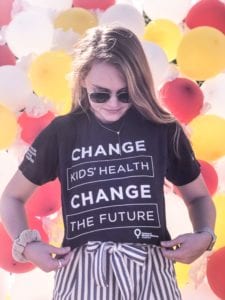 Why do you, personally, participate in Dance Marathon?
"I participate in Dance Marathon because of the direct impact it has on local children and families. In 2018, I served on the Executive Board leading communication efforts with participants. It was this year that I heard Tyler Trent's story at the Dance Marathon Leadership Conference. At the time, Tyler held my equivalent position at Purdue University Dance Marathon and was my same age. He continued to fight and advocate for children's health till the end of his life, and his legacy inspired me to keep fighting in my own advocacy efforts. In 2020, I was introduced to a local family with a child fighting cancer named Christian Daugherty. Christian was a spunky young boy who had attended our marathon just one year prior. Many people in our organization followed the daily Facebook posts about Christian's story and were inspired by his courage. Christian passed away in July of 2019, but his family continues to be heavily involved in BSUDM because they understand the impact of our program. Both of these stories pushed me to do more in Dance Marathon because they received care from the Palliative Care Team, one of the areas BSUDM funds. Their legacies have reminded me to continue pursuing hope even in the face of adversity."
Why should students get involved with Miracle Network Dance Marathon on their campus?
"Students should get involved with Miracle Network Dance Marathon on their campus because it provides unmatched experiences in leadership development and a powerful community of people dedicated to serving others. Being involved in Miracle Network Dance Marathon allows students to develop leadership skills through hands-on experiences related to many professional fields. It helps students grow through plentiful leadership and professional opportunities. On top of these experiences, Miracle Network Dance Marathon fosters an incredible community of like-minded people. Miracle Network Dance Marathon has a remarkable way of unifying a group of college students to accomplish the same mission: to raise funds and awareness for their local Children's Miracle Network Hospital. By getting involved, you surround yourself with a support system of other selfless and driven college students. Participating in my Miracle Network Dance Marathon program gave me my closest friends and my favorite memories throughout my collegiate experience. Other students should get involved with Miracle Network Dance Marathon on their campus to grow professionally and build lasting relationships all while serving children and families in their local community."
Why should people donate to their local Children's Miracle Network Hospitals?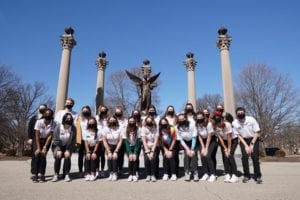 "People should fundraise for their local Children's Miracle Network Hospital to advocate for children and families in their community. This system of hospitals provides world-class care and a safe space for these children and families facing unbelievable hardships. Fundraising for your local Children's Miracle Network Hospital allows them to conduct cutting-edge research, provide welcoming and kid-friendly treatment, purchase pediatric medical equipment, and offer charitable care to families in need. No family should have to face the weight of a child with health complications alone. By fundraising for your local Children's Miracle Network Hospital, you ensure that children and families in your community receive great care and compassion from a network of supporters, donors, and health care professionals."
---
Miracle Network Dance Marathon is an international movement, involving over 400 colleges, universities, and K-12 schools across North America that fundraise for their local Children's Miracle Network Hospitals. These students work tirelessly throughout the year to raise funds one dollar at a time by making the ask to family and friends. Their hard work culminates in a 6-40 hour celebration on their campus, where participants have the opportunity to rally together as a community for their local Children's Miracle Network Hospital. Students involved in Dance Marathon gain valuable skills in fundraising, peer management, delegation, and philanthropy. Miracle Network Dance Marathon programs have collectively raised more than $300 million since 1991.
Learn more about Miracle Network Dance Marathon: