Trinity University Senior Logan Muzyka Receives 2021 Miracle Network Dance Marathon Distinguished Leadership Award
From the thousands of graduating seniors who have participated in Miracle Network Dance Marathon at the approximately 400 colleges, universities, and high schools across the U.S. and Canada, 27 students were selected to receive the 2021 Miracle Network Dance Marathon Distinguished Leadership Award for making an exceptional impact within their Dance Marathon program, on their individual campus, and for their local Children's Miracle Network Hospital. To see all of this year's recipients, click here.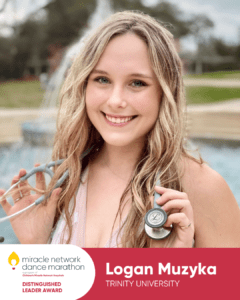 Hometown: Kennedale, Texas
Degree(s): Bachelor of Science in Neuroscience and English
Dance Marathon Involvement:
Freshman year: Dancer Relations Committee Member
Sophomore year: Assistant Director
Junior and Senior years: Executive Director
Campus/Community Involvement: 
Trinity University Plunge Leader (Every Aug. 2017 – 2020)
Cook Children's Medical Center Volunteer (Aug. 2015-2017, Dec. 2017, May 2018-Aug. 2018)
The Park Community Church Volunteer (Aug. 2018 – current)
Trinity University Tour Guide (Aug. 2018 – current)
Trinity University, Department of Biology Undergraduate Researcher (Aug. 2018 – current)
LoonE (Hip Hop Dance) Crew Captain (Aug. 2017 – current)
RUF (Reformed University Fellowship) Leadership Team (Oct. 2017 – current)
Momentum Choreographer (Dec. 2017 – March 2020)
Awards/Recognition: 
Neuroscience Outstanding Senior March 2021
Trinity University Tour Guide of the Year May 2020
Thurman Adkins "Unsung Hero" Award April 2020
Murchison Summer Undergraduate Research Fellowship May– October 2019 and 2020
Society for Neuroscience: Member May 2019–Current
University Scholar April 2018
Storer and Tillman Scholar August 2017-Current
Post-Graduation Plans:
Logan will be attending medical school at Dell Medical School at the University of Texas at Austin beginning in June 2021. She plans to pursue a career as a pediatric neurosurgeon.
What is your proudest accomplishment from your involvement in Dance Marathon?
"I am the proudest of making a name for TigerThon on Trinity University's campus. When we began our program, we tried to apply general Dance Marathon tactics to our very unique, small, liberal arts campus. It took a few years to figure it out, but we ultimately have learned to market our program in a way that tailors specifically to our student population.
We are a type of university where all students have a 'leadership mentality.' Τhis made it difficult to recruit participants because people were reluctant to simply register for the cause without being the one leading it. Additionally, the time commitment of a 5-hour event was daunting; with our curriculum at Trinity, people typically are inundated with homework every weekend. So my team and I adapted our program to fit our unique campus.
For instance, instead of just focusing on our one main event, we incorporated several mini-events that still required registration but appealed more to different interests (volleyball, trivia, pumpkin painting, etc) as well as created less of an initial time commitment. Also, I decided to create a new team, called our Morale, Education, and Advocacy (MEA), which both created more leadership opportunities as well as helped TigerThon appeal more to relevant social topics. With this team, we now research information about pediatric health statistics, social determinants of health, or even how climate change impacts pediatric health and share the information over social media and bring in experts to give talks to different student organizations.
Now, our program is an easily identifiable force but, at the same token, fits well with the culture of the campus. People now readily see the impact TigerThon is able to make and want to contribute, and I am extremely proud of that growth." 
How has Dance Marathon impacted you as a student leader? What specific skills have you developed during your involvement?
"Dance Marathon has allowed me to become a truly collaborative leader. I had held leadership roles before in high school and early college; however, at that time, I became used to an extremely independent leading style. I was the type of leader to stay after hours and 'sweep up the floors' so to speak for my organizations, and while I still have that mentality that with TigerThon, I have quickly learned that I cannot single-handedly accomplish everything for this organization– nor would that be the best thing for it. In fact, I study Neuroscience and English, not Finance, Marketing, or other fields that are more directly applicable to Dance Marathons. My greatest asset I can give to our Dance Marathon, I have learned, is my ability to listen and apply others' ideas into tangible plans. That being said, my skills of listening effectively, synthesizing ideas, and overall collaborating with a team have flourished in this position.
Additionally, I had the opportunity to give a presentation at the Dance Marathon Leadership Conference (DMLC) in 2020. Although I have given scientific presentations to the public, presenting on TigerThon's advice and strategies was a completely different challenge that I am grateful to have had. My presentation was called 'Engagement Strategies for Unique Campuses,' where I spoke on the unique challenges of Trinity University and how my program has been able to creatively overcome them. I worked closely with Bret Koch, who was extremely supportive and gave valuable feedback so that I could refine my talk. This helped me garner 'professionality' as well as bolstered my skills as a public speaker.
Ultimately, my experience with TigerThon has made me take a 180º turn as a leader, but I am confident I am all the better for it."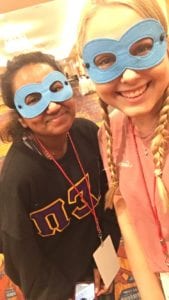 Why do you, personally, participate in Dance Marathon?
"I want my efforts with TigerThon to improve the lives of kids until my hands can. Since I was young, I have known I have passion and interest in working with kids and always knew that it would be a large part of my life. I have been a babysitter, nanny, camp counselor, and I still just genuinely enjoy spending time with kids. My discovery of medicine occurred when I was a sophomore in High School and my uncle was diagnosed with throat and neck cancer. I immediately saw the world of medicine and knew it was something that I would both love to do and be good at, considering my strengths in academia, communication abilities, and genuine interest in people. Even at that point, I knew some form of pediatric medicine was my end goal, for it combined my fundamental quality of helping kids with my newfound interest in the medical profession.
Since my uncle passed away from cancer, I have been trying to do everything I can to make a tangible impact on the lives of patients. Typically, this has been through seemingly small things like volunteering, writing notes to patients, etc. When I got to college, met Sarosha, and heard about the Dance Marathon she wanted to start up at Trinity, there was no hesitation– I immediately dove in head-first. Although the things I had been doing prior were meaningful and important, TigerThon had a degree of impact that was impossible to ignore. If I never make it to my goal as a pediatric neurosurgeon, I will still have made an impact on the lives of sick kids through TigerThon, and that to me is the most rewarding thing about it."
Why should students get involved with Miracle Network Dance Marathon on their campus?
"College is a crucial point in our development as adults where we get to define and refine who we are. While this comes with an enchanting amount of freedom, in my personal experience, I have also seen it breed depression, anxiety, a sense of pointlessness in one's own life, and a new questioning of identity and values. For me, planting my roots in something that makes a tangible impact in my local community helped me avoid the common quarter-life crisis of feeling like I had nothing to offer the world. Believing in something strongly, fighting towards a goal, and diving head-first into the needs of one's community are quite effective ways for students to maintain a sense of identity and purpose, and thus have better mental health, throughout the college years.
Not only would participating in Dance Marathon help students with their feelings of identity and purpose, but it also fosters a sense of community with like-minded individuals. My closest friends I have made in college have come through TigerThon, and I think part of the reason is that fighting for something as profound as sick children makes the connection we have with each other truly deep and meaningful.
Overall, there is a huge personal benefit and social reward to participating in Dance Marathon, and these are extremely valid reasons to get involved. But, ultimately, the most important factor of why someone should get involved is simple: we get to change the lives of sick and injured kids with what we do! And though that specific mission may not resonate with everyone, it is the best reason that someone should get involved."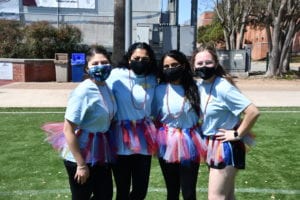 Why should people donate to their local Children's Miracle Network Hospitals?
"We live in San Antonio Texas, which is one of the most socioeconomically segregated cities in the United States. One thing that really resonates with our mission is that our hospital, The Children's Hospital of San Antonio, has a 'no turn away' policy for its patients, guaranteeing care for all children regardless of socioeconomic status, citizenship, race, ethnicity, or other social factors that deter may deter kids and families from receiving proper medical care. When people fundraise for TigerThon, they are providing care to kids that might otherwise not receive it.
This general principle applies to any local Children's Miracle Network Hospital. Helping the sick and injured kids in one's community will address the specific needs of local kids, depending on what the demands of the area may be. For cities like San Antonio, this ends up helping many low-income and insurance-less families. In fact, Texas is the worst state in the United States when it comes to pediatric healthcare coverage (Kingery, 2020). It does not matter how skilled a pediatric cardiothoracic surgeon is if the child who needs it does not have access or cannot afford the procedure. Our medical system is a broken one and, until we can make change that benefits our country as a whole, we must advocate for those who are hurt by our flawed system. By fundraising, people can quite tangibly make a difference for sick and injured kids."
---
Miracle Network Dance Marathon is an international movement, involving over 400 colleges, universities, and K-12 schools across North America that fundraise for their local Children's Miracle Network Hospitals. These students work tirelessly throughout the year to raise funds one dollar at a time by making the ask to family and friends. Their hard work culminates in a 6-40 hour celebration on their campus, where participants have the opportunity to rally together as a community for their local Children's Miracle Network Hospital. Students involved in Dance Marathon gain valuable skills in fundraising, peer management, delegation, and philanthropy. Miracle Network Dance Marathon programs have collectively raised more than $300 million since 1991.
Learn more about Miracle Network Dance Marathon: