Butler University Senior Trent Thompson Receives 2021 Miracle Network Dance Marathon Distinguished Leadership Award
From the thousands of graduating seniors who have participated in Miracle Network Dance Marathon at the approximately 400 colleges and universities across the U.S. and Canada, 27 students were selected to receive the 2021 Miracle Network Dance Marathon Distinguished Leadership Award for making an exceptional impact within their Dance Marathon program, on their individual campus, and for their local Children's Miracle Network Hospital. To see all of this year's recipients, click here.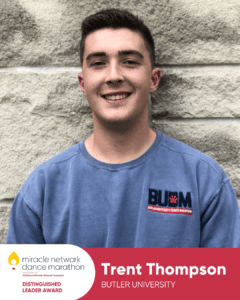 Hometown: Brookston, IN
Degree(s): Bachelor of Science, Marketing; Minor, Strategic Communication
Dance Marathon Involvement: 
Freshman year – Dancer
Sophomore year – Recruitment Committee member
Junior year – Director of Marathon Relations
Senior year – President
Campus/Community Involvement: 
Delta Tau Delta fraternity – External Vice President
Delta Tau Delta fraternity – sorority relations chairman
Delta Tau Delta fraternity – TRIKE chairman
Inter-Fraternal Council – Vice President of Communications
 Awards/Recognition: 
Sarah Michelle Cohen award
Delta Tau Delta court of honor
Post-Graduation Plans:
Trent hopes to attend law school.
What is your proudest accomplishment from your involvement in Dance Marathon?
"My proudest accomplishment from my involvement with Dance Marathon came from my senior year serving as president of BUDM. I was elected about two weeks before the lockdowns began due to COVID-19 and to say I was worried about how the year was going to look would be an understatement. Despite the countless challenges, BUDM was able to set many records. We saw record attendance of 125 people at our spring carnival-themed event, record push day (Day of Miracles) fundraising where we raised $91,843.73 in 24 hours, and record attendance at our in-person, socially distanced Dance Marathon, with 250 total attendees. We made many improvements over the year before, such as our $278,693.01 overall fundraised (a roughly $7,000 increase from the previous year), increased peer to peer fundraising by 22%, increased team registration by 26%, increased dancer activation by 16%, and increased executive board fundraising by 11.5%. Finally, I set an individual BUDM fundraising record by personally raising $13,375.50 over the course of this year. That's a lot of numbers I just threw out but to sum it all up, my proudest accomplishment was being able to lead our team through this whirlwind of a year. Despite constantly hearing no, we were always able to get right back up and find a new solution, and to turn this very negative situation into one of BUDM's most successful years ever."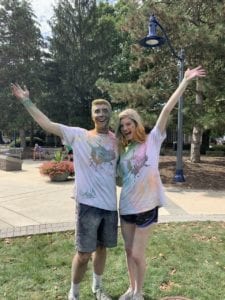 How has Dance Marathon impacted you as a student leader? What specific skills have you developed during your involvement?
"I've developed a lot of skills through my Dance Marathon career, but I would argue that the most notable skill would be servant leadership. Prior to my time with Dance Marathon, I had never even heard the term servant leadership. Upon hearing it for the first time, it made little sense to me, however as I spent more and more time with the BUDM leadership, it became very clear to me what it means to be a servant leader; to truly be there to help, support, and serve those that you are leading.
My eyes were instantly opened to how poorly I had lead in my previous positions, and it was the servant leadership I saw that ultimately lead to me running to be the president of BUDM. The servant leadership shown by previous leaders, specifically my predecessor, Alex Pentala, had an incredible impact on me, and I wanted to be able to have that impact on others. Now that my time with Dance Marathon has come to an end, I can see the impact of learning this skill in my everyday interactions with others. I very strongly believe that my servant leadership played a massive role in BUDM's success this year. Now more than ever, people need to feel supported and loved. Thanks to this skill I was able to develop, I was able to give my board the support that they needed to make it through this year."
Why do you, personally, participate in Dance Marathon?
"I have a bit of a unique Dance Marathon story. My freshman year, the only reason that I even went to the marathon was because a girl that I had a crush on at the time suggested that I go. Three years later, I found myself standing in front of our executive board, mask on, hugging my vice president Sarah Monesmith, tears rolling down my face, as I reflected on the best year of my life, with all the ups, downs, and emotions that I felt over the course of my presidency. The main reason that I participate in Dance Marathon is because of the people. I saw how much previous leaders had impacted me and helped me grow, and I wanted to be able to do that for other, younger Dance Marathon participants. I wanted to be able to inspire others, foster growth, and ultimately help them to find themselves, their passions, and who they are through Dance Marathon, just like previous DM leaders helped me do."
Why should students get involved with Miracle Network Dance Marathon on their campus?
"Students should get involved with Dance Marathon because what we do is enjoyable. Now you might be looking for an answer like 'to help others' or to 'make a difference' and while those are great reasons, I would argue that first and foremost you must have fun and enjoy yourself. The best Dance Marathon participants are able to help others, sacrifice so much, and truly make a difference all while enjoying it. If someone comes in with the intent to give and they hate it, they would likely quit after a year and DM would leave a sour taste in their mouth. This is why I argue that above all else, prospective Dance Marathon participants should join because they know they will truly enjoy their time with DM and get some internal satisfaction from making a difference in the lives of others."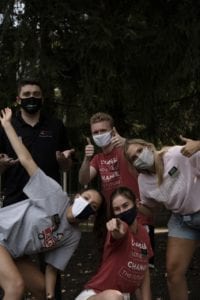 Why should people donate to their local Children's Miracle Network Hospitals?
"As someone who has been involved with Dance Marathon for four years and served as the president, this is a question that I have asked myself at times. To answer this, I would say to simply put yourself in the shoes of someone impacted by a Children's Miracle Network Hospital. Think about that child who woke up this morning in a hospital bed. Think about all the mothers who will go to bed tonight not knowing if their newborn will live to see the morning. Think about all the children at home, who want nothing more than their sibling to return from the hospital so they can play together like they used to. It's important to fundraise because these people can't do it themselves. As humans, we all need help at times, and I know that if I were that kid in the hospital bed if I were that parent who had to send my child to a CMN Hospital, or if one of my little sisters found themselves needing care from a CMN Hospital, I would want others to stand up and fight for me."
---
Miracle Network Dance Marathon is an international movement, involving over 400 colleges, universities and K-12 schools across North America that fundraise for their local Children's Miracle Network Hospitals. These students work tirelessly throughout the year to raise funds one dollar at a time by making the ask to family and friends. Their hard work culminates in a 6-40 hour celebration on their campus, where participants have the opportunity to rally together as a community for their local Children's Miracle Network Hospital. Students involved in Dance Marathon gain valuable skills in fundraising, peer management, delegation and philanthropy. Miracle Network Dance Marathon programs have collectively raised more than $300 million since 1991.
Learn more about Miracle Network Dance Marathon: