Arizona State University Senior Dalia Khaled Receives 2021 Miracle Network Dance Marathon Distinguished Leadership Award
From the thousands of graduating seniors who have participated in Miracle Network Dance Marathon at the approximately 400 colleges and universities across the U.S. and Canada, 27 students were selected to receive the 2021 Miracle Network Dance Marathon Distinguished Leadership Award for making an exceptional impact within their Dance Marathon program, on their individual campus and for their local Children's Miracle Network Hospital. To see all of this year's recipients, click here.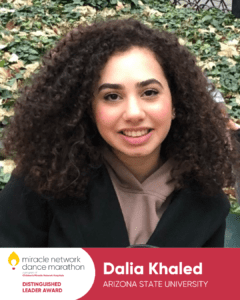 Hometown: Scottsdale, AZ
Degree(s): Bachelor of Science, Biological Sciences; Minoring in Nutrition and Healthy Living
Dance Marathon Involvement: 
Internal Director, founding member – Sun Devil Dance Marathon
Campus/Community Involvement: 
Member in the American Medical Women's Association
Member of the Lebanese Student Association
Student Researcher at the Neural Control of Movement Laboratory
Honor Health Medical Center Surgical Waiting volunteer
Feed My Starving Children volunteer
Banner Health MD Anderson Cancer Center student intern
Awards/Recognition: 
Dean's list (6 consecutive semesters)
New American University Presidents Scholarship Recipient (Arizona State University)
NSF – REU Recipient – Neural Control of Movement Lab
Post-Graduation Plans:
Dalia is applying to medical schools and hopes to start next year.
What is your proudest accomplishment from your involvement in Dance Marathon?
"My proudest accomplishment is creating and setting up Sun Devil Dance Marathon with nothing to start with. There wasn't a Dance Marathon presence at ASU up until our event; no one on the team had any experience with Dance Marathon, and yet we were able to host a wonderful event for the miracle families and raised over $10,000 on our first try. I am very proud of the work we accomplished this year."
How has Dance Marathon impacted you as a student leader? What specific skills have you developed during your involvement?
"I had never taken on a leadership position as large as this and I have learned so much. Being the Internal Director taught me to delegate and learn that it's ok to depend on my team. In addition, this experience re-instilled my passion for helping others and made me realize that I would like to become a pediatrician. Working with the kids and learning about their stories was so inspiring and I can only hope to help and care for others like them one day."
Why do you, personally, participate in Dance Marathon?
"My roommate recruited me to help out with starting Dance Marathon, and personally I had never heard of the concept until then. I did some research and immediately hopped on the team. My sister was at the local children's hospital here in Arizona for three months when she was born because she was premature; without the amazing care of those at Phoenix Children's Hospital (PCH), she may not be here with me today. I saw Dance Marathon as a chance to say thank you to PCH and help other families who have loved ones in the hospital and may need financial assistance."
Why should students get involved with Miracle Network Dance Marathon on their campus?
"Dance Marathon is an amazing experience that teaches participants about all that the children go through at local children's hospitals; those kids are truly so brave and deserve the best. Dance Marathon is a way to give back to one's community and say thank you to all the physicians and nurses and medical personnel involved in the care of children."
Why should people donate to their local Children's Miracle Network Hospitals?
People should fundraise for their local children's hospital to help those families who have loved ones fighting for their lives at the hospital. The Hope Fund at Phoenix Children's Hospital, where some of our funds support, allows physicians and medical personnel to fund clinical trials that may lead to breakthroughs in research; this can directly help a patient and may be their path to recovery. Donations also help keep the hospital prepared and well equipped for anything that might occur to better serve those young patients.
---
Miracle Network Dance Marathon is an international movement, involving over 400 colleges, universities and K-12 schools across North America that fundraise for their local Children's Miracle Network Hospitals. These students work tirelessly throughout the year to raise funds one dollar at a time by making the ask to family and friends. Their hard work culminates in a 6-40 hour celebration on their campus, where participants have the opportunity to rally together as a community for their local Children's Miracle Network Hospital. Students involved in Dance Marathon gain valuable skills in fundraising, peer management, delegation and philanthropy. Miracle Network Dance Marathon programs have collectively raised more than $300 million since 1991.
Learn more about Miracle Network Dance Marathon:
Facebook – Instagram – Website – Blog – YouTube