Syracuse University Senior Sameeha Saied Receives 2021 Miracle Network Dance Marathon Distinguished Leadership Award
From the thousands of graduating seniors who have participated in Miracle Network Dance Marathon at the approximately 400 colleges, universities, and high schools across the U.S. and Canada, 27 students were selected to receive the 2021 Miracle Network Dance Marathon Distinguished Leadership Award for making an exceptional impact within their Dance Marathon program, on their individual campus, and for their local Children's Miracle Network Hospital. To see all of this year's recipients, click here.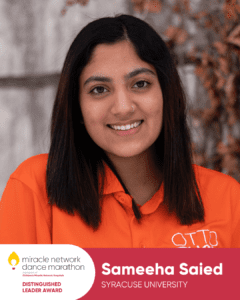 Hometown: Winter Garden, FL
Degree(s): Bachelor of Science, Psychology; Minors, English & Textual Studies, Music History & Cultures
Dance Marathon Involvement: 
Fall 2017: morale committee member
2018: community relations committee member
2019: community relations chair
2020-21: membership director
Campus/Community Involvement: 
Vice president of Student Association
Orientation leader
Remembrance scholar
Literacy Corps intern
OrangeSeeds member (first-year leadership and service program)
Research assistant in the SU Department of Psychology
Vera House intern
Awards/Recognition: 
Award for positive advocacy and awareness
MLK unsung hero award
Remembrance scholarship
Dean's list
Post-Graduation Plans:
Sameeha plans to pursue a PhD in clinical psychology following graduation, and then will go on to become a licensed therapist.
What is your proudest accomplishment from your involvement in Dance Marathon?
"My proudest accomplishment, although broad, is the event we were able to put on at the end of February. As an event, we do not receive much support from our university, so it is already difficult implementing OttoTHON each year. Given the public health and social justice crises that occurred during 2020, the fact that much of our internal team was comprised of new, young faces, and our decision to move our event from the fall to the spring, the odds seemed to be stacked against us. Despite these setbacks, we were still able to put on a successful, meaningful virtual event. We ended the event with 300 participants, no zero-dollar dancers, and over $120,000 raised."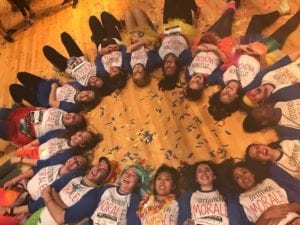 How has Dance Marathon impacted you as a student leader? What specific skills have you developed during your involvement?
"Dance Marathon has been my most meaningful involvement during my college experience. I entered OttoTHON as a first-semester freshman, and I grew along with the organization. More than anything else, my involvement in OttoTHON has taught me how to galvanize others through cause-connection. The student leaders who came before me always stressed the importance of carrying my 'why' with me, so when it came to motivating others to participate in the event, the importance of the cause pushed me to incorporate vulnerability and honesty into my leadership style. In all my other endeavors on and around campus, this has proven to be incredibly helpful for me. Dance Marathon has also helped me develop balanced initiative. It is easy to get caught up in the bigger picture of a cause and just as easy to get caught up in the logistics of an event like this, but leading in this organization has taught me how to balance my mind and focus equally on both."
Why do you, personally, participate in Dance Marathon?
"Over the years, my 'why' has evolved, but it always comes down to my family. When I was young, I underwent heart surgery for a congenital heart defect at a children's hospital in Miami, Florida. My younger sister, a few years later, underwent an even more severe heart surgery. When my youngest brother was a baby, he was treated for Kawasaki Disease at a children's hospital in Orlando, and his stay at the hospital is my first memory of real fear.
In pediatric settings, in adult oncology settings, and in other various medical settings, my family has braved the struggle of medical complication, and I have witnessed firsthand the difference quality care makes in a family's hospital experience. I participate in Dance Marathon because, the money we raise eases the burden families carry in watching their children battle pediatric illness and injury. I would have loved to be treated at Upstate Golisano when I received my heart surgery, and I know much of the experience they provide to their patients comes from our efforts and efforts like ours. I cannot imagine having the opportunity to contribute to that kind of impact and turning it down."
Why should students get involved with Miracle Network Dance Marathon on their campus?
"There are so many reasons to be involved with Dance Marathon! For one, it's an easy, engaging way to make a meaningful difference beyond campus. All it takes is a registration fee, a little bit of fundraising, and a good attitude and you can positively impact the future of your community. It's also a great bonding experience for groups of people. Signing up as a team and attending the event together really connects people, especially given the impactful energy during the event. Above all else, this is a universal cause. Society is divided on so many issues impacting so many different types of people, but I have never known someone to disagree with the notion that children deserve a happy, healthy childhood. This cause unifies people in a way I've never seen before. It changes people."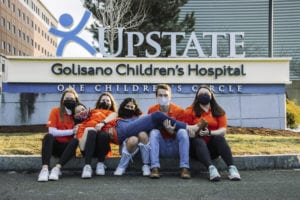 Why should people donate to their local Children's Miracle Network Hospitals?
"As our hospital advisor has said in the past, insurance covers a child's care, but it does not cover a family's comfort. Even if the money raised by your Dance Marathon does not directly impact the cost of health care, it is still going to the betterment of a child and their family's experience with pediatric illness and injury, whether that be through entertainment and supplies for the children, meal vouchers for families, or contributions to a new center for special needs. For OttoTHON, we have the privilege of being within walking distance of our local children's hospital, and from the outside alone you can tell how special it is. Making a difference doesn't require much, so why would anyone decide not to?"
---
Miracle Network Dance Marathon is an international movement, involving over 400 colleges, universities and K-12 schools across North America that fundraise for their local Children's Miracle Network Hospitals. These students work tirelessly throughout the year to raise funds one dollar at a time by making the ask to family and friends. Their hard work culminates in a 6-40 hour celebration on their campus, where participants have the opportunity to rally together as a community for their local Children's Miracle Network Hospital. Students involved in Dance Marathon gain valuable skills in fundraising, peer management, delegation and philanthropy. Miracle Network Dance Marathon programs have collectively raised more than $300 million since 1991.
Learn more about Miracle Network Dance Marathon: