University of Nebraska Senior Receives 2020 Miracle Network Dance Marathon Distinguished Leadership Award
From the thousands of graduating seniors who have participated in Miracle Network Dance Marathon at the approximately 300 colleges and universities across the U.S. and Canada, 25 students were selected to receive the 2020 Miracle Network Dance Marathon Distinguished Leadership Award for making an exceptional impact within their Dance Marathon program, on their individual campus and for their local Children's Miracle Network Hospital. To see all of this year's recipients, click here.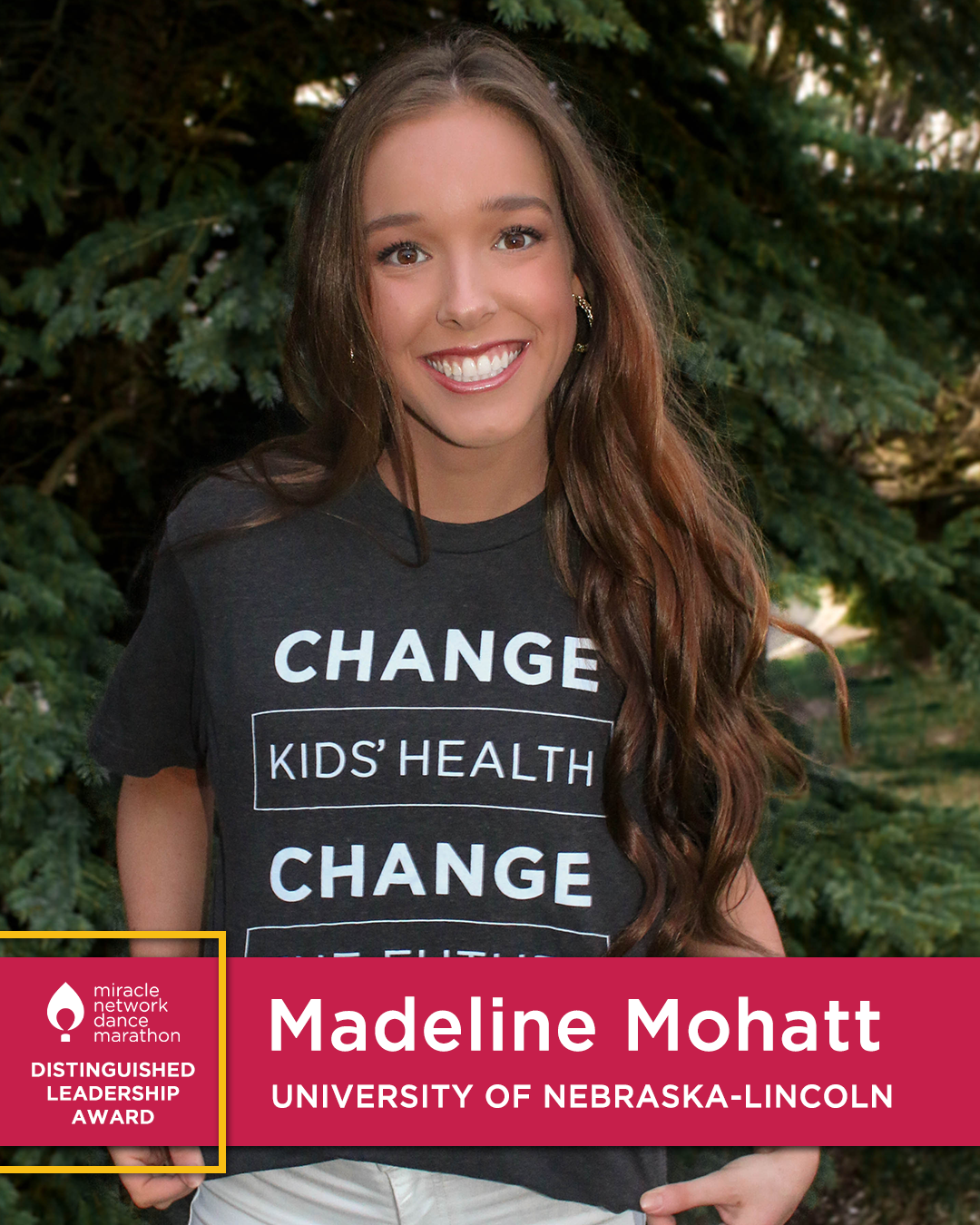 Hometown: Sugar Grove, Illinois
Degree(s): Bachelor of Journalism with minors in English, Communication, and Leadership Studies
Dance Marathon Involvement: On February 18, 2017, I attended what I thought would be "just another philanthropy event." However, somewhere between handing out high fives to awesome kiddos and dancing alongside hundreds of Huskers, I managed to fall head over heels for the organization that is University of Nebraska Dance Marathon (UNDM). My love for UNDM and connection to the cause only continued to grow stronger as I got more and more involved over the years.
During my sophomore year, I was on the programming and event operations committee. Through this, I was able to assist in the planning of our big event –HuskerThon– and help with day-of performances. Additionally, I was able to act as a family representative for one of UNDM's Miracle Children: Paxton Campbell. Paxton was born with pulmonary atresia and 22q11.2 deletion syndrome –a disorder caused by a small missing piece of the 22nd chromosome that can affect every system in the human body. However, Paxton has never let this diagnosis stop her from doing the things she loves. On the day of HuskerThon that year, we spent the entire 12 hours dancing, jumping in the bounce houses, and hanging out with her older brother Cam.
After being on staff for a year, I decided to apply for a spot on the executive team. Shortly after submitting my application, I was slated as the director of marketing. While holding this position, I was accountable for planning and executing all promotional and press initiatives for the organization. In an effort to strike an emotional chord with our target audience, I utilized my knack for creative thinking to create campaigns that effectively communicated UNDM's core values. My UNDM experience culminated in the spring of my junior year when I was elected as the executive director. Serving as the executive director was by far one of the greatest learning experiences that I have ever had. Through all of the lessons that I learned and the knowledge that I acquired, I grew to be more of an effective leader. Throughout my time in UNDM, I collectively raised $11,696.73 for Children's Hospital and Medical Center in Omaha, Nebraska.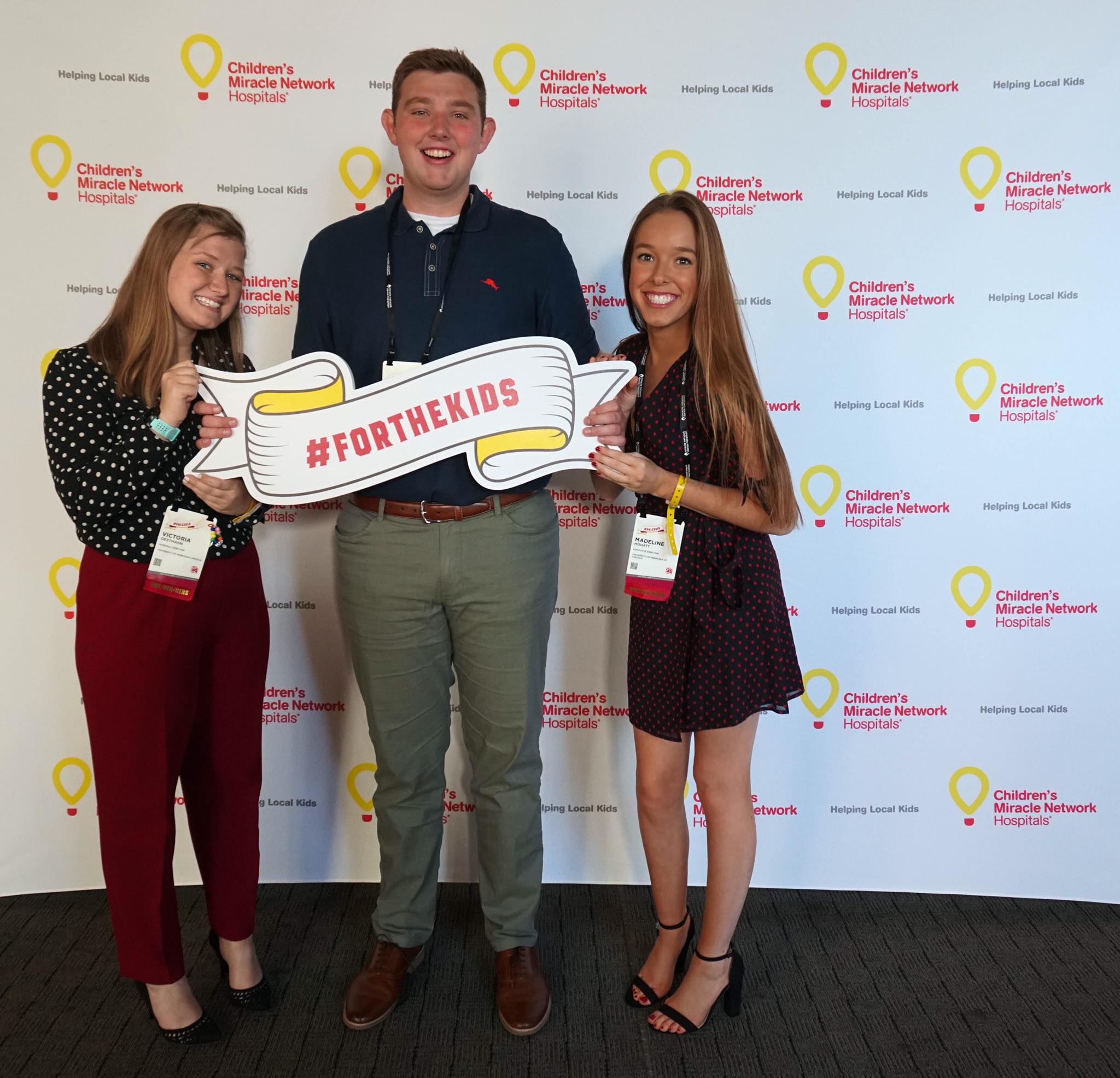 Campus/Community Involvement: Advertising Club (Active Member 2016-2018); Belmont Community Learning Center (Student Mentor 2017-2019); Everett Elementary School (Community Volunteer 2017-2020); Islamic Foundation of Lincoln (Community Volunteer 2018); Jacht Advertising Agency (Account Executive and Director of Strategy 2019); NSAC (Account Executive 2019-2020); Pi Beta Phi (Assistant Vice President of Fraternity Development 2016-2017, Assistant Vice President of Event Planning 2017-2018, and Chairman of Multimedia 2018-2020); The National Society of Leadership and Success (Initiated Member 2017-2020); UNL ALEC Department (Teaching Assistant 2019)
Awards/Recognition: Alpha Delta Sigma; Kinman Oldfield Scholarship; Pierce Memorial Scholarship; The National Society of Leadership and Success
Post-Graduation Plans: Following graduation, I hope to work in accounts at an advertising agency.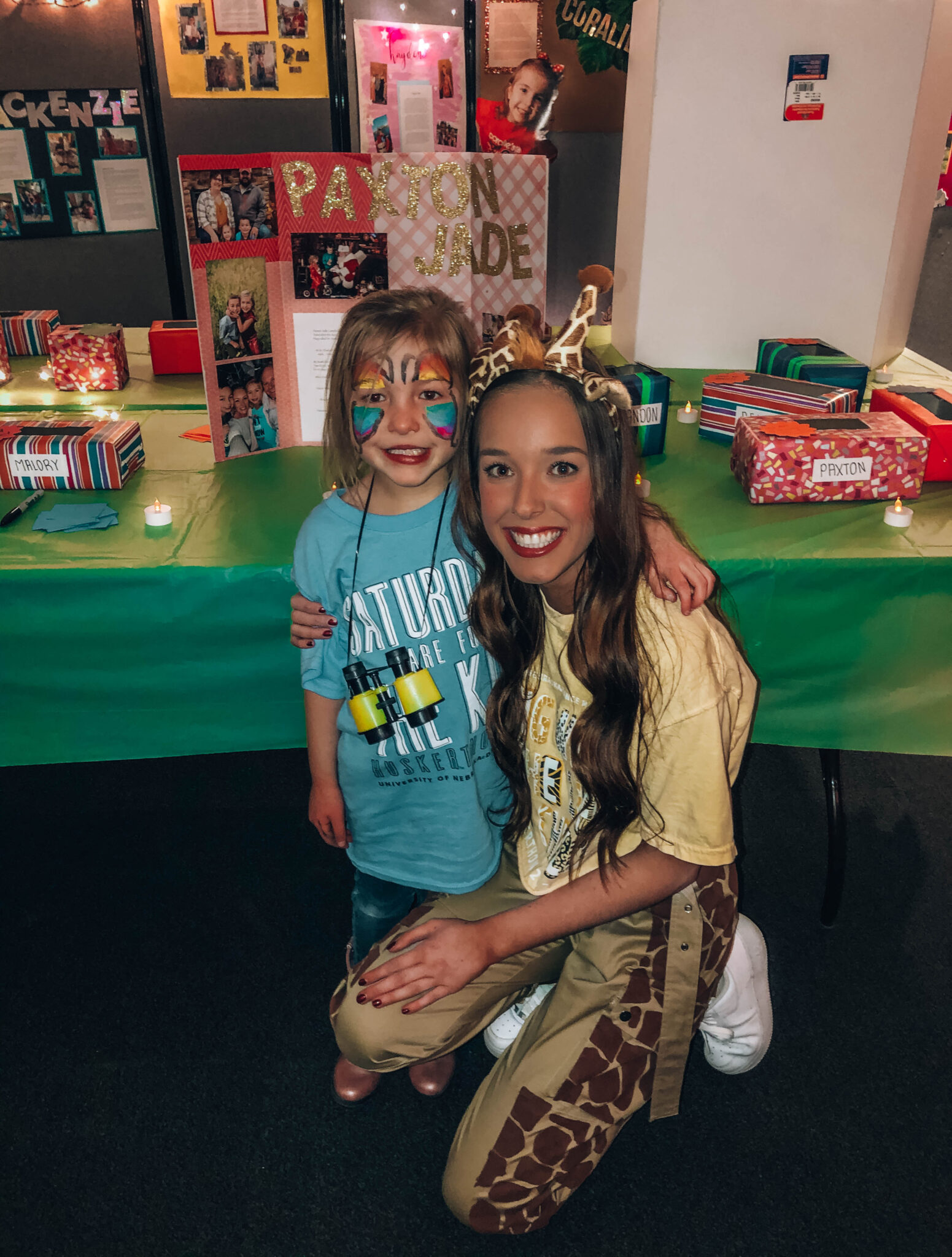 Why do you, personally, participate in Dance Marathon?
I dance so other kids are able to live their lives with "no worries." In seventh grade, my family moved from South Dakota to the suburbs of Chicago. At the time, this change was a very traumatic adjustment for my awkward middle-school self. However, in a place where I didn't know anyone, Julia never failed to make me feel welcomed. Our friendship continued to grow as we discovered our mutual love for all things Disney and transitioned to high school together.
In addition to being born with severe autism, Julia faced more hardship as she got older. During our sophomore year of high school, she was diagnosed with Ewing Sarcoma: a rare form of bone cancer. While Julia lost her four-year battle in November of 2017, the impact that she had on me has had a lasting effect.
Julia was admirable for several reasons, but it was her love of life that inspired me the most. Like The Lion King's Timon and Pumbaa, Julia abided by the phrase "Hakuna Matata." Even in the face of a tumor, she continued to foster joy and live her days with "no worries." It was Julia's optimism and passion for making others smile that encouraged me to get involved with University of Nebraska Dance Marathon (UNDM) my freshman year.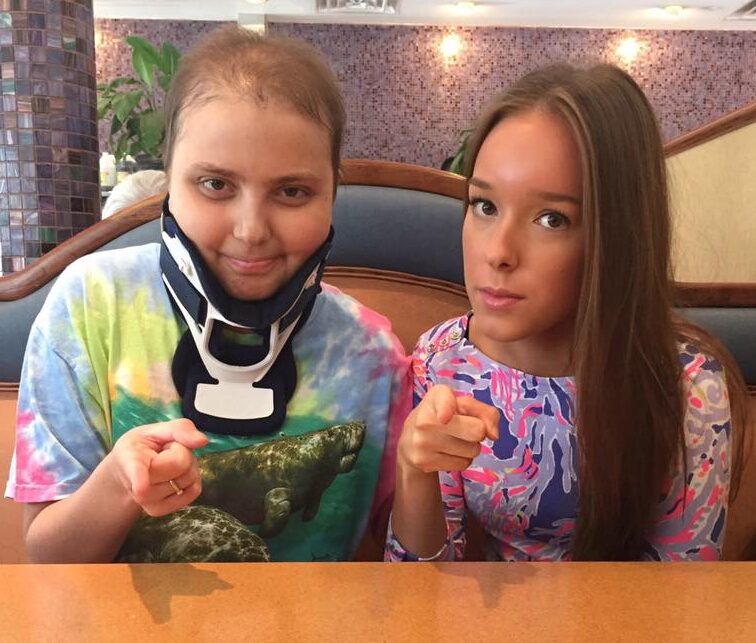 How has Dance Marathon impacted you as a student leader? What specific skills have you developed during your involvement?
Dance Marathon has given me so much more than I was able to give, and in return, I have been changed for the better. Through my involvement with this organization, I not only discovered my love for helping others but learned a great deal about leadership. Here are some of my key takeaways:
You Can't Do It Alone: When I first "clocked in" as the executive director, I had a hard time appointing tasks to others. However, after many sleepless nights, I realized that the weight of the organization was too heavy to carry on my own. Once I finally started practicing fruitful delegation tactics, I discovered great truth in the common cliché "teamwork makes the dream work."
Project Passion: When I was a staff member, I always aspired to be as uplifting as the upperclassman who were on the executive team. Their enthusiasm had a way of fueling others and bringing visions to life. When it was my turn to fill their shoes, I tried to leverage my love of UNDM to ignite passion in those who were once like me.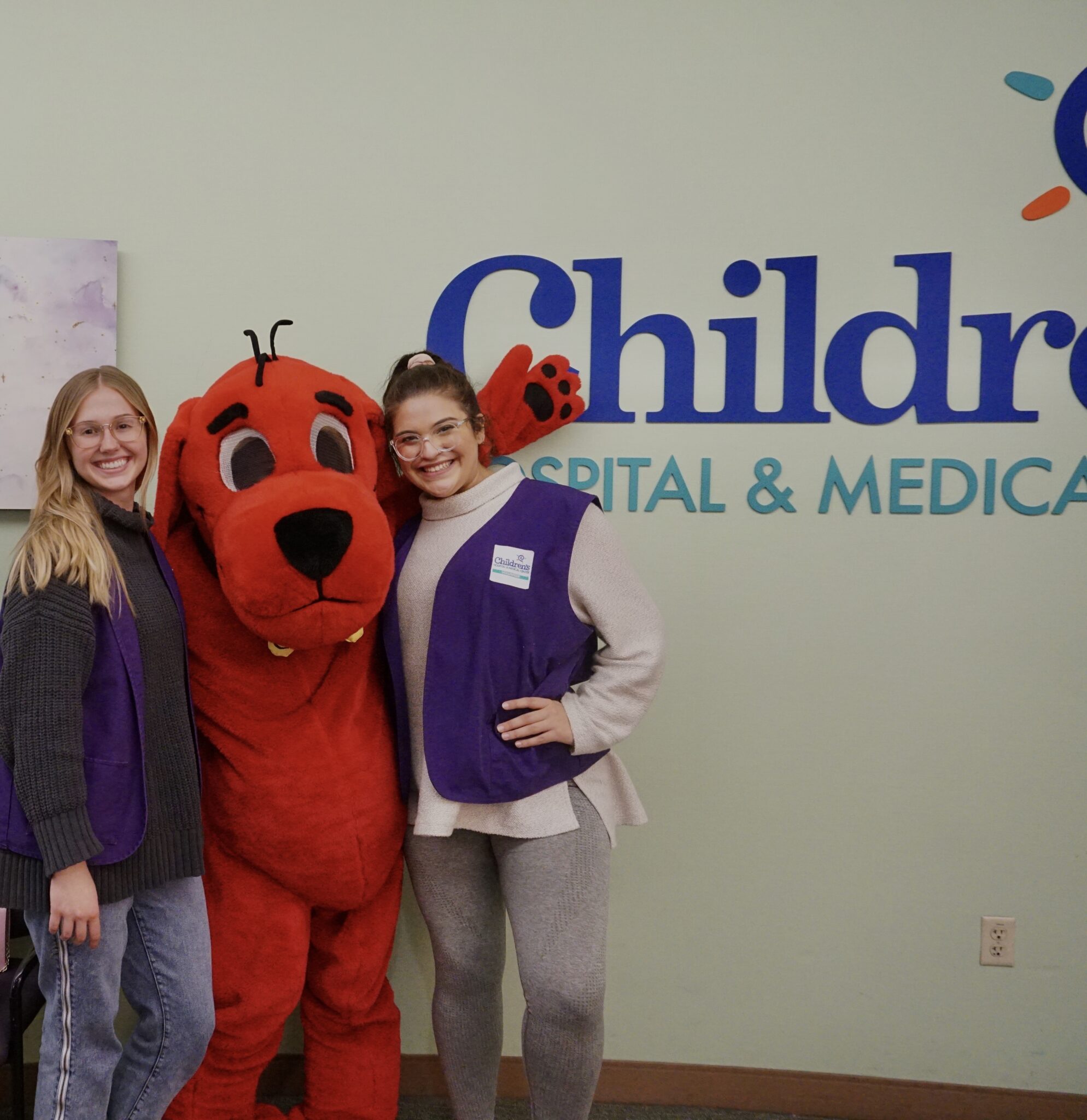 What personal accomplishment/contribution are you most proud of from your involvement in Dance Marathon?
Last March, my executive team and I made it our goal to build relationships. While this might sound like a broadly-obvious objective, it truly encompassed everything that we were striving to accomplish over our 12-month term.
In 2019, we saw a decline in the number of registrants that we had signed up for HuskerThon. In keeping this in mind, we strived to restrengthen our connection with the student body through campus-wide events and guerilla marketing tactics. At the beginning of the fall semester, we hosted our very-first block party: New FTKids on the Block. At this back-to-school bash, we invited students to enjoy tasty food, interact with our Miracle Families, and learn more about our worthwhile cause. We continued to implement new things as we engaged the Greek community in a chapter-vs-chapter competition. To kick things off, we placed a flock of flamingos in the yard of one of our houses on campus. In order to have the gaudy lawn decorations moved somewhere else, the chapter was required to raise $50 in the span of 24 hours. By the end of this three-week-long stunt, we managed to garner a lot of buzz and donations. To further bridge the gap between our organization and UNL students, we held our first "Miracle Maker AppreciationWeek" nearly one month before HuskerThon. Throughout the seven days of fun festivities, we utilized our team captains –a new addition to our miracle-making team– to relay information, encourage participation, and maintain morale.
Aside from sustaining the relationship between UNDM and the campus community, we built a better bond with our internal team. When leading an organization that is rooted in raising money, it can be easy to fall into a task-oriented regime. In order to avoid this, we knew that we needed to cultivate an inviting culture. To do so, we organized several events for staff members to get to know one another, made meetings more meaningful, and restructured the role of our morale captains.
Why should students get involved with Miracle Network Dance Marathon on their campus?
Over the years, our program has measured its success by a number that the executive team holds up on white poster boards at the end of our annual 12-hour event. To most, this sum merely portrays the amount of money that UNDM raised that given year. However, it encompasses so much more than that. This number represents hundreds of college students coming together as one to raise funds and awareness for something bigger than themselves. Personally, I think that is what sets Dance Marathon apart from other organizations. It invites college kids from various walks of life to band together and make a difference in the lives of others.
Why should people donate to their local Children's Miracle Network Hospitals?
Growing up, I loved to wear outlandish costumes and play dress up. Unfortunately, not every kid has the opportunity to spend their days partaking in typical childhood activities the way I was able to. Each year, one and ten kids are treated at a Children's Miracle Network (CMN) Hospital. There, their sparkly pink dresses are often replaced with hospital gowns. I encourage all to donate to their local CMN Hospitals as they provide direct medical and emotional support to kids who deserve it most.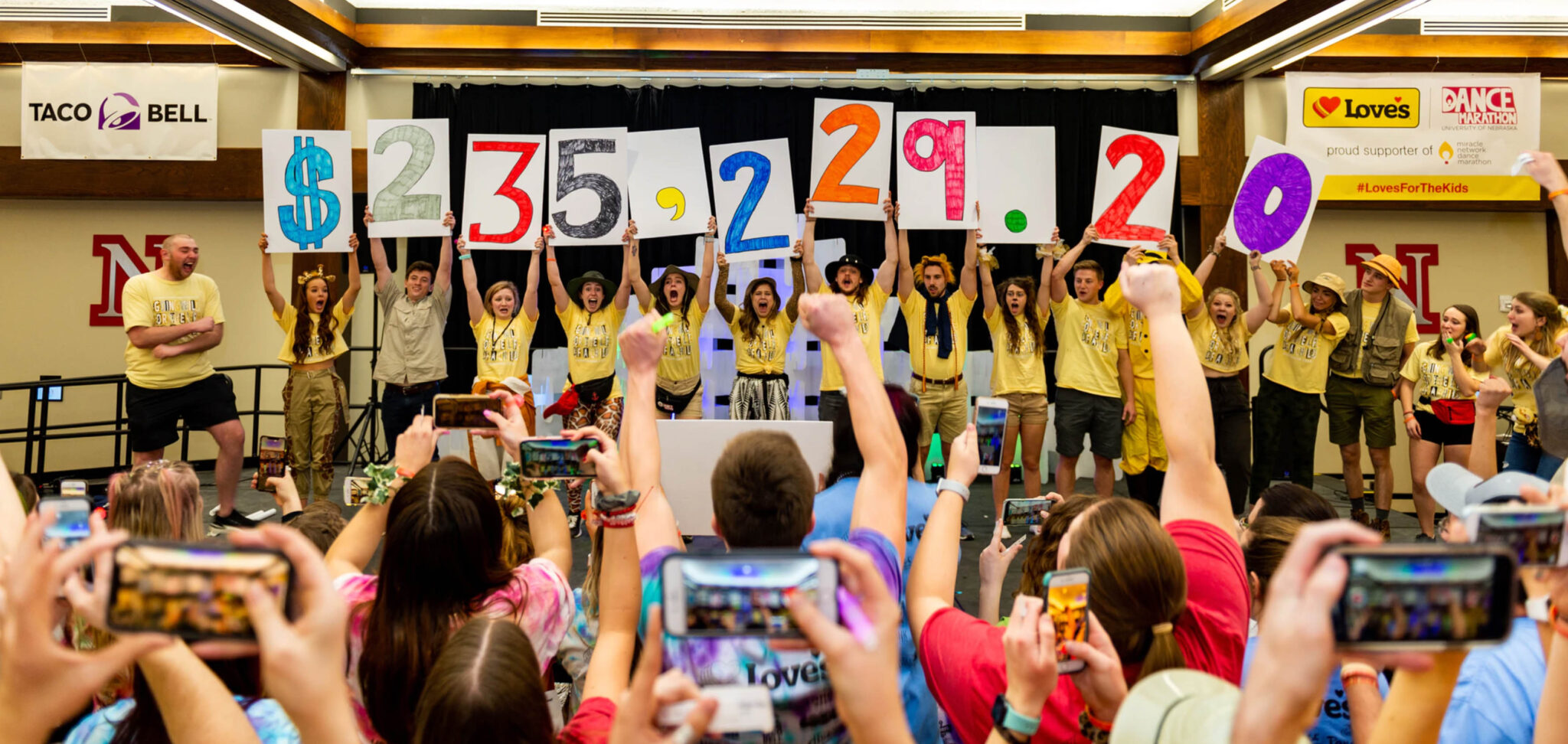 ---
Miracle Network Dance Marathon is an international movement, involving over 400 colleges, universities and K-12 schools across North America that fundraise for their local Children's Miracle Network Hospitals. These students work tirelessly throughout the year to raise funds one dollar at a time by making the ask to family and friends. Their hard work culminates in a 6-40 hour celebration on their campus, where participants have the opportunity to rally together as a community for their local Children's Miracle Network Hospital. Students involved in Dance Marathon gain valuable skills in fundraising, peer management, delegation and philanthropy. Miracle Network Dance Marathon programs have collectively raised more than $300 million since 1991.
Learn more about Miracle Network Dance Marathon: