University of Iowa Senior, Allie Stutting, Receives 2020 Miracle Network Dance Marathon Distinguished Leadership Award
From the thousands of graduating seniors who have participated in Miracle Network Dance Marathon at the approximately 300 colleges and universities across the U.S. and Canada, 25 students were selected to receive the 2020 Miracle Network Dance Marathon Distinguished Leadership Award for making an exceptional impact within their Dance Marathon program, on their individual campus and for their local Children's Miracle Network Hospital. To see all of this year's recipients, click here.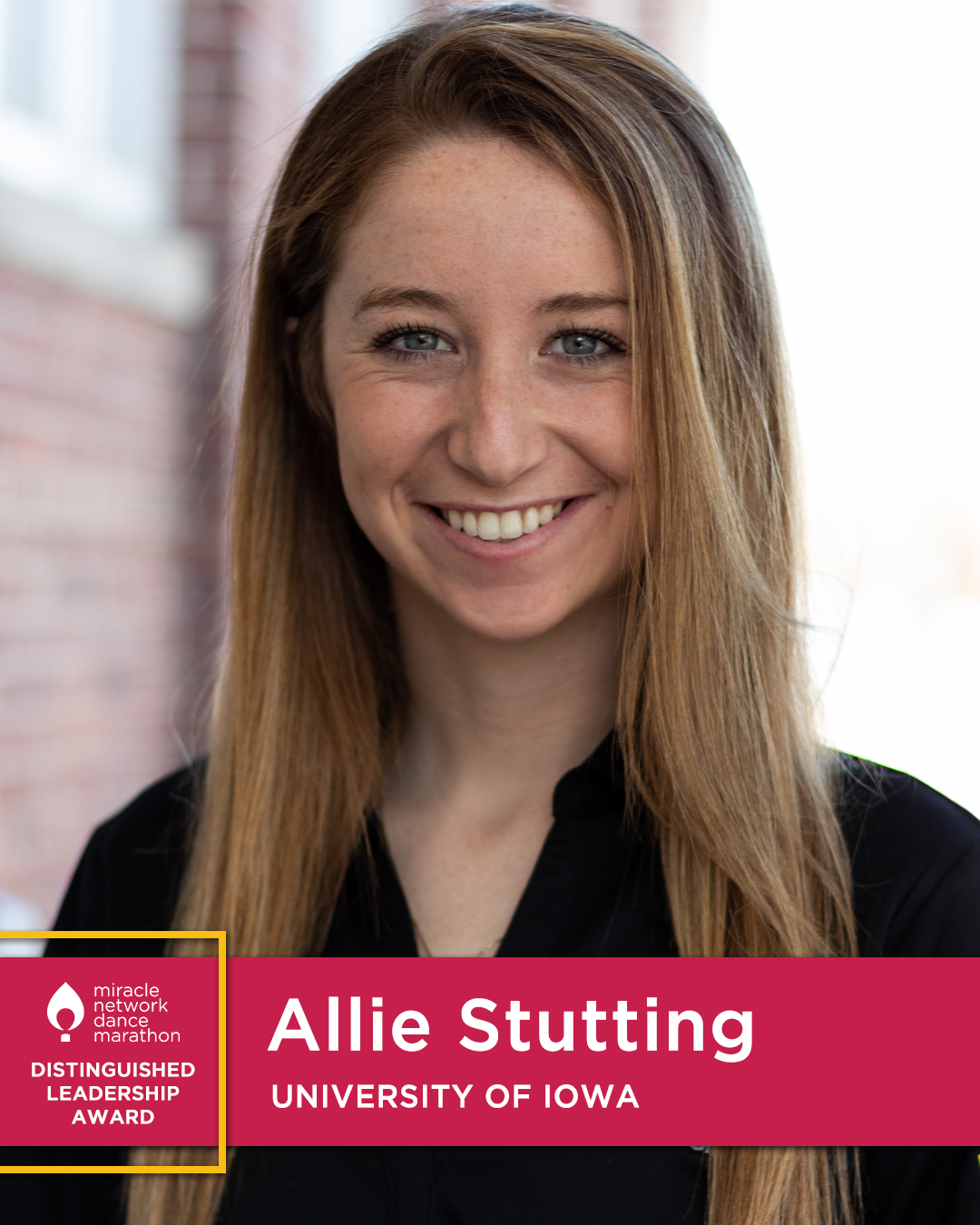 Hometown: Princeton, Iowa
Degree(s): Bachelors of History, Bachelors of Secondary Social Studies Education with All Social Studies Endorsement
Dance Marathon Involvement: 
In high school, I was the Executive Director of my Mini Dance Marathon as a senior. Through this position, I spearheaded an ambitious community-wide movement to increase our fundraising from $9,000 to $14,000.
At the University of Iowa, I was one of five freshmen accepted to the leadership team. I was able to gain critical insight into behind the scenes efforts of this organization. The next year, I had the privilege of serving on the Hospital Committee. In this position, I was confronted with the devastation cancer can inflict upon children and families. The following year, I served as a Hospital Chair. I had the pleasure of overseeing all Dance Marathon funded programming in Stead Family Children's Hospital with my Co-Chair and lead a committee.
I also had the opportunity to serve as the Dance Marathon Sponsored Alternative Spring Break Team Leader. I traveled to Little Rock, Arkansas my 15 student team and served in Arkansas Children's Hospital for 4 days.
Finally, last year, I served as Executive Director of the University of Iowa Dance Marathon. I lead roughly 3,000 participants, a 300 person leadership team, my 14 person Executive Council, and our collective efforts to raise $2.87 million.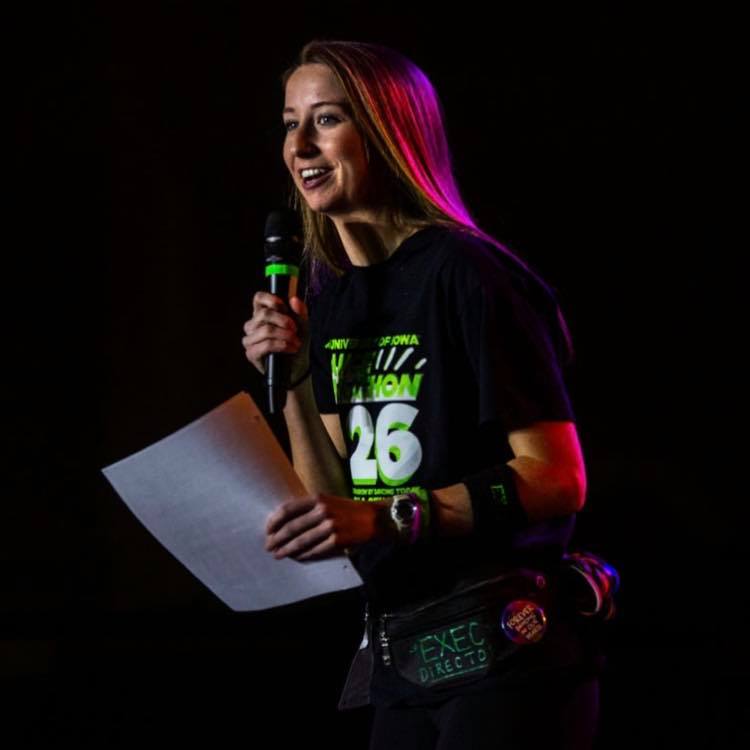 Campus/Community Involvement: 
Most recently, I started an organization called "Iowa City Erranders" that serves as a network of delivery support for populations most at risk during the COVID-19 pandemic. This is currently what I am working on as I practice social distancing. More information about this new organization can be found at iowacityerranders.com.
During the summer of 2018, I served as one of two head counselors for a statewide leadership conference. The leadership conference brings over 240 high school sophomores and juniors from across Iowa to take part in activities aimed at leadership building, identity awareness, and vision development.
I was also a Resident Assistant for two years. I served both first-year students and students in the REACH program (a program through the College of Education for students with disabilities). This job has allowed me to empower students to be autonomous and effective community members.
I have also had the amazing opportunity to volunteer in the Pediatric Oncology and Hematology Unit at the University of Iowa Stead Family Children's Hospital for three years. In this position, I volunteer with inpatient and outpatient kids and families, bringing hope and smiles on some of life's darkest days.
Awards/Recognition: I have been on the Dean's List for the University of Iowa every year since my first year on campus. In 2019, I received the Hawkeye Awards Student Organization Partnership Award for helping foster a relationship between UIDM and Translate Iowa, another student organization on campus. Through this partnership that I spearheaded, we created translated Dance Marathon related documents for our patients and families who do not speak English who were being treated at the University of Iowa Stead Family Children's Hospital. I was also selected to serve on the University of Iowa's Homecoming Court during the Fall of 2019.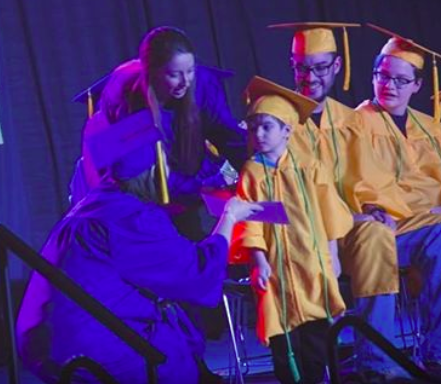 Post-Graduation Plans: As a History and Secondary Education major, it was my original goal to graduate from the University of Iowa and become a high school Social Studies teacher. However, after my tenure as the Executive Director of the University of Iowa Dance Marathon, I have decided to take a different path after graduating, and dive into a career of fundraising and philanthropy for children's health care. It is a dream to be able to fundraise and advocate for patients and families at CMN hospitals as a career.
Why do you, personally, participate in Dance Marathon?
One day, I was volunteering in our hospital with a four-year-old that has terminal brain cancer. We were playing a game on the ground and he was so wobbly from his progressive brain cancer that has inhibited them from being able to balance. He tried to throw a ball but instead fell to the ground. As much as he wanted to stand, to play, to be a kid, his disease was overtaking him. As I picked him up, a wave of sadness and anger overcame me.
From Dance Marathon, I was able to pass out thousands of dollars worth of gift cards on Wednesday nights to see a family's stress diminish for just a moment despite their devastating circumstances. UI Dance Marathon gave me an overflowing reservoir of reasons to dedicate as much energy as possible towards these kids and families.
Not everyone will see Dance Marathon in the light that I do. To me, Dance Marathon is much more than staying up for 24 hours, dancing, being with friends, and finding a community on campus. For me, Dance Marathon is helping that little boy off the ground as he fights brain cancer. Dance Marathon is hope, courage, effort, grit, and determination. Dancing is a fight — a fight the pediatric illness and disease has started, but a battle that we fight until the end.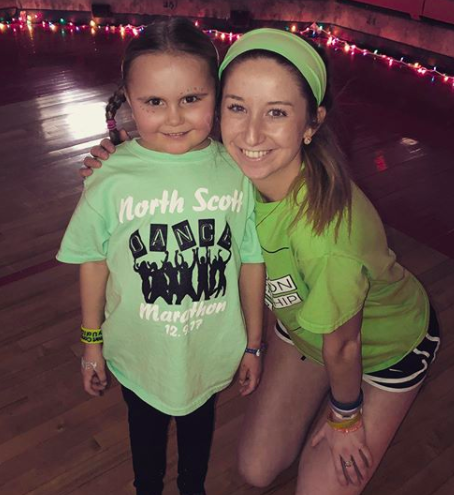 How has Dance Marathon impacted you as a student leader? What specific skills have you developed during your involvement?
From my time in Dance Marathon, I found my voice. As a woman stepping into the Executive Director role at the University of Iowa Dance Marathon, I was nervous. Balancing my leadership skills, voice, and gender identity was difficult and something I struggled with all year. I didn't want people to think I was too emotional, too mean, too pushy, too soft, or too extroverted. Balancing my identity as a female leader in the largest student organization on campus developed me in more ways than I could have imagined.
As I navigated this position, I ran into feedback, discouraging voices, and struggle. However, when struggling with a situation, decision, or conflict I looked to our kids and families. When I felt that I was small or weak, I looked to our Children's Hospital and thought of the little boys and girls courageously fighting. In a way, our kids and families helped me find my voice and passion for advancing children's healthcare.
When I felt discouraged, I remembered the fights of countless kids and families in our hospital, and I was able to gather myself, be brave, and persevere.
I think my biggest improvement was my ability to advocate and use my voice for the thing I am passionate for: pediatric healthcare.
What personal accomplishment/contribution are you most proud of from your involvement in Dance Marathon?
Weeks into the new school year this past fall, we were seeing very, very low numbers of returning dancers. There was a moment when I told myself, "Participants are not returning. They bring in a majority of the money for our fundraising total. We need to rally our first-year participants." By changing recruitment strategies, manipulating our reach, and transitioning our rhetoric, we were able to recruit more first-year participants than ever before. This year, UIDM had over 1,800 first-year participants signed up to be a part of UIDM — roughly 30% of the entire freshman class.
By recruiting over 1,800 first-year participants and invigorating UIDM's institutional spirit, I believe that my team helped lay a foundation for the following years to continue growing in numbers and dollars raised. Also, first-year participants raised, on average, $460/person — marking the highest first-year fundraising mark in UIDM history (even with 400 more first-year participants than past years). I hope to see our efforts translate to more dollars for many years to come.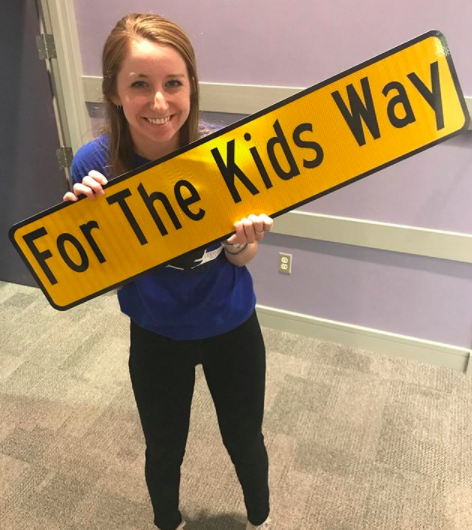 Why should students get involved with Miracle Network Dance Marathon on their campus?
I had the opportunity to serve as an Orientation Leader at the University of Iowa. In this position, I was able to interact with hundreds of first-year students who were coming to college for the first time. After spending hours and hours with the students I lead through their orientation (probably talking about Dance Marathon more than the classes they should register for), their orientation program would end, and I would send them back to their families. Before I left each group, I looked at each of them and said, "Look — college is hard. There will be moments where you feel alone, where you feel unseen. Combat these feelings by finding a community. Reach out, ask for help, get involved, do not suffer in silence."
You would not believe the number of students that I had in my orientation groups join UIDM just months later. Getting involved with Dance Marathon is an excellent way to find that community — a family — on campus. Being a part of Dance Marathon truly means that you are a part of something so much bigger than yourself, and is such an incredible way to acclimate to campus. Students get involved with Dance Marathon to become a part of something, but they stay in Dance Marathon because the lives they change.
Why should people donate to their local Children's Miracle Network Hospitals?
I look at Children's Miracle Network as the lifeline behind networks of hospitals across the country. The kids and families that fill these hospitals are the heartbeats behind these hospitals. Donating to your local Children's Miracle Network Hospital shows your support for your community, your neighbor, your cousin, your sibling. Unfortunately, we live in a world where thousands and thousands of kids enter the doors of a CMN hospital each day. Donating to a CMN hospital shows that you are fighting right alongside these kids and families, many of which are up against the biggest fights of their lives.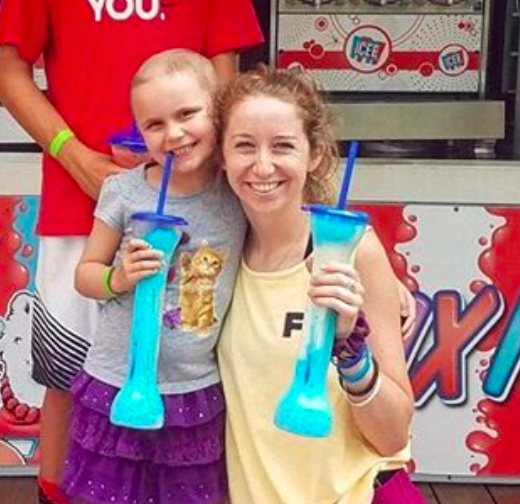 ---
Miracle Network Dance Marathon is an international movement, involving over 400 colleges, universities and K-12 schools across North America that fundraise for their local Children's Miracle Network Hospitals. These students work tirelessly throughout the year to raise funds one dollar at a time by making the ask to family and friends. Their hard work culminates in a 6-40 hour celebration on their campus, where participants have the opportunity to rally together as a community for their local Children's Miracle Network Hospital. Students involved in Dance Marathon gain valuable skills in fundraising, peer management, delegation and philanthropy. Miracle Network Dance Marathon programs have collectively raised more than $300 million since 1991.
Learn more about Miracle Network Dance Marathon: