University of Florida Senior Receives 2020 Miracle Network Dance Marathon Distinguished Leadership Award
From the thousands of graduating seniors who have participated in Miracle Network Dance Marathon at the approximately 300 colleges and universities across the U.S. and Canada, 25 students were selected to receive the 2020 Miracle Network Dance Marathon Distinguished Leadership Award for making an exceptional impact within their Dance Marathon program, on their individual campus and for their local Children's Miracle Network Hospital. To see all of this year's recipients, click here.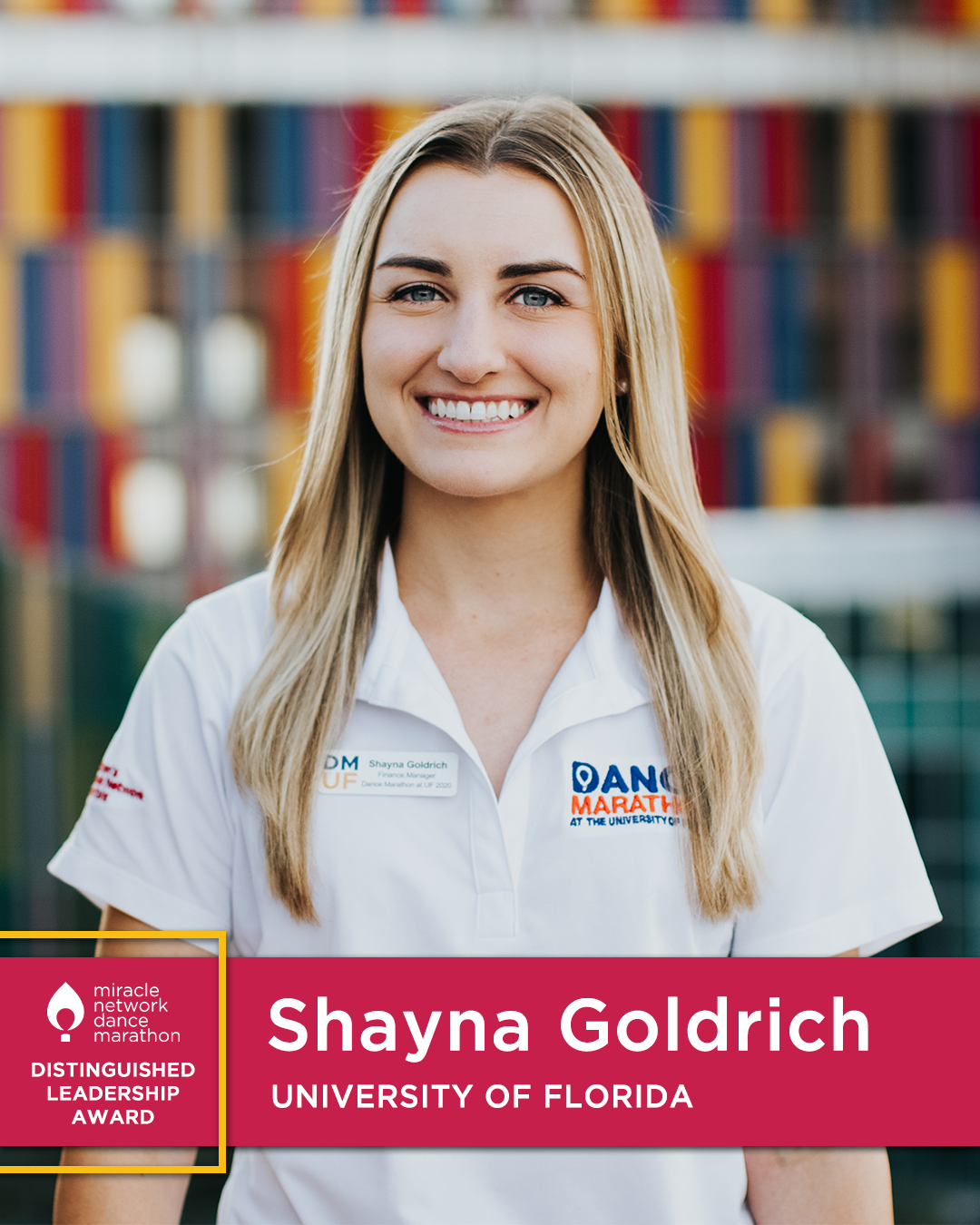 Hometown: Cooper City, Florida
Degree(s): Bachelor of Science in Business Administration – Information Systems with a minor in Economics
Dance Marathon Involvement: During my involvement in Dance Marathon at the University of Florida, I served in the following roles:
Finance Manager (April 2019 – April 2020) – Guide structural and financial decision-making to improve member involvement and work to grow annual revenue; Oversee 5 different teams to ensure success in each financial department; Guided Transform Today by motivating our campus and implementing fundraising incentives and activities, raising over $652,000 in 26.2 hours
Fundraising & Organization Development Overall Director (April 2018 – April 2019) Led the Organization Ambassador Program by designing effective programming, assisting them in their personal and professional development as confident campus leaders and guiding their 98 organizations to raise over $1 million; Developed useful financial and membership tracking for yearlong initiatives and specific fundraising pushes
Assistant Director of Canning (April 2017 – April 2018) – Coordinated with local businesses to schedule Summer, Fall, and Spring Canning Days; Accounted for a total of over $50,000 from 4 Canning events throughout the year
Fundraising Team Captain (September 2016 – March 2017) – Accountable for oversight and guidance of 6 organizations and assist with creating effective fundraising incentives and strategies for their members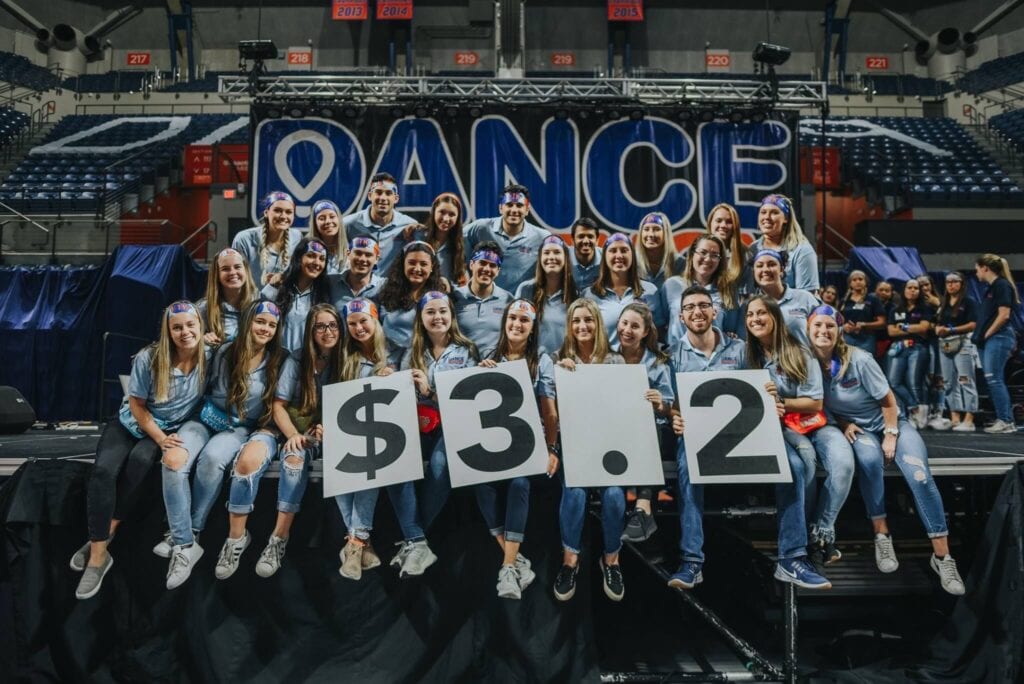 Campus/Community Involvement: Heavener School of Business – Career and Peer Mentor (August 2019 – May 2020); Macquarie Group – Project Management Intern (May 2019 – July 2019); Dream Team – UF Health Shands PCICU Volunteer (May 2017 – December 2018); Florida Leadership Academy – Class XIV Mentee (March 2017 – May 2018); St. Jude Children's Research Hospital (ALSAC) – Field Operations Intern (May 2018 – August 2018); Heavener School of Business – Preview Facilitator (May 2017 – August 2017)
Post-Graduation Plans: After graduation, I will be moving to Atlanta, Georgia and will begin working as a Healthcare Consultant at Triage Consulting. I will continue my involvement with Dance Marathon at the University of Florida through our Dance Marathon Alumni (DMA) program and can't wait to continue giving back to the organization that has given me so much!
Why do you, personally, participate in Dance Marathon?
From the very first miracle story I heard, I knew this was a cause I could so easily pour my heart into. When I was 15 months old, I was diagnosed with a rare blood anemia affecting my bone marrow. I was so young that I had little clue as to how serious this was. My family, however, certainly understood the severity of my condition. They went through so much to keep me healthy, including taking me to doctor's appointments, ensuring I took medicine, donating blood, and enduring bone marrow testing. My mom even went through several rounds of IVF in hopes of getting a sibling match for a transplant. When I listen to a Miracle Family talk about their experience, I see a lot of the same characteristics that I now understand of my family. These families are brave beyond belief. And the children are so brave without even knowing it. Being able to support these families through their toughest times is what motivates me and is always a reminder that by being a part of DM at UF, I am doing something that matters. The financial support Dance Marathon provides to the hospital is nothing short of incredible, but the intangible support that we are able to provide for the Miracle Families is something that really means the world.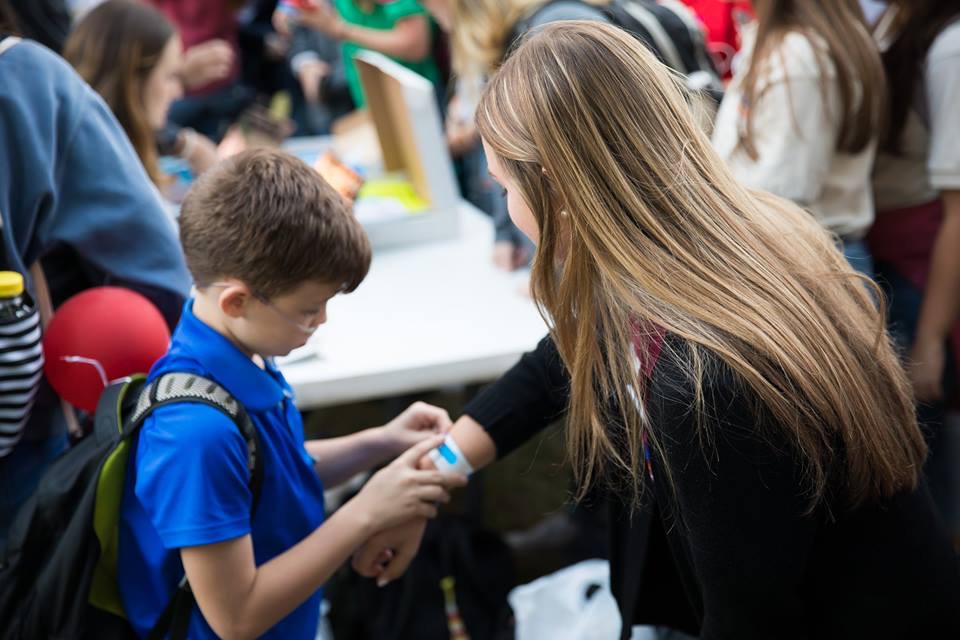 How has Dance Marathon impacted you as a student leader? What specific skills have you developed during your involvement?
Dance Marathon has taught me the value and importance of teamwork. I have learned how to create an environment where people feel included and respected so that they are more apt to collaborate and brainstorm with each other. Diversity of thought is also an incredibly valuable aspect for a team. However, it is important that every member is working towards the same goals. There were many times throughout the year when our team had conflicting opinions of which actions were best for our organization. I struggled to figure out the right way to handle it and felt that I needed to choose the correct option on my own. I learned that the best way to handle this situation was to regroup and determine what our goals were. Once we were all on the same page, it was easier to make a decision as a team. No team is perfect and there will always be conflict. But by embracing conflict, we have learned about problems and found new solutions. Solving conflict is a positive thing and means that we are working to make things better. The strongest teams are always striving to improve and always supporting each other. Dance Marathon has taught me how to be an effective member and leader of a team, a skill that will carry on with me in everything I do.
What personal accomplishment/contribution are you most proud of from your involvement in Dance Marathon?
I thought a lot about where this year would take me and where I would be able to take this organization as Finance Manager. I thought my proudest moment would be raising our total reveal together as an Overall Team on stage. However, this will look much different, as we have embarked on the unprecedented journey of a virtual event. It took a great deal of adaptability, while also being sensitive to the fact that our world is in the middle of a devastating pandemic. With a community distraught by the changes, we will maintain as much normalcy in sharing virtual miracle stories, line dances, and total reveal. We worked as a team to replace sponsors' incentives, adjust communication plans, provide resources and incentives, and plan merchandise shipments. We set out to recognize participants' efforts, provide closure, and support our hospital now more than ever. It might seem nearly impossible to find the light but DM at UF will still be here. We are still fighting. We are still fundraising. Next weekend, we will make miracles. I am proud to be one of many that will never back down from this cause. And I know that while sitting behind my computer screen, I will be prouder than I ever could be as I watch our virtual total reveal.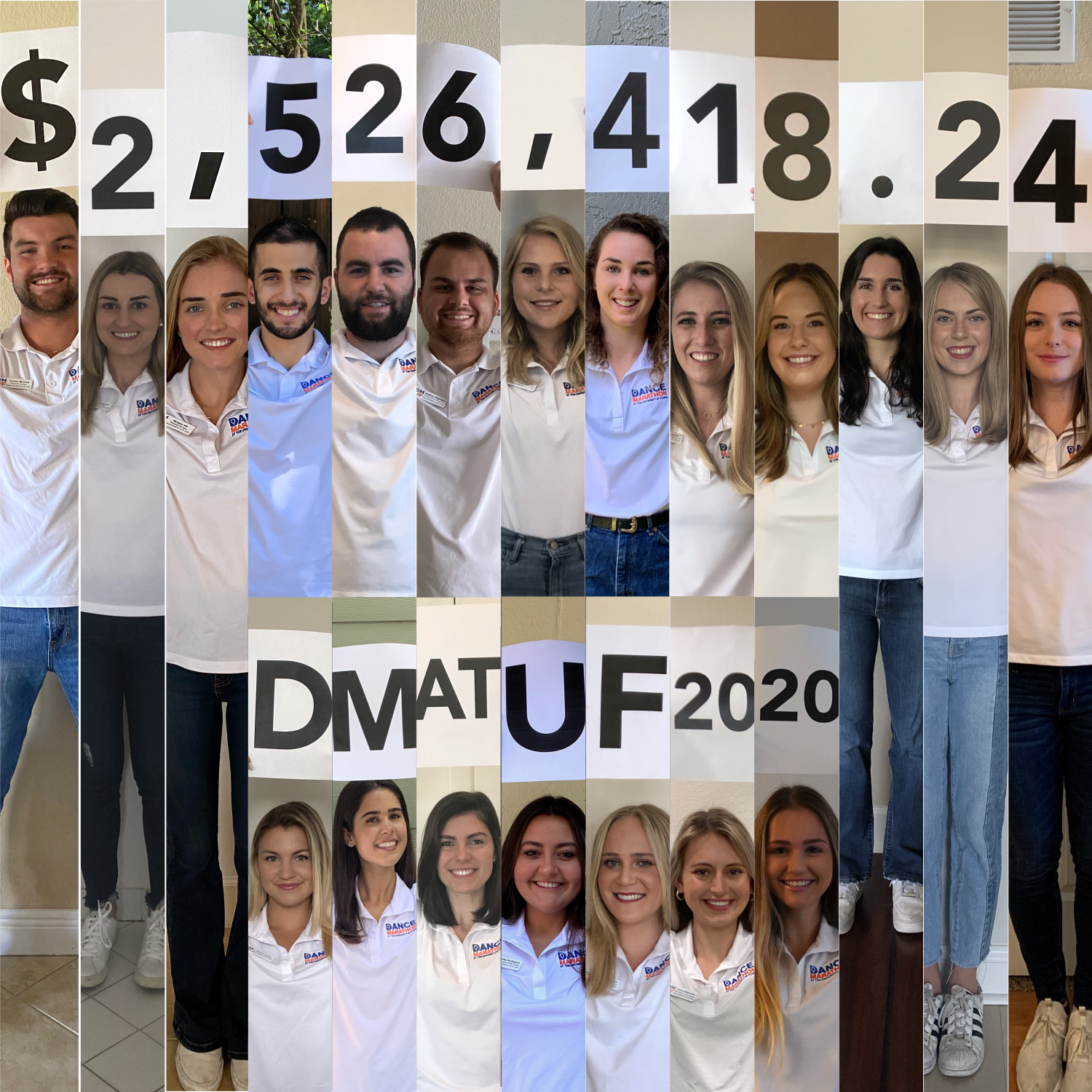 Why should students get involved with Miracle Network Dance Marathon on their campus?
Dance Marathon is an organization that I would recommend to anyone looking to get involved on campus because it has just about every aspect that anyone could want from their involvement – the opportunity to give back, friendships that will last a lifetime, being a part of something bigger than yourself, the chance to grow as a leader, and the list can really go on from there! Throughout my time in college, there has been no organization that has compared to that of Dance Marathon. Miracle Network Dance Marathon provided me with the chance to embrace a cause that I care so deeply about and be in a place where I can make a tangible difference. There are countless individuals that I have met through Dance Marathon who will inspire me for years to come. I have grown as a leader more than I could ever imagine and I truly believe that my experience with DM has had a huge influence in my preparation for life after college. Dance Marathon is creating the most influential changemakers of our world.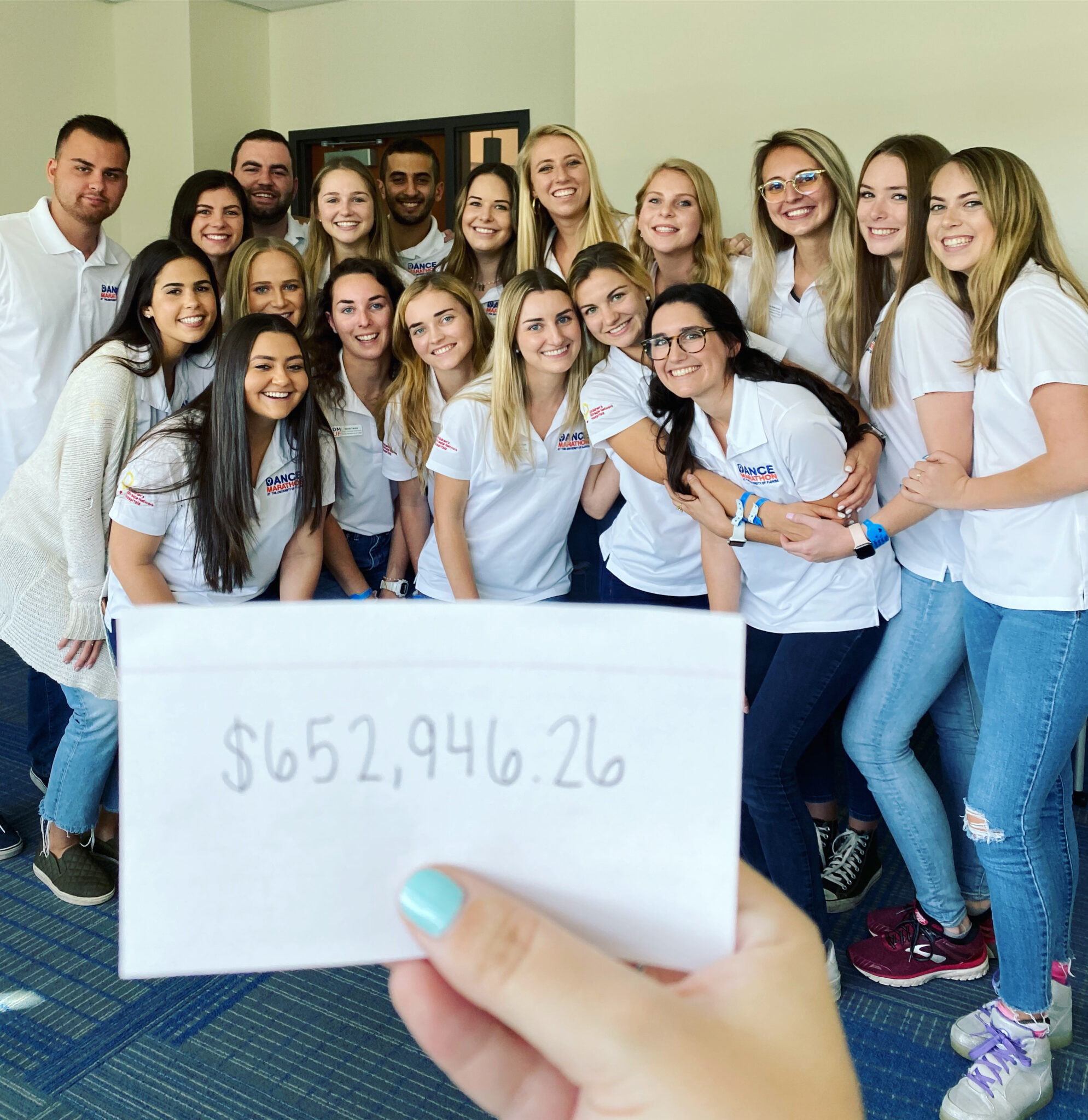 Why should people donate to their local Children's Miracle Network Hospitals?
A donation to Children's Miracle Network goes so far because it touches so many aspects of the hospital that create better experiences for every patient. This is so evident to me as I walk through my local Children's Miracle Network Hospital and see countless CMN balloons on life-saving equipment. From Berlin Heart monitors and Ecmo machines to searching for cures for the toughest diseases, these funds allow doctors to provide the best care for their patients. Not only does CMN fund research and equipment but it also helps to create a better experience for children and families in the hospital. Sleeper sofas in patient rooms make it possible for parents to stay overnight with their child, as well as playrooms for kids to still be kids while they're in the hospital. Child Life programs such as games and therapy are also funded by CMN to make a difficult experience for a child just a tiny bit easier. A donation to Children's Miracle Network means that you are providing hope. It could fund the games in the hospital that get their child through a tough day of chemo or it could fund the piece of equipment they need to save their life. In the eyes of a parent whose child is being treated at a CMN hospital, your donation means the world.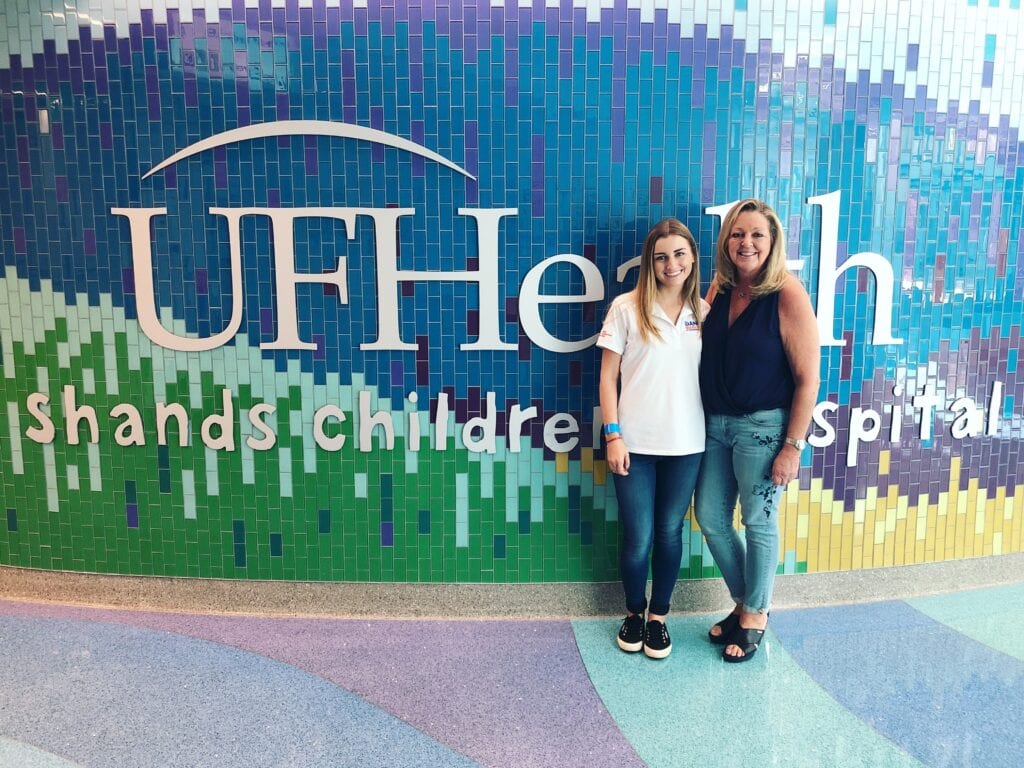 ---
Miracle Network Dance Marathon is an international movement, involving over 400 colleges, universities and K-12 schools across North America that fundraise for their local Children's Miracle Network Hospitals. These students work tirelessly throughout the year to raise funds one dollar at a time by making the ask to family and friends. Their hard work culminates in a 6-40 hour celebration on their campus, where participants have the opportunity to rally together as a community for their local Children's Miracle Network Hospital. Students involved in Dance Marathon gain valuable skills in fundraising, peer management, delegation and philanthropy. Miracle Network Dance Marathon programs have collectively raised more than $300 million since 1991.
Learn more about Miracle Network Dance Marathon: