Participate in Dance Marathon's January Guest Blog Challenge
For the month of January, YOU have the opportunity to be featured on the Children's Miracle Network Hospitals blog and on our national Dance Marathon social media channels!
Each week for the month of January, we've got a new featured topic for each week (listed below) and we're challenging Dance Marathon participants to submit guest blog posts responding to each of the topics. All submissions will be posted on cmnhospitals.org and we'll be sharing our favorite posts on social media through the month of January and throughout the year.
To submit your blog posts, click here and follow the instructions.
Blog post tips:
Be sure to include some photos to make your post visual!
We want to hear your own perspective, so share your personal stories to help us show the diverse experiences of the Dance Marathon movement.
Once your blog has been posted, be sure to share it on your own social media channels and tag Dance Marathon on Facebook, @dancemarathon on Instagram, and @CMNHospitals on Twitter.
We want to hear about your personal story and experience with Dance Marathon!
Possible topic ideas to write about:
Why did you decide to get involved in Dance Marathon?
What inspires you to fundraise for your local children's hospital?
What have you learned about the cause that has made you understand why donations are important?
Who motivates/inspires you to participate in Dance Marathon (ex. A Miracle kid, a friend, a fellow DM participant)?
The Week 1 Challenge will run from January 7-11, 2019.
What have you, personally, gotten out of your Dance Marathon experience? What tangible skills have you learned that could help you in your future career? How has your involvement with Dance Marathon allowed you to grow and develop as a leader?
For alumni of a Dance Marathon program, what skills you learned from Dance Marathon have you utilized most in your post-grad career? How did you market your Dance Marathon experience during your job search process?
The Week 2 Challenge will run from January 14-18, 2019.
Remember the age-old expression, a gif is worth a thousand words? We want to see how you would explain the experience of being involved in Dance Marathon using gifs (think Buzzfeed article-style).
Consider the entire experience from when you first got involved, to asking people for donations (and that feeling when you received a donation), your first Dance Marathon event, the feeling when you saw the total revealed, and so on. Imagine someone who's considering getting involved in Dance Marathon reading your post–what would you want them to know about the experience to encourage them to get involved?
If you need some gif inspiration, check out CMN Hospitals Giphy page! If you scroll past the stickers, you'll find hundreds of adorable gifs from some of our Miracle kids.
How you'll feel after you write a guest blog…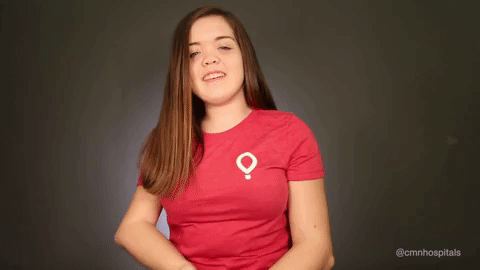 The Week 3 Challenge will run from January 21-25, 2019.
We know fundraising is a huge part of Dance Marathon and this is your experience to share some tips and advice with our network.
Possible topic ideas to write about:
What advice would you give someone for how to ask family and friends for donations? What has worked best for you?
What are some creative/unique fundraising ideas that you, someone on your campus, or your Dance Marathon program has done that worked well and stood out from the crowd?
Did you set a fundraising goal for yourself? How did that motivate you throughout the year?
How did you break up your fundraising goal into smaller increments to make it seem more achievable?
The Week 4 Challenge will run from January 29-February 1, 2019.