De Soto High School Launches Dance Marathon Tradition
Student Council members at De Soto High School in Kansas capped off the 2020/2021 school year by bringing a new tradition to their campus. De Soto High School's inaugural Dance Marathon event occurred on Thursday, April 29, 2021 after only a few weeks of planning. Spearheaded by graduating senior and Student Council president, Brent Smith, over 90 students spent competed in various events, danced, and fundraised! Students "competed" in groups of 6-10 and got quite creative with team names which included: The Fat and the Furious, Abby Lee Dance Company, and the Fire Breathing Rubber Duckies.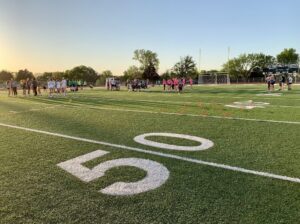 Throughout the evening, students, parents, and DHS staff were energetically brainstorming ways to make next year's event even better since they will have all year to engage the community. At 11pm, the first annual De Soto High School Dance Marathon concluded with the performance of the "morale dance", a key element of Dance Marathon, and the announcement of an incredible first-year fundraising total of $2,046! We cannot wait to see how this Wildcat tradition will continue to impact the health of Kansas City area kids!