Clemson University Senior Receives 2020 Miracle Network Dance Marathon Distinguished Leadership Award
From the thousands of graduating seniors who have participated in Miracle Network Dance Marathon at the approximately 300 colleges and universities across the U.S. and Canada, 25 students were selected to receive the 2020 Miracle Network Dance Marathon Distinguished Leadership Award for making an exceptional impact within their Dance Marathon program, on their individual campus and for their local Children's Miracle Network Hospital. To see all of this year's recipients, click here.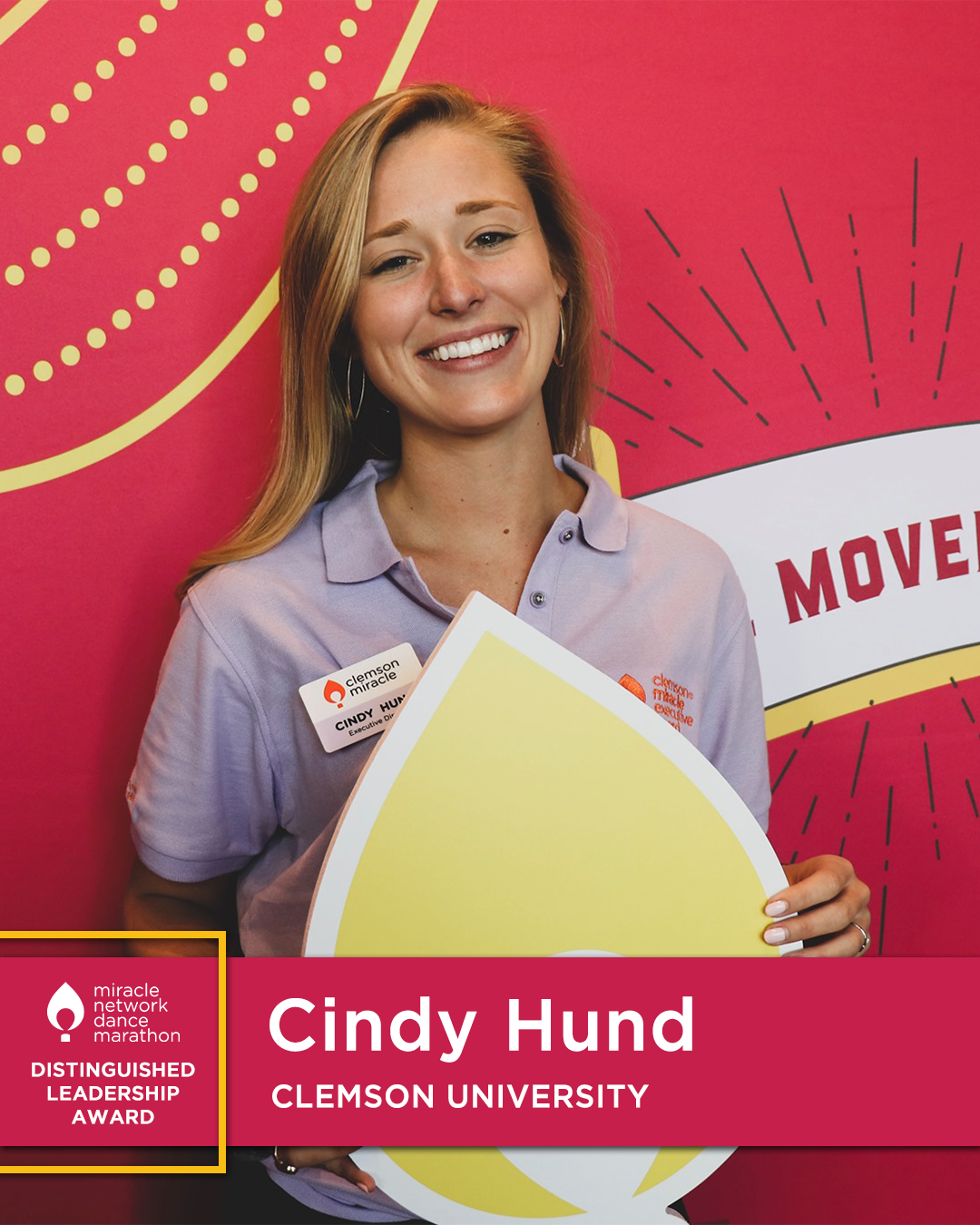 Hometown: St. Augustine, Florida
Degree(s): Bachelor of Science in Biological Science with a minor in Psychology
Dance Marathon Involvement: During my freshman year, I got involved in Clemson Miracle as a member of the family events committee. This committee participated in hospital playroom activities throughout the year before Dance Marathon. On the day of Dance Marathon, I was assigned two families to welcome and accommodate throughout the need if they had any questions or needs. During my sophomore and junior years, I was a member of the executive board as the partnership chair. As partnership chair, I developed a partnership packet each year that showcased our cause and the benefits that partners could receive for partnering with us. I pitched our cause to many Clemson-Greenville area businesses. I was also in charge of acquiring raffle items for the day of our Dance Marathon. This year, I am the executive director of Clemson Miracle. This role includes leading executive board retreats, overseeing the activity of all four core teams of the executive board, keeping in constant contact with Bret and hospital advisors, and keeping overall morale and ethics within the organization. Throughout my time in Clemson Miracle, I raised a total of $48,599.03 for Prisma Health Children's Hospital-Upstate.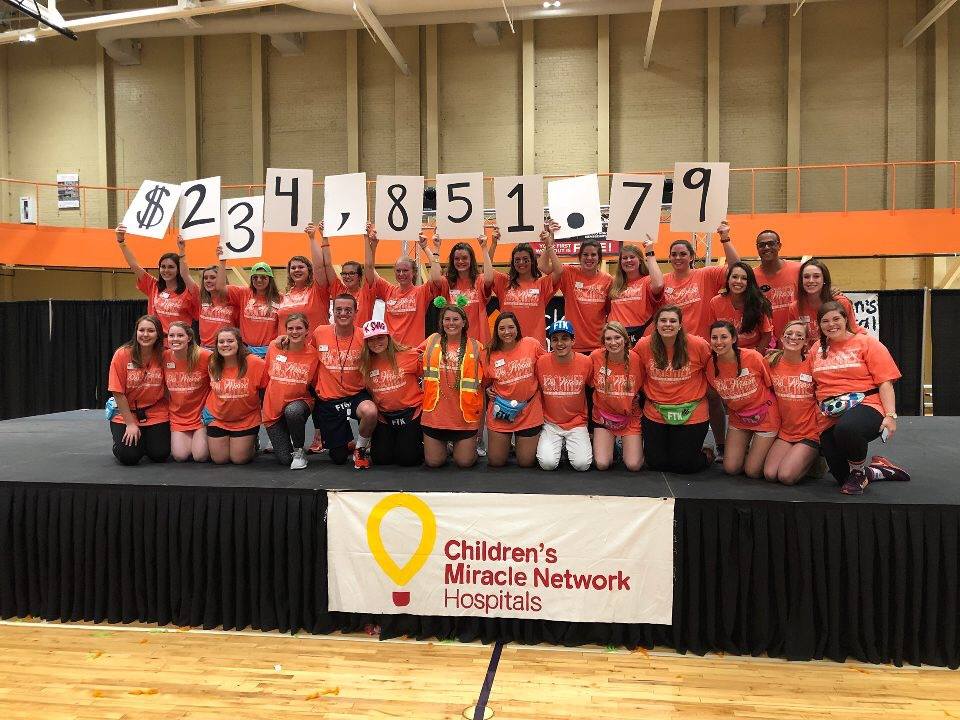 Campus/Community Involvement: Beta Beta Beta Biological Honor Society-Historian, Kappa Delta Sorority New Member Formation Leader, Parenting Place of Easley Committee Member, Biological Sciences Representative for the College of Science Student Advisory Board, teacher's assistant for a biology laboratory, missionary to Ethiopia, academic tutor for Clemson University student-athletes
Awards/Recognition: President's List (maintaining a 4.0) (2016-2019), induction into Order of Omega Greek Honor Society, induction into Beta Beta Beta Biological Honor Society, induction into Alpha Lambda Delta Honor Society
Post-Graduation Plans: I am attending the Medical University of South Carolina to earn my doctorate in physical therapy starting in May 2020. After graduation from this program, I plan on being a pediatric physical therapist in a hospital setting.
Why do you, personally, participate in Dance Marathon?
I participate in Dance Marathon because life is always a little unpredictable. Life is always messy. However, if we take this unpredictability to seek out the good in humanity and to fight for something that is bigger than ourselves, I think we receive little glimpses into what life is really about. We receive glimpses of miracles every day. From witnessing and hearing our families' stories, to seeing college students band together for a united cause. We fight just as our miracle families fight against pediatric illness every day. They don't choose what day they will get admitted to a children's hospital and they definitely don't have a choice of how long they will be there. I participate in Dance Marathon because of this unpredictability. I participate so that kids who are battling childhood illness will one day have the opportunity to go to an amazing university as I have and to find a passion of theirs on campus just like I did within Clemson Miracle. Because every child deserves that chance no matter what.
How has Dance Marathon impacted you as a student leader? What specific skills have you developed during your involvement?
I cannot begin to describe the amount of growth and skills that I have received just this year alone being executive director of Clemson Miracle. First, being the leader of over 700 students has made me realize that every single person communicates differently and requires different kinds of stewardship. So, I learned to be diverse in my modes of communication and my ways of stewarding my team members. Being a partnership chair for two years, I accumulated valuable non-profit leadership knowledge and business pitching skills that I would never have learned in a classroom setting. I spent this whole year planning for Dance Marathon and that taught me valuable lessons on how to plan a large event for over 500 people. However, the most valuable thing that this year has taught me has been adaptability. In no way has this year been predictable. In no way could we have predicted a pandemic to occur. My team and I have had to be super versatile in the ways we have accepted these obstacles and continued to fight for the kids during this chaotic time.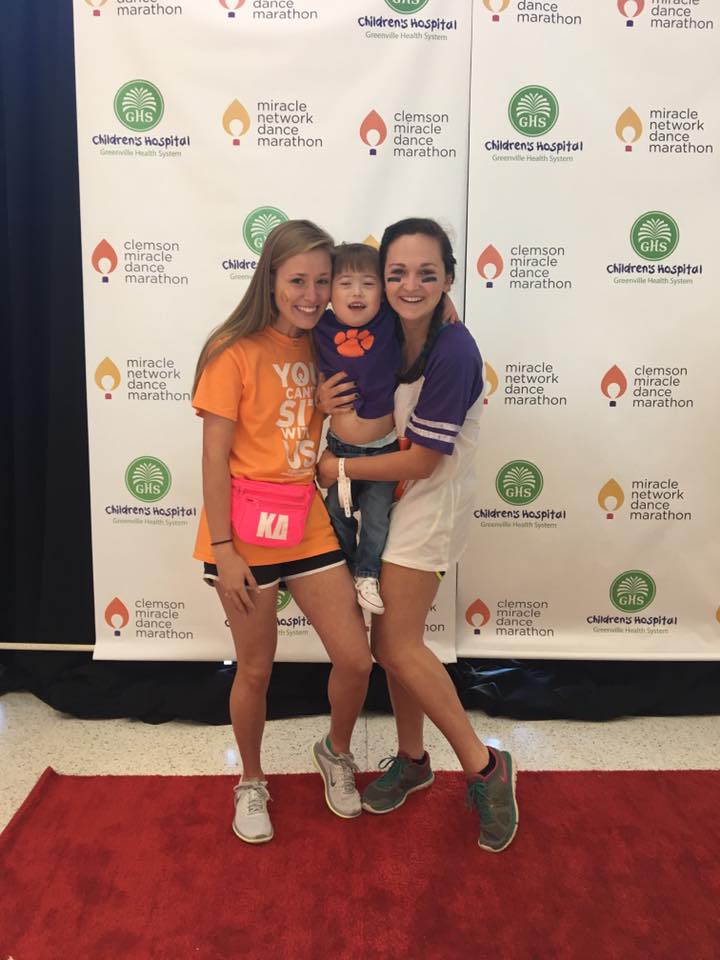 What personal accomplishment/contribution are you most proud of from your involvement in Dance Marathon?
As executive director in the year of 2020, we will not be having a Dance Marathon due to the current COVID-19 situation. I never imagined that my fourth year of Dance Marathon would end like this. Although it is truly disheartening, it has made me reflect on the journey that Clemson Miracle has gone through to get where it is today. Although there are many moments I can recall as truly amazing, such as our All In Days and my other three Dance Marathons that I had the privilege of participating in, one thing comes to mind as my proudest moment being a leader in Dance Marathon. After our All In Day celebration this year, a morale team member told an executive member that she had never been happier in college than that night celebrating with fellow miracle makers. She said that she had found her place at Clemson within Clemson Miracle. I think the funds that we raise and the lives we impact is something my executive board team should be extremely proud of. But, I am most proud of fostering a community of students together to form a family whose common goal is to help families in crisis. Forming that kind of passion and love in a large institution is something that my team should be most proud of.
Why should students get involved with Miracle Network Dance Marathon on their campus?
A movement like Dance Marathon offers so many benefits to college students. Dance Marathon has given me leadership skills, non-profit leadership skills, and planning skills. However, the best thing that Dance Marathon has given me is a family united under a common cause-our kids. If someone is looking to make a difference in the world and on kids' futures while also joining a strong family, Dance Marathon is the perfect organization to get involved with.
Why should people donate to their local Children's Miracle Network Hospitals?
Children's Miracle Network Hospital funds stay local and support programs that insurance companies don't fund. The things that Clemson Miracle has funded, including NICU cameras, a kid-friendly healing garden, and facility dogs, drastically impact the experience that a child and their family have while in a children's hospital. Now more than ever, with restricted visiting hours during this pandemic, children need distractions and child-life services, such as markers, crayons, games, etc. to ease their anxieties and fears while in the hospital. Donating to Children's Miracle Network Hospitals directly impacts the healing of a child and helps children make happy memories even in a children's hospital.
---
Miracle Network Dance Marathon is an international movement, involving over 400 colleges, universities and K-12 schools across North America that fundraise for their local Children's Miracle Network Hospitals. These students work tirelessly throughout the year to raise funds one dollar at a time by making the ask to family and friends. Their hard work culminates in a 6-40 hour celebration on their campus, where participants have the opportunity to rally together as a community for their local Children's Miracle Network Hospital. Students involved in Dance Marathon gain valuable skills in fundraising, peer management, delegation and philanthropy. Miracle Network Dance Marathon programs have collectively raised more than $300 million since 1991.
Learn more about Miracle Network Dance Marathon: