APPLY FOR 2021 MIRACLE NETWORK DANCE MARATHON DISTINGUISHED LEADERSHIP AWARD
In an effort to recognize the incredible contributions of collegiate and high school graduating student leaders who have made an exceptional impact within their Dance Marathon program, on their individual campus, and for their local Children's Miracle Network Hospital, we are now accepting applications for the Miracle Network Dance Marathon Distinguished Leader Award.
Our hope is to recognize a group of students from throughout the United States and Canada for:
Leadership within their respective Dance Marathon organization, serving as a role model for other students and working to grow the Dance Marathon movement on their campus.
Commitment to the cause through personal fundraising and advocating for children's hospitals' need for donations.
Eligibility Requirements:
Must be a student involved in a collegiate or high school Miracle Network Dance Marathon program.
Must be graduating in May 2021 or December 2021.
Must submit all application materials by the deadlines below.
Must submit complete application materials fully, utilizing this application template.

Applicants will use the template, typing answers for most questions directly into the template and uploading it with their application.
Award Recipients will receive an award recognizing their outstanding leadership and recognition on Dance Marathon social media channels and the CMN Hospitals website. We will also send a press release with information about the award recipients to university and hospital administrators as well as local and national media outlets.
The Distinguished Leader Award application can be accessed here: http://cmnh.co/dmdla
This must be submitted by 5 p.m. Eastern time on Friday, March 26, 2021.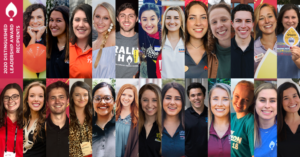 Learn more about the 2020, 2019, and 2018 Miracle Network Dance Marathon Distinguished Leadership Award Recipients here.