University of Connecticut's HuskyTHON Receives National Dance Marathon Participant Stewardship Award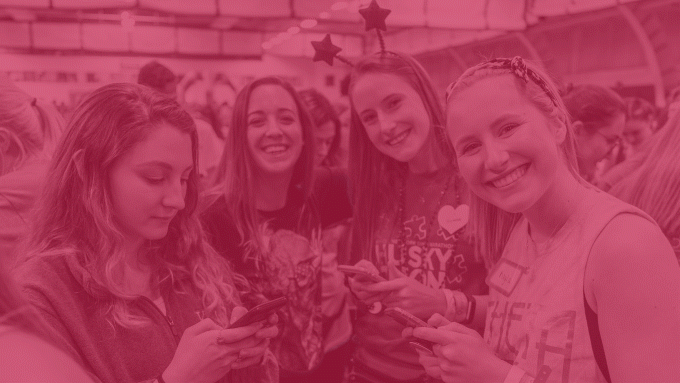 HuskyTHON at the University of Connecticut was recently awarded the Participant Stewardship Award at the Miracle Network Dance Marathon Leadership Conference in July. The Participant Stewardship Award is presented to the Dance Marathon organization that has demonstrated outstanding participant recognition and retention efforts, or who has made the largest strides in this area over the past year.
HuskyTHON recognized that what they accomplish for Connecticut Children's can not be done alone. So they implemented a number of new stewardship efforts to thank and further motivate their fundraisers.
In previous years, "Reg Week," HuskyTHON's week-long registration push, consisted of tabling on campus with incentives, like cookies, for anyone who registered. However, for this past year, HuskyTHON strategically reinvented Registration Week to segment their registration efforts by stewarding specific groups.
Each day of the week was dedicated to a certain participant type. Monday was for first-year participants, Tuesday for second-year participants, and so on. The targeted groups received an incentive for registering on their respective days, such as free t-shirts, gift cards to local restaurants, passes to skip the lines at HuskyTHON's food truck festival, and special pins for fourth-year participants. Not only did this week help steward returning participants and help to increase their retention rate, it also helped to create a sense of urgency for both new and returning participants to get registered on their respective day.
HuskyTHON saw the success of this segmented stewardship campaign in the over 500 participants who registered during that week. Not only that, but their stewardship efforts led to an increase in their retention of participants year-over-year. By the end of the year, HuskyTHON had over 1,250 returning participants returning from 2018, accounting for 40% of their overall registrants. This was a significant increase from 2018, when they had 1,035 returning participants from 2017, accounting for 35% of their overall registrants.
HuskyTHON also implemented a new year-long participant stewardship strategy in 2019 called Marathon Milestones. In 2018, their organization introduced the achievement of the "Comma Club," recognizing those who raised over $1,000 with an incentive of a Comma Club t-shirt. Seeing how this led to a major increase in fundraising, they decided to expand with Marathon Milestones: a scaffold of fundraising goals, each with a cause connection title and incentives for the participant. Hitting each milestone, the participant not only got a flashy "title", but also gifts and recognition for their efforts. Beginning at $52, for the 52 children who visit the Clinical Care Center for Cancer and Blood Disorders at Connecticut Children's every day, and reaching up to $4800, representing the $4.8 million HuskyTHON has raised in life-saving funding for their hospital, the program set goals for our participants to continuously aim for as they fundraised throughout the year. The incentives ranged from Connecticut Children's pins, to stickers created by the kids, to tours of the hospital.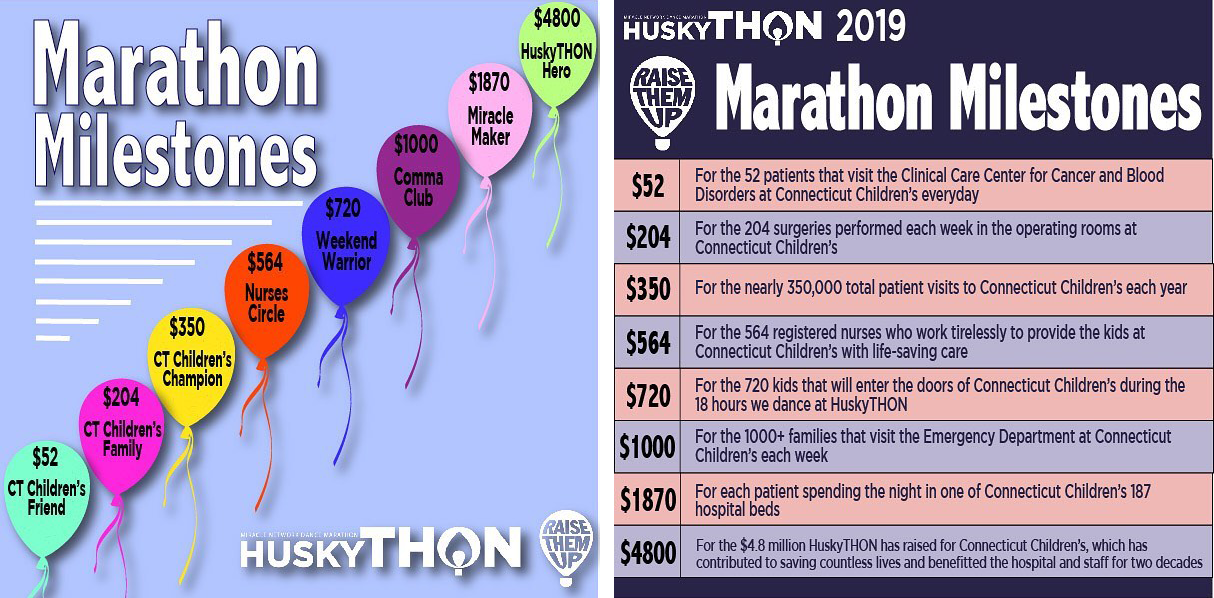 The Milestones not only initiated fundraising, but also provided attainable follow-up goals, making continuous fundraising more engaging and realistic. HuskyTHON saw their participants use the benchmarks in their personal fundraising as motivation and share the cause connections with their donors as they made fundraising asks.
HuskyTHON saw their participant stewardship have a significant impact on their participants' fundraising efforts. In 2018, HuskyTHON had 2,943 participants register, with 83% of them receiving donations, averaging a participant fundraising total of $323. However, in 2019, they had 3,166 participants register, with 87% of them receiving donations, averaging a participant fundraising total of $382.
During the night of their Dance Marathon event, HuskyTHON extended their participant stewardship with public displays of appreciation for those who took their efforts to the next level. In addition to announcing those who achieved certain milestones, they also recognized participants for non-monetary victories. They had ceremonies for our JonaTHONs (mini-marathons) and our committee members who work "behind the scenes." They also awarded certain Morale Captains and Dancer Representatives whose dedication and leadership were notable.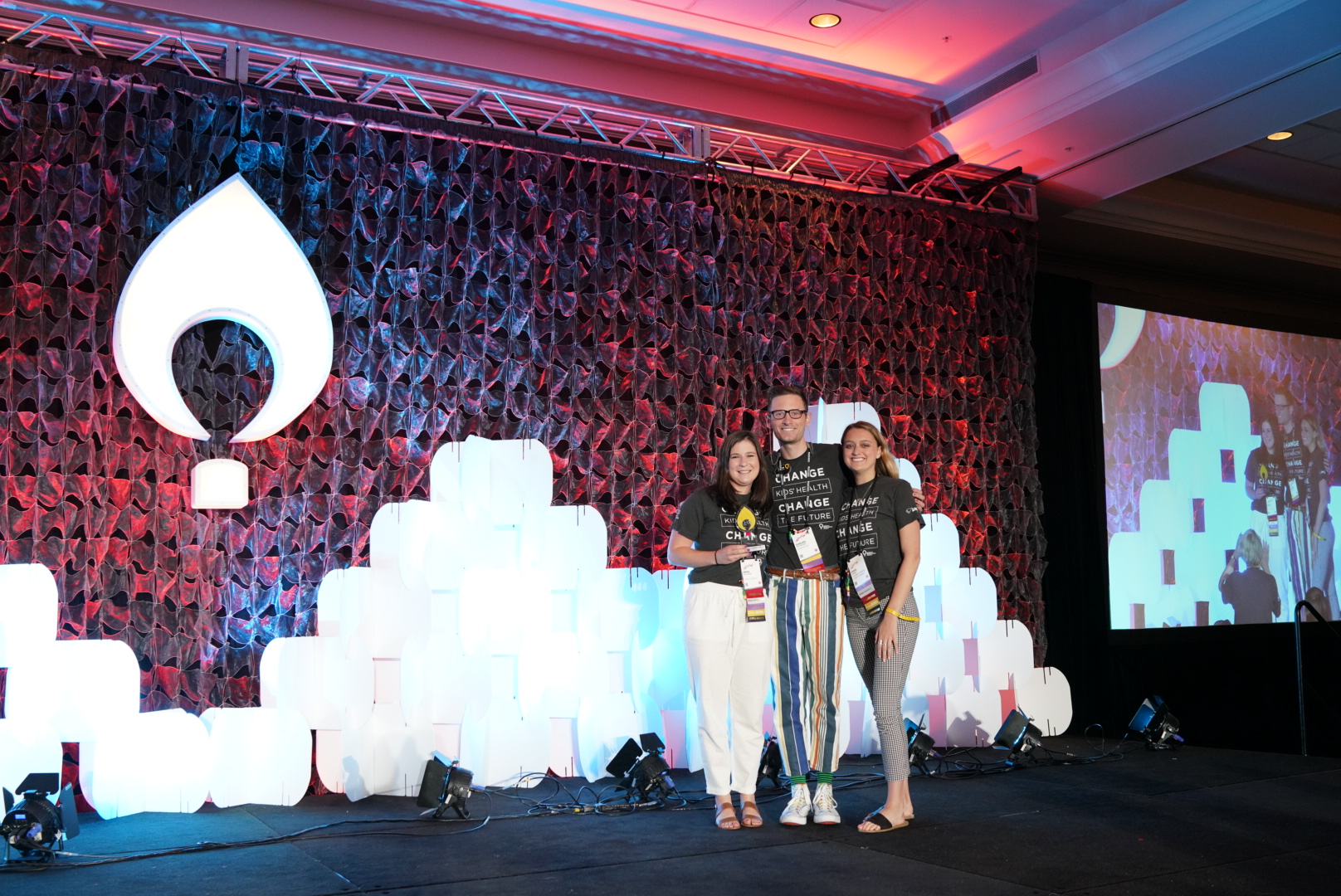 ---
Miracle Network Dance Marathon is an international movement, involving over 400 colleges, universities and K-12 schools across North America that fundraise for their local Children's Miracle Network Hospitals. Since its inception in 1991, Miracle Network Dance Marathon has raised more than $250 million–ensuring that no child or family fights pediatric illness or injury alone.
Learn more about Miracle Network Dance Marathon:
Facebook – Instagram – Website – Blog – YouTube