Miracle Network Dance Marathon 2021 Senior Ceremony: Register to Attend Now!
The 2021 Miracle Network Dance Marathon Senior Ceremony will take place on May 18th at 7pm EST.
Are you a collegiate or high school graduating senior? Register to attend the Senior Ceremony today!
The Dance Marathon Senior Ceremony will be held on May 18 at 7pm EST to celebrate and recognize all graduating Dance Marathon seniors for their tremendous impact on our movement. The ceremony will be broadcast on the Miracle Network Dance Marathon YouTube channel and Facebook page.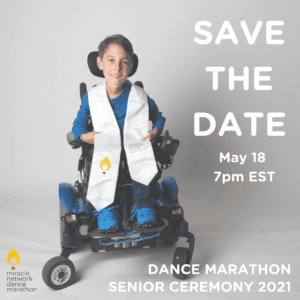 Join us to hear from Children's Miracle Network Hospitals staff members, miracle families, and your Dance Marathon peers about the miracles you have made possible and the lives you've impacted. We are so grateful for your commitment to Dance Marathon over the years and want you to know that you've changed kids' health and changed the future.
Please visit this link to register and once complete, submit a photo of your favorite Dance Marathon moment here. We will be utilizing these images in our ceremony programming. If you have video footage from your 2021 event, any special moments or memorable programming to share, please upload those as well. We need your submissions by April 23rd at 5pm PST in order for them to be incorporated into our programming. Additionally, we ask you to avoid, if possible, sending in photos that feature "FTK" or "For the Kids."
We look forward to seeing you virtually on May 18th to recognize all that you've done for CMN Hospitals!
---
Miracle Network Dance Marathon is an international movement, involving over 400 colleges, universities and K-12 schools across North America that fundraise for their local Children's Miracle Network Hospitals. Since its inception in 1991, Miracle Network Dance Marathon has raised more than $300 million–ensuring that no child or family fights pediatric illness or injury alone.
Learn more about Miracle Network Dance Marathon: