Children's Hospitals Week 2021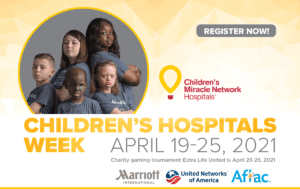 This year's Children's Hospitals Week is a free, online experience available to everyone. Beginning April 19 at 9 a.m. EDT, the choose-your-own-adventure Virtual Showcase will give registered attendees 24/7 access to hours and hours of inspirational and entertaining content from videos to games to downloadable content, and more. We encourage Dance Marathon programs to engage with this Virtual Showcase whenever their schedules allow.
On Tuesday, April 20 at 12 p.m. EDT during the Main Stage session, Dance Marathon will be featured and the Dance Marathon Network Partner of the Year will be announced. While we hope programs will tune in throughout the week, we highly recommend they join on Tuesday to see the impact of their hard work on local children's hospitals and campus communities.
You can view the detailed schedule of events here. Be sure to register so you can see your hard work and incredible impact featured!