URI Shatters First-Year Dance Marathon Fundraising Record
This past weekend, students at the University of Rhode Island hosted their inaugural Miracle Network Dance Marathon event, shattered a national fundraising record, and inspired a movement on their campus.
At the end of their eight-hour Dance Marathon event, RhodyThon revealed their annual fundraising total of $147,903.28, which will donated to Hasbro Children's Hospital–the local Children's Miracle Network Hospital in Rhode Island.
This total made them the highest fundraising first-year program in the history of Miracle Network Dance Marathon, which began at Indiana University in 1991 and now includes over 300 colleges and universities. The record was previously held by Dance Marathon at Louisiana State University, which raised $105,557.88 during their inaugural year in 2013.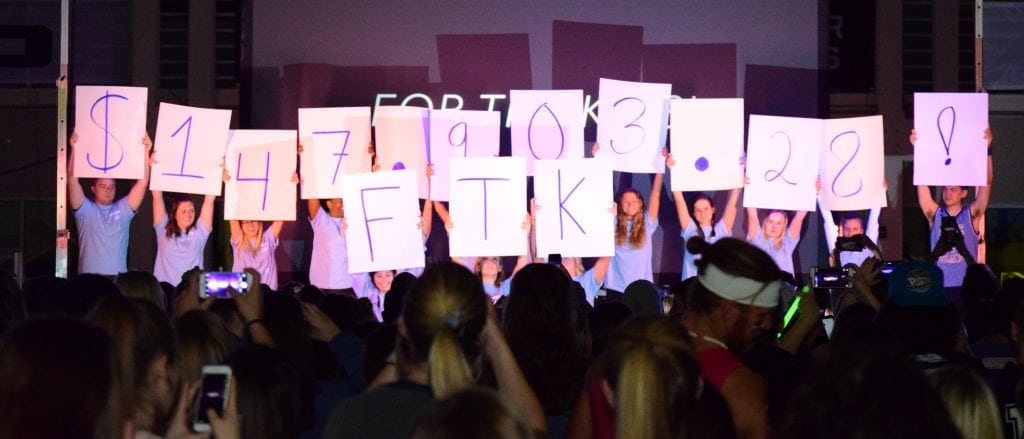 Back in February 2017, several URI students began to talk about what it would look like to start a Dance Marathon on their campus. They had heard about Dance Marathons at other schools, including nearby University of Connecticut, and one student had participated at her previous school before she transferred to URI.
One of the students leading the effort, Austin Shission, recognized that there were a number of philanthropic events on campus, but that they typically involved mailing a check to the benefitting organization and not as much connection to the cause.
"Dance Marathon gave us an opportunity to come together as a campus community to actually celebrate our fundraising and meet the people who will benefit from the fundraising," Shission said.
A number of staff and administrators on campus have had children treated at Hasbro and have been willing to share their personal experiences with the students to inspire them to get involved in supporting the cause.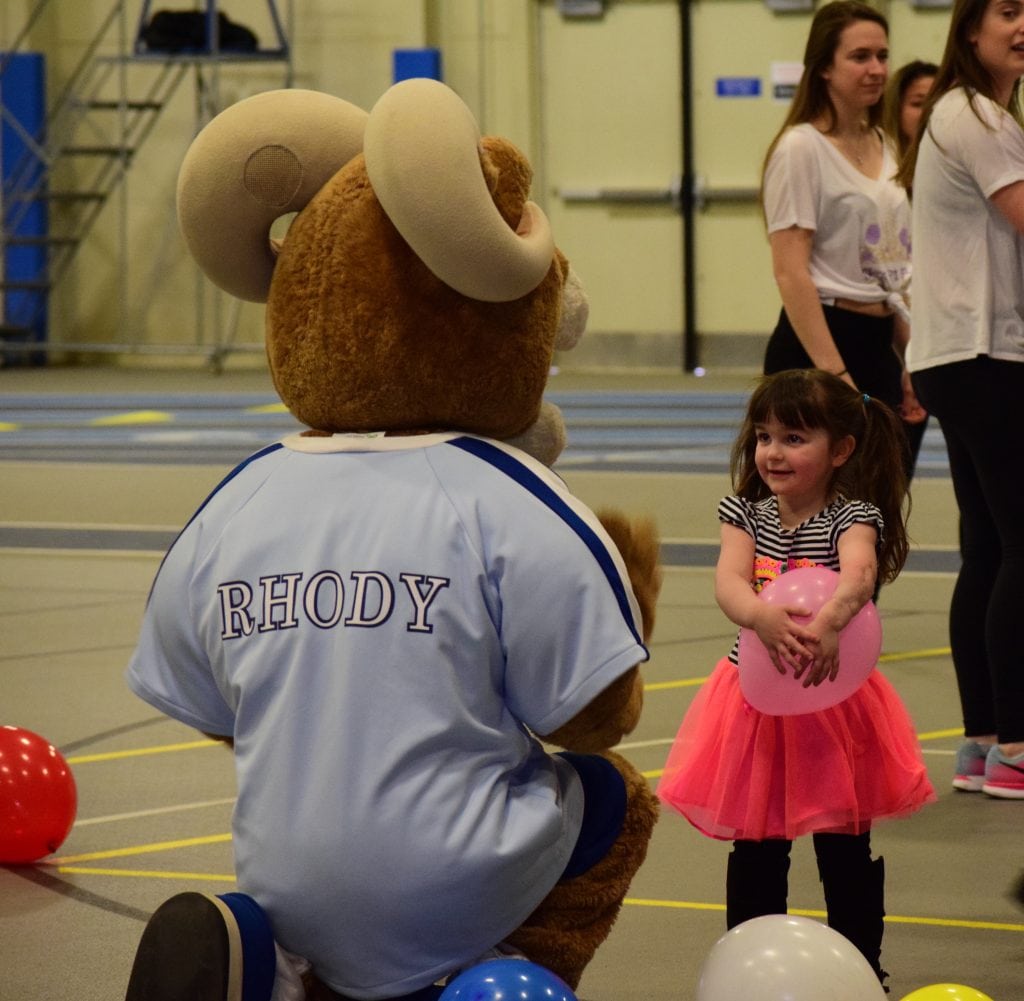 Just about a year after the initial conversations about starting Dance Marathon at URI began, RhodyThon entered their event with over 2,000 students registered to participate and fundraise and a goal to fundraise $100,000.
The RhodyThon student leaders had reached out to every organization on campus to tell them about the national Miracle Network Dance Marathon movement and encourage them to be a part of starting the tradition at URI.
RhodyThon was heavily supported by the fraternity and sorority community on campus, with many chapters encouraging their members to participate and fundraise. Phi Sigma Sigma sorority was the highest fundraising team, raising over $13,674, followed closely by Zeta Beta Tau fraternity, which raised $13,283. Several athletic teams, including the women's volleyball and equestrian teams, and student organizations, such as We're Offering Women Wisdom, also joined the campus-wide movement supporting the local hospital.
"URI has a ton of untapped school spirit," Shisson said. "This was an opportunity to show what we're about and what we as students can accomplish together."
RhodyThon's year-round efforts culminated in an eight-hour Dance Marathon event, which featured several patient families from the local hospital sharing their stories, live music, performances from student groups on campus, and activities such as card making, basketball and volleyball set up around the gym.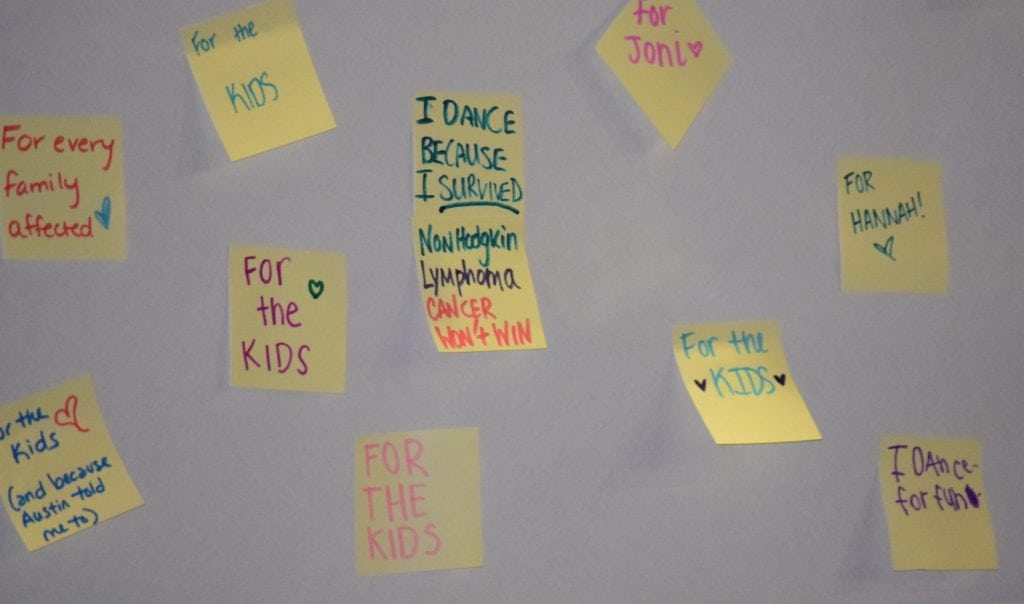 A "Why" Wall was set up where students could write why they, personally, participated in the Dance Marathon. This showed how much the cause they were benefitting resonated with students, as many of them wrote names of friends and loved ones who have been treated at children's hospitals.
Shisson said that, from the entire year of planning, he's most proud of the outpouring of support from the campus community within the last week before their event. "On the Monday before, I told everyone that we were at about $75,000 and still had a lot of work to do to raise to reach our $100,000 goal."
"One day we raised $9,000 in a day and I thought that was great. Then we raised $11,000 in a day. And on the day of our event, we raised $25,000 with about 1,400 students that showed up at the Dance Marathon" he added.
It's evident that the URI student body was inspired by this movement and the opportunity to support their local CMN Hospital. The large majority of the overall fundraising total was raised by individual students reaching out to friends and family members to ask for donations through their online fundraising website.
The 2,210 students that registered for RhodyThon raised an average of $58.38 each, with 122 students who individually raised over $200 and five students who raised over $1,000 each.
Shission said that he's heard great feedback since the event and have had a number of students reach out wanting to be involved in planning for next year.
After a record-breaking inaugural year, the future is bright for RhodyThon as they join this generation, fighting for the next.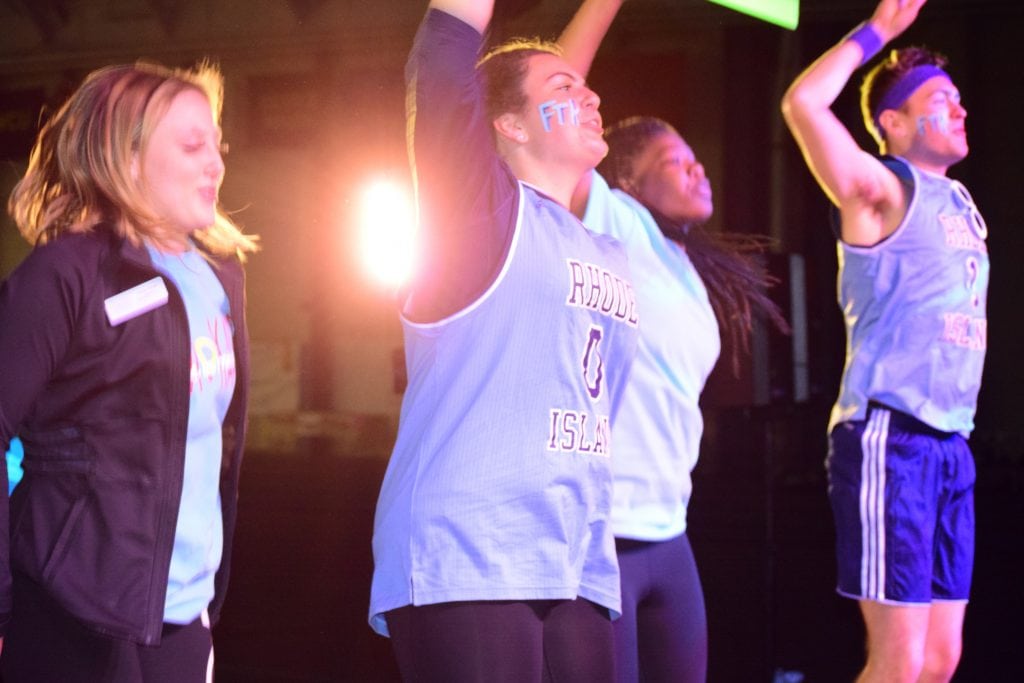 ---
Miracle Network Dance Marathon is an international movement, involving students at over 400 colleges, universities, and K-12 schools across North America that fundraise for their local Children's Miracle Network Hospitals. Since its inception in 1991, Miracle Network Dance Marathon has raised more than $217 million–ensuring that no child or family fights pediatric illness or injury alone.
Learn more about Miracle Network Dance Marathon: