University of North Georgia Senior Receives 2019 Miracle Network Dance Marathon Distinguished Leadership Award
From the thousands of graduating seniors who have participated in Miracle Network Dance Marathon at the approximately 300 colleges and universities across the U.S. and Canada, twenty students were selected to receive the 2019 Miracle Network Dance Marathon Distinguished Leadership Award for making an exceptional impact within their Dance Marathon program, on their individual campus and for their local Children's Miracle Network Hospital. To see all of this year's recipients, click here.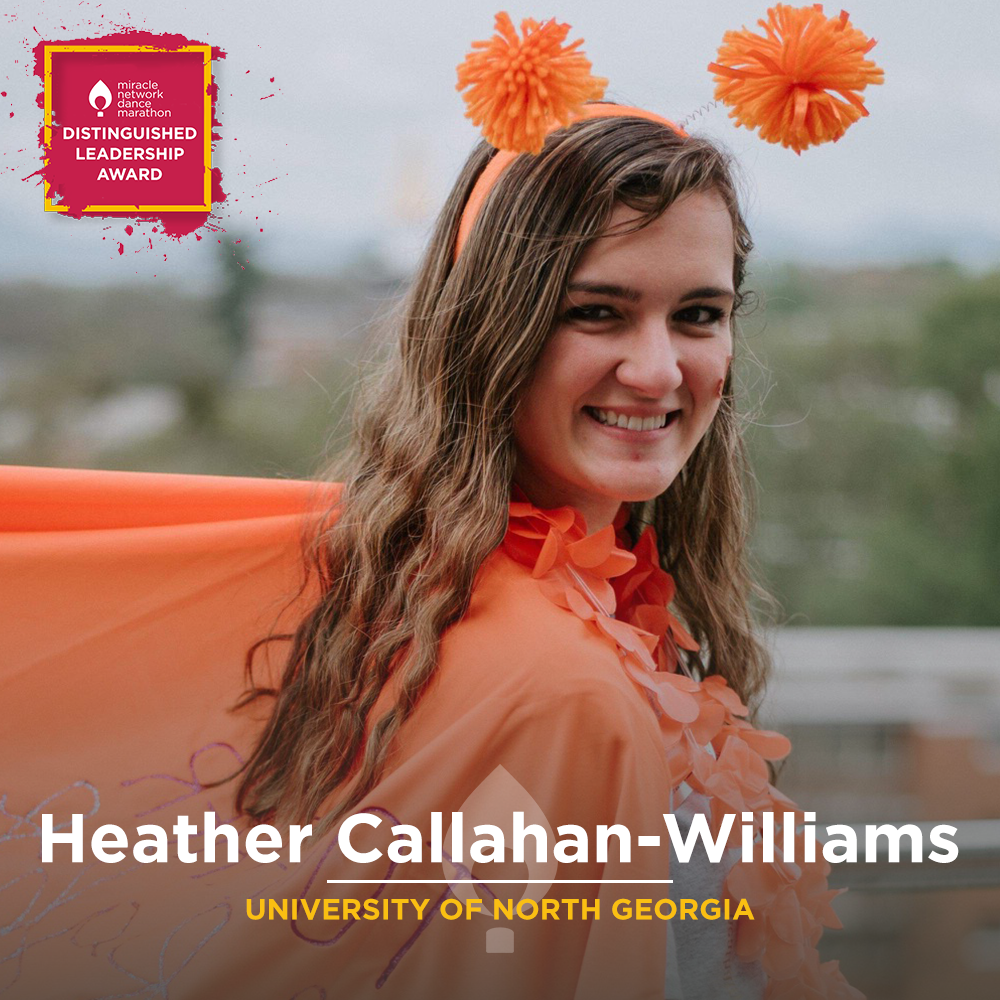 Hometown: Kennesaw, Georgia
Degree(s): Bachelor of Science in Kinesiology with an Emphasis in Exercise Science; Minor in Spanish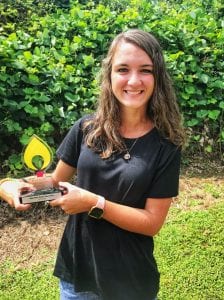 Dance Marathon Involvement: I founded Hope at UNG (now Miacle UNG) the very first day of my freshman year of college at the University of North Georgia. I had been working on it all summer but it was approved the first day of school. I served as President the first two years and we participated in UGA Miracle's Dance Marathon at the University of Georgia where we raised $12,000 for their DM in total over two years. Then, our third year I served as Executive Director for the first dance marathon on our campus. We set a goal of $20K and we raised $42,299.62 for Children's Healthcare of Atlanta. This year, I served on the family relations committee and I was a family pal for one of our miracle families and also helped our new Executive Director with the transition. During these last two years, I personally fundraised over $1,800 for our local children's hospital.
Campus/Community Involvement: Aside from Dance Marathon, I am have also been a member of Delta Phi Epsilon since my freshman year and served as community service co-chair in 2017. I have been involved in the Wesley student ministry throughout my four years at UNG as well and this year I am serving as a leader on our hospitality committee. Lastly, for the 2018-2019 year, I have been serving as the community chair for Relay for Life.
Awards/Recognition: I have been on the Dean's List and the President's list throughout my 4 years at UNG. Last year at the national Dance Marathon Leadership Conference, Miracle UNG also won Best New Dance Marathon while I was Executive Director. Miracle UNG also won best Marketing club at UNG last year.
Post-Graduation Plans: I plan to attend physical therapy school to pursue my Doctorate in Physical Therapy. I then want to work at Children's Healthcare of Atlanta as a physical therapist.
Why do you, personally, participate in Dance Marathon?
I was a relatively healthy kid, and I would go to Children's Healthcare of Atlanta (CHOA) for bad cases of strep, broken finger, soccer injuries, and some stomach problems I occasionally had since birth. But when I was 16, I developed anaphylactic allergies to all nuts and I had never been allergic to them before, and around the same time, my intestinal problems became overly complicated. I sought out the care of a specialized motility doctor at CHOA, Dr. Garza, and he saved my life. He performed surgery on me as well as a few procedures, he never gave up on my complicated case. He also gave me quality of life as well. But a little while later, I started becoming very run down, missing soccer practices, waking up in night sweats, feeling extremely fatigued. I had some bloodwork done that came back as a little abnormal but not by a lot. Then I found a lump in my neck. I had a PET scan done and my neck lit up. I had a very rare form of lymphoma called Small Lymphocytic Lymphoma. The AFLAC center saved my life more than once. I met amazing families who are now some of our miracle families. I met my husband during this journey, and he was enlisting in the army at the time. He proposed to me in garden at CHOA before he was deployed in 2016. CHOA gave me the ability to live my life so I vowed to give back to the hospital that saved me. I wanted to shed a light on childhood illness and give hope to the families who had none. I cried when I aged out of CHOA because you build such a relationship with the staff and other families. When you walk in, it doesn't feel like a hospital, it becomes a second home. While much of my life is complicated with side effects of treatments like seizures, and secondary diseases, I would not trade my life because I have found joy not despite being sick, but while being sick. If not for getting sick, Miracle UNG might not have been created and the $95,375 raised by our program these last two years would not be donated to the hospital.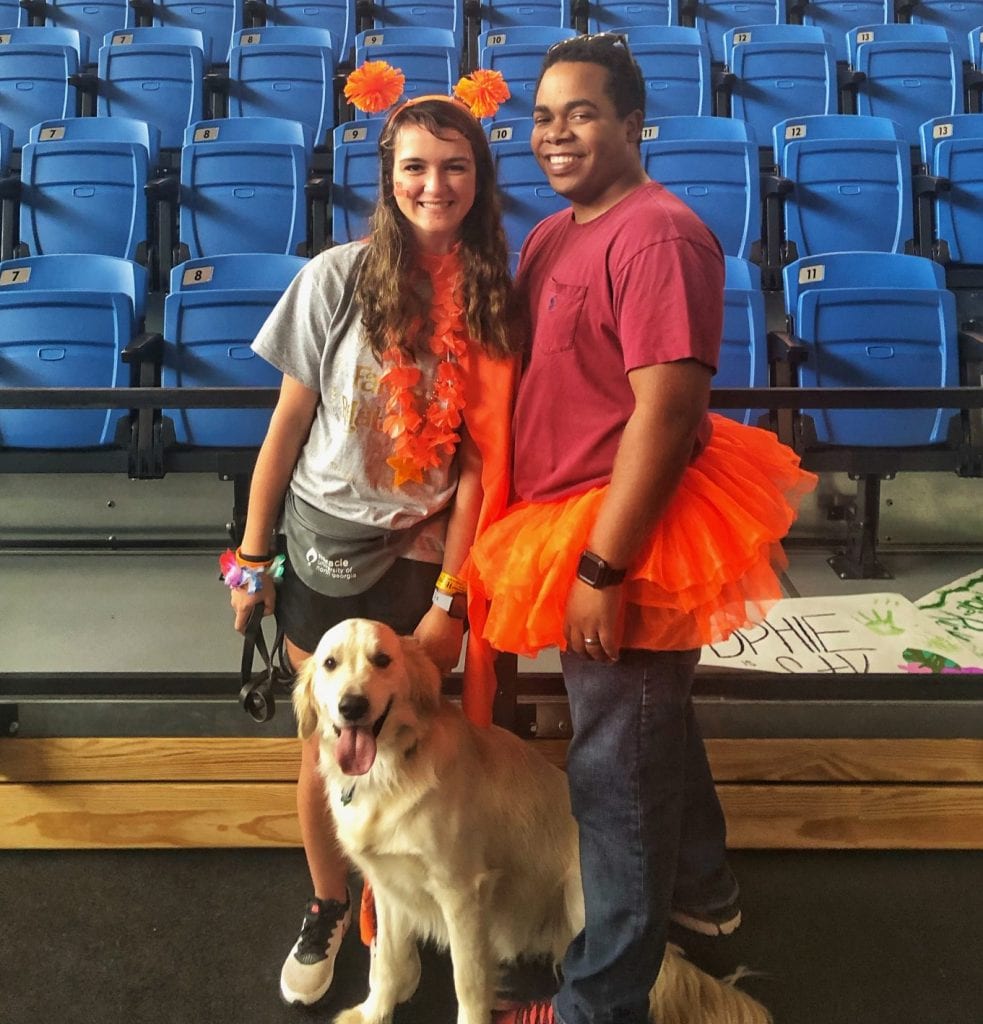 What personal accomplishment/contribution are you most proud of from your involvement in Dance Marathon?
When Hope at UNG, now named Miracle UNG, attended UGA Miracle's dance marathon (DM) our first two years on campus, it was only a dream to have dance marathon on our campus one day. But, in our second year, myself and my husband had gotten close with one of UGA's Miracle families and the father asked why I did not bring dance marathon to UNG. I responded with "I do not even know how I would go about that". So, he introduced me to the DM manager that works at Children's Healthcare of Atlanta (CHOA) and we talked over the summer, and myself and about 8 others talked a lot about it and decided to go for it. We had so many obstacles with the school, participation, figuring out leadership positions, the structure of dance marathon, our location, sponsors, timing, but we did it. We hosted a successful 5k in the fall, and we hosted a very successful DM in the spring where we raised $42,299.62. I personally raised $1,300 which exceeded my goal by hundreds of dollars. We also won Best New Dance Marathon at the 2018 Dance Marathon Leadership Conference, and, in that moment, I have never been prouder of what we did as a school, a new program, and how far I'd come personally in my journey as our founder and Executive Director.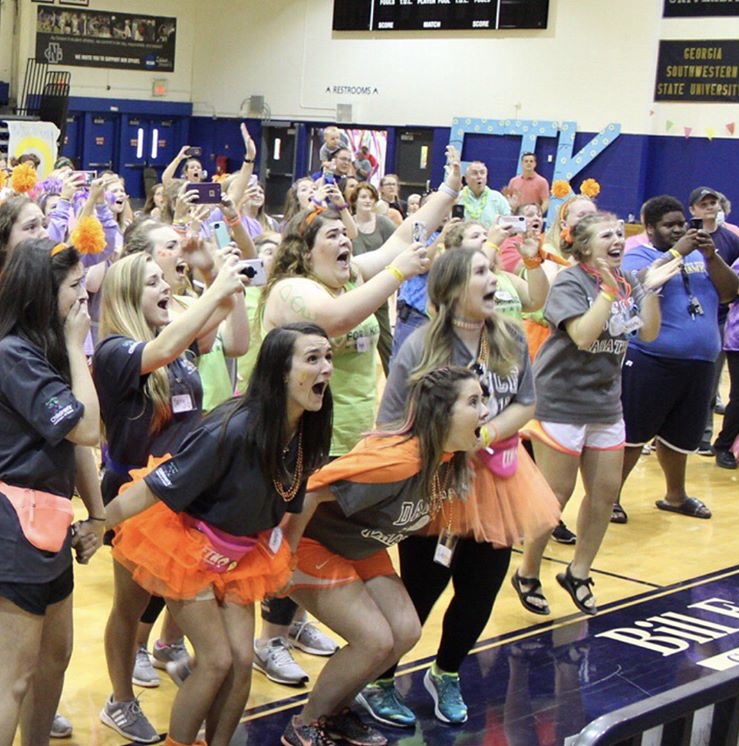 How has Dance Marathon impacted you as a student leader? What specific skills have you developed during your involvement?
Dance Marathon is one of the greatest, most wonderful, student-led programs I have ever participated in. I learned the type of leader I was, and the type of leader I needed to be. Sometimes those were not the same person, and that took time to grasp. I am a perfectionist and had a hard time delegating in the beginning, and I learned that not everything will go perfectly in event. I learned to let the little things go and that is a skill I treasure in my daily life now. Delegating tasks were difficult early with Miracle because I played many roles our first few years but trusting others and the members on my team taught me skills I will need in my career after graduation. I learned how to communicate with others, and that people communicate in different ways. Some members on my executive board worked better with me letting go and giving them free reign, and others needed specific direction. Being a leader is hard, and it is amazing, and Dance Marathon taught me skills I will use for the rest of my life.
Why should students get involved with Miracle Network Dance Marathon on their campus?
Students should get involved in dance marathon on their campus because you get to make an impact on your community in ways you could never imagine. People say college students are selfish, and we are just broke young adults who are immature. But, when you are involved in dance marathon, you change your own life, our miracle kids' lives, their family's lives, and ultimately, the lives of many families at your local CMN Hospital. You are giving them hope when they had none, you are putting them in a room with other kids like them where they do not have to worry about being bullied, you get to see miracles happen with your OWN eyes. It brings in the school, but it brings in the community as well. We are raising awareness on childhood disease and illness that many in the community do not know about. We think about adults being sick, but you do not picture a kid being chronically or terminally ill, or how common it can be, and we shed a light on that. We will dance until every child can dance. We stand for those who cannot. People should get involved in dance marathon because we are impacting the community one dollar, one hospital visit, one post on social media at a time.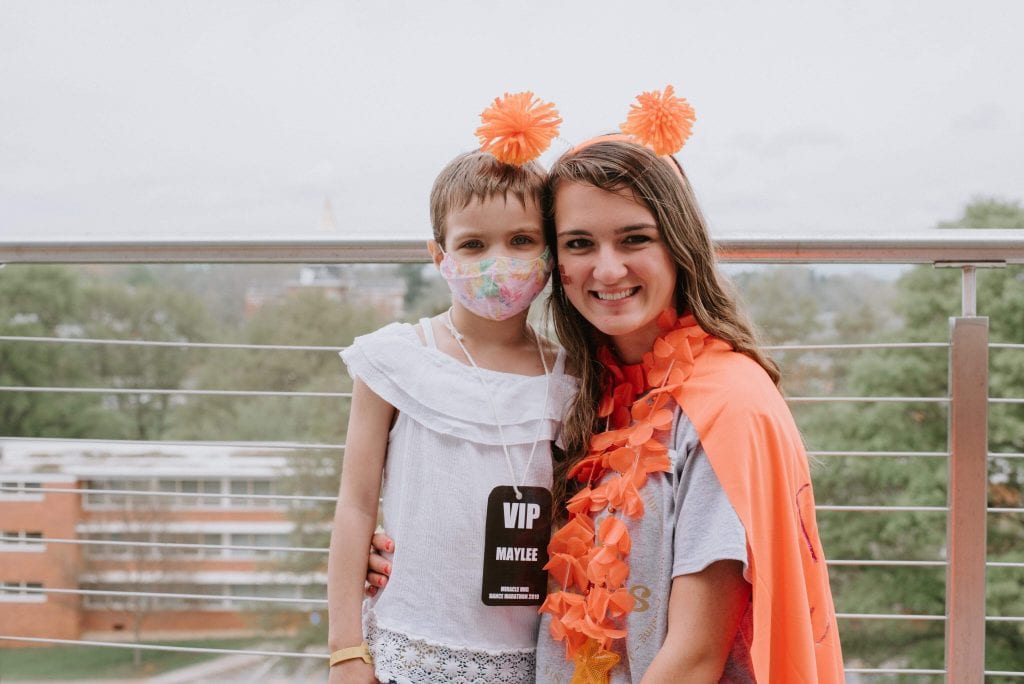 Why should people donate to their local Children's Miracle Network Hospitals?
People should donate to their local Children's Miracle Network Hospital because they go above and beyond for every patient. Every patient is special, every patient is more than their diagnosis, every patient deserves the chance at a real adulthood. Sometimes when I was in the hospital and things were bad, my favorite nurse would come visit me on her off days and bring me DVD's, games, and the occasional hospital therapy dog. Rehab therapists in the CIRU have costume contests at Halloween and put on skits for the kids, they buy a child their favorite game just so they have it. People should donate because these hospitals are non-profits. Vital members of the hospitals like child life specialists rely on donations from the community for toys, games, crafts, special events tickets, etc. Research and equipment's are also large factors in donating to the hospital. Our kids deserve updated equipment and many childhood illnesses are still so rare and not a lot of research funds are given (for example childhood cancers) so the hospital teams rely on grants to continue to do research for better and safer treatments. For example, a Rotationplasty is a relativity new procedure in the childhood cancer community for osteosarcoma patients but it is where part of your leg is removed, your ankle is rotated, and the ankle becomes you knee joint. This gives you better movement and a more natural gait pattern. Research like this gives our kids the best possible outcomes in the future and this was made possible by donations to our hospitals. There are so many reasons to donate to your local CMN Hospital, but lastly, camps provided through the hospital, like camp Kudzu for diabetic patients, camp No-Limb-itations for patients with amputations and limb deficiencies, give our kids a chance to not only be with kids like them for one week, but they have fun, and learn new skills. These camps are funded by donations. These hospitals make miracles happen everyday and without donations, none of this would be possible.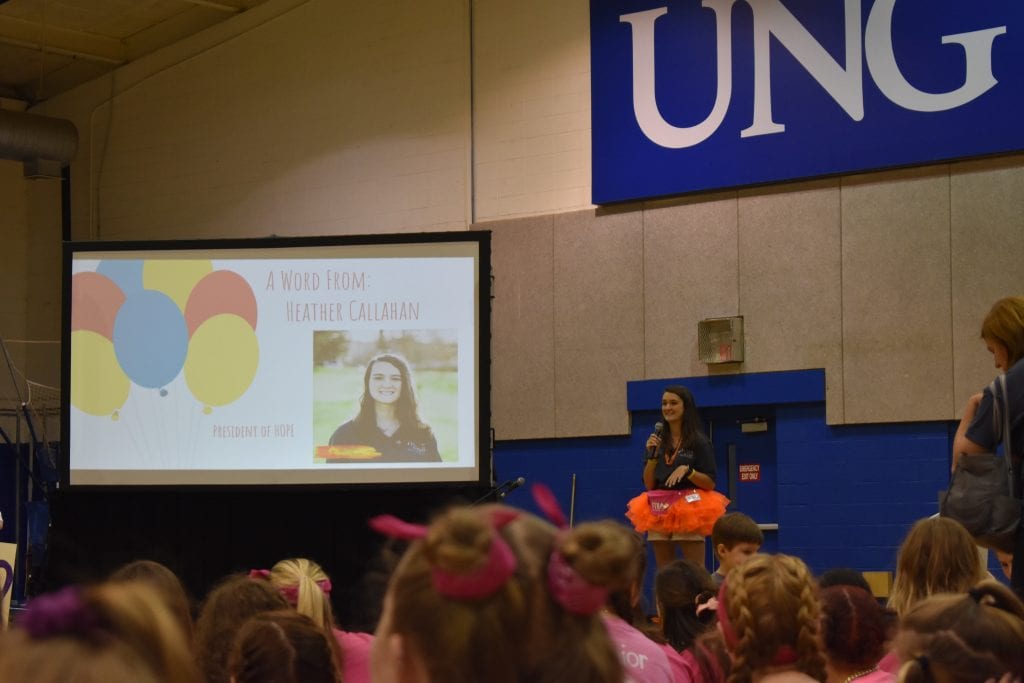 ---
Miracle Network Dance Marathon is an international movement, involving over 400 colleges, universities and K-12 schools across North America that fundraise for their local Children's Miracle Network Hospitals. Since its inception in 1991, Miracle Network Dance Marathon has raised more than $250 million–ensuring that no child or family fights pediatric illness or injury alone.
Learn more about Miracle Network Dance Marathon: