THE UNIVERSITY OF TEXAS AT AUSTIN- TEXAS THON RECEIVES THE 2022 DONOR STEWARDSHIP AWARD  
Miracle Network Dance Marathon recognized top performing Dance Marathon programs at the Dance Marathon Leadership Conference held in Atlanta, GA from July 21-24, 2022.
The University of Texas at Austin – Texas THON is the 2022 recipient of the Dance Marathon Donor Stewardship Award. Texas THON demonstrated outstanding donor appreciation through donor recognition, engagement, and communication practices. This program showed their appreciation of their donors by implementing a Texas THON Family Night, a virtual event designed to educate families of Texas THON internal members on what their child is doing in the Texas THON organization, how they are growing, and how much their contribution means to Texas' patients. Texas THON ensured donors received a heart-felt thank you after every donation, highlighting the importance of cause-connection in donor stewardship.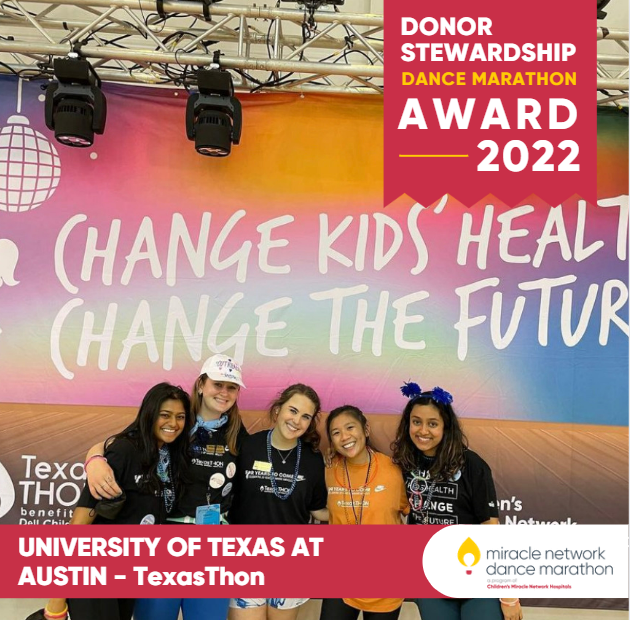 This program's exceptional ability to steward their donors with care and passion directly impacted their 2022 fundraising total; a phenomenal $145,348.20. Congratulations on the well-deserved Donor Stewardship award, Texas THON!
Miracle Network Dance Marathon is an international movement, involving over 400 colleges, universities, and K-12 schools across the United States and Canada that fundraise for their local member hospital of Children's Miracle Network Hospitals. These students work tirelessly throughout the year to raise funds- one dollar at a time- by making the ask to their network of family and friends. Their hard work culminates in a main celebratory event where participants have the opportunity to rally together for a final fundraising push that benefits their local member hospital of Children's Miracle Network Hospitals. Students involved in Dance Marathon gain valuable skills in fundraising, leadership, and philanthropy. Miracle Network Dance Marathon programs have collectively raised more than $300 million since 1991.
To join the Miracle Network Dance Marathon Movement, click here.