RETREATS AND MANAGING A TEAM
Taking the reins as leader of your Dance Marathon is an exciting experience!  The world is at your fingertips when you start to consider the possibilities that lie ahead of you.  With so much to do, you might be wondering where to start. Read on for more tips and resources to help you start your year on the right foot.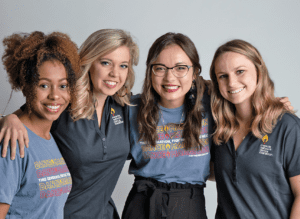 Leadership
If you've been part of an on-campus organization, you know that the leaders often keep things running by organizing meetings, establishing processes, and setting deadlines.  The same things must be done now that you're in charge! Some general tips for leadership:
Have frequent check-ins – Call your team, see how they're doing individually, and learn what's happening in their lives outside of Dance Marathon.

Continue your cause connection – Bring cause connection to every meeting to remind one another why you do what you do!

Be available – Have designated "office hours" to work on Dance Marathon and be available for your team to drop-in for chats (in person or virtual).

Set clear deadlines and communication guidelines – Let your team know the expectations for work and communication.  These expectations may be different if your campus is on break or operating virtually, but the expectations should still be made clear to the team at all times.
In addition to the tips above, it is important to continually develop yourself as a leader.  Consider attending a class or workshop facilitated by your campus leadership office, or do a self-guided study, such as The Student Leadership Challenge (available from Amazon and many other booksellers).
Recruitment
It's quite possible that you still have a few vacant positions on your leadership team to fill!  If you are looking for new applicants, start by looking internally with the following methods:
Shoulder-tap any standout team members or participants

Use a "member referral form" for outgoing leaders to "nominate" a new applicant

Intentional messaging that identifies the specific needs of the organization or strengths of a particular applicant
In addition to internal applicants, consider seeking participants externally.  You can generate interest by hosting DM info sessions (live or virtual), sending targeted emails to past participants, and using strategic social media posts to encourage students to apply.
Retreats
Once your team is complete, it's important to host a leadership retreat.  This setting allows your team to build relationships and learn more about one another while also casting vision for the coming year.  A few activities you can try are:
For more retreat planning resources, check out the Dropbox for retreat planning materials.
Hear more about these topics by watching the full webinar here.  You can find this and many other past webinars on the Miracle Network Dance Marathon YouTube channel.