Mercer University Senior Receives 2020 Miracle Network Dance Marathon Distinguished Leadership Award
From the thousands of graduating seniors who have participated in Miracle Network Dance Marathon at the approximately 300 colleges and universities across the U.S. and Canada, 25 students were selected to receive the 2020 Miracle Network Dance Marathon Distinguished Leadership Award for making an exceptional impact within their Dance Marathon program, on their individual campus and for their local Children's Miracle Network Hospital. To see all of this year's recipients, click here.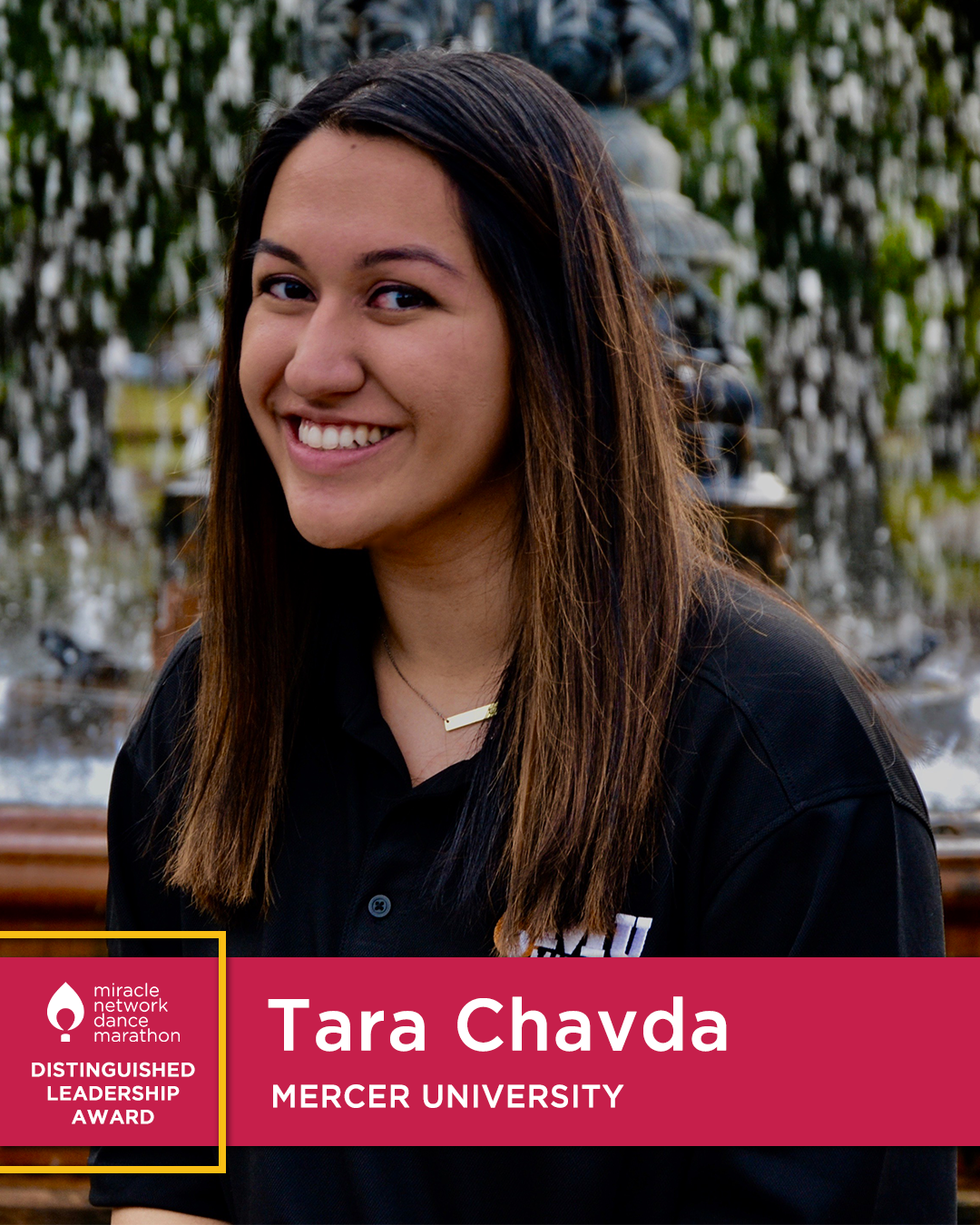 Hometown: Alpharetta, Georgia
Degree(s): Bachelor of Science in Engineering (BSE) with minors in Business Administration & Biology and Chemistry
Dance Marathon Involvement: My involvement in Mercer University Miracle began as a participant in freshman year to External Director in junior year and Executive Director in senior year. I was a member of the Hospital and Family Relations and the Special Events Committee in freshman and sophomore years respectively. My fall semester of sophomore year, I was on the Miracle Maker team, and by my spring semester, I was asked to be the Director of the Special Events. I have been honored to serve as Executive Director this past year. My incredible team is composed of 15 executive members and 29 Miracle Makers. My goals for the year are to keep the cause central, involve more people, and "Fight Like A Kid". My personal goal is to raise $1,460 for the 1,460 days I have been at Mercer University while there have been kids going to Beverly Knight Olson Children's Hospital every day for treatments. To date, I have personally fundraised $2,602.66.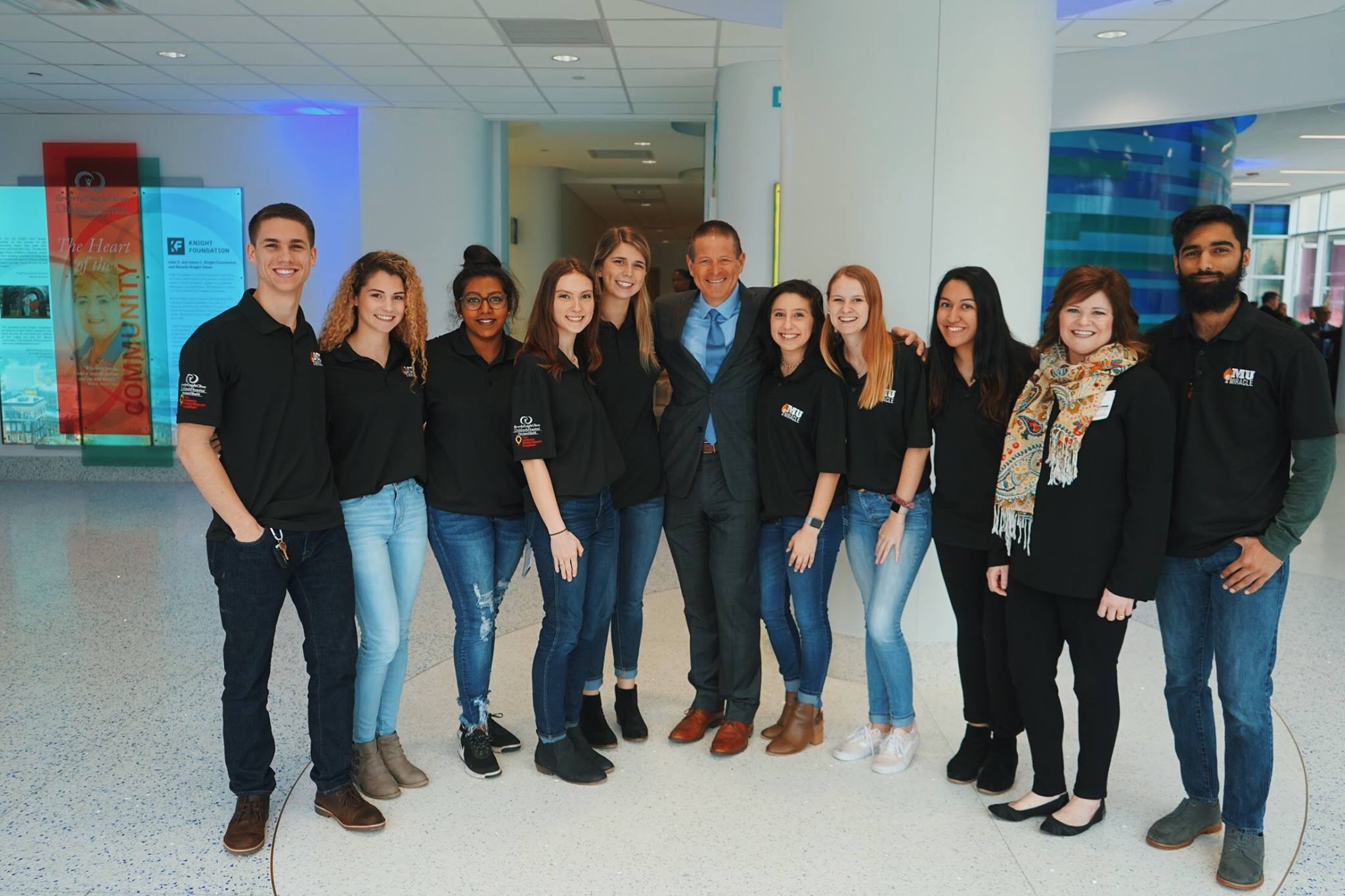 Campus/Community Involvement: 
Leadership roles: Founder and President and Director of Mentorship of Biomedical Engineering Society; Phi Mu Fraternity Community Service Chair, Panhellenic Delegate, and Honor Chairman; Rangreli, Bollywood Fusion Dance Team: Public Relations Chair and Dancer
Involvement: Go Baby Go Build: I designed and modified toy cars adapting them to support children with different physical abnormalities for 8 semesters over 4 years; Engineering Honors Research: I have completed my own research project to create universal, low-cost scoliosis back brace; Virtual Reality Research: Student researcher & programmer focused on creating medical surgery programs;  Mercer on Mission to Vietnam: fitted 431 people with prosthetic hands and legs, treated 1980 in the Orthopedic Clinic, completed Electromyography Gait Analysis & Research with above and below-knee amputations, learned Vietnamese, basics of medicine, physical therapy, and pharmacy
Employment: Bear Force Student University Worker, Game Day Event Team Staff, Student-Athlete Study Hall Monitor
Other involvement: Mercer Prosthetics and Orthotics; Mercer Masala; Phi Eta Sigma Honor Society; Volunteer at Beverly Knight Olson Children's Hospital; Volunteer at Computer Museum of America
Awards/Recognition: MU Miracle Rookie of the Year Award (2017); Top 5 Student Government Association Student of the Year (2019-2020)
Post-Graduation Plans: I am enrolled in Mercer's 4+1 Engineering Master's Program. I will be completing my Master of Science in Engineering (Computer Engineering) in May 2021. I will be working as a Graduate Assistant in the Mercer Athletic Department during my Master's year. After I graduate in May 2021, I hope to follow my passion of helping children by working in a Children's Hospital. I hope to earn my MD/MBA or DHA/MBA in the future to support my goal to become CEO of a Children's Hospital where I can contribute towards children's healthcare and supporting their families.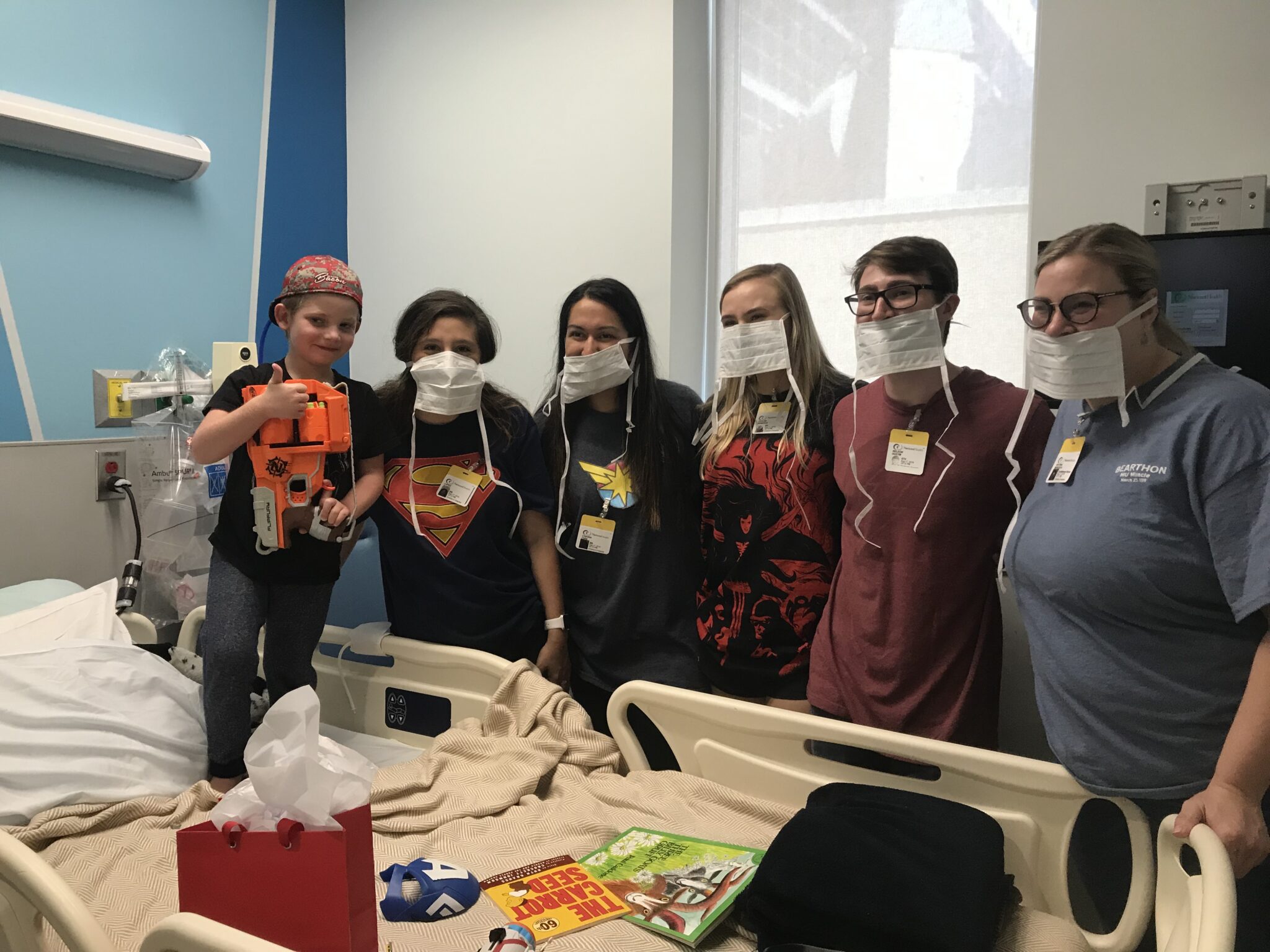 Why do you, personally, participate in Dance Marathon?
I came to Mercer knowing that I wanted to volunteer at the Children's hospital and support it. I found a way to support the hospital through Dance Marathon and by volunteering at BKOCH. My experience with Dance Marathon and CMNH started by grabbing red wagons and taking mail to the kid's room, but my Why has continued to grow each year being a part of MU Miracle. My Why has grown from seeing a beautiful hospital open in Macon, GA, to building a relationship with our miracle families to developing a sense of community and being able to call Macon "home" because of this organization. MU Miracle has become a part of me and my college experience. It helped me realize no matter what differences people may have and the different stories in our lives, there is one thing we can all unite on. An idea that is so simple – every kid deserves the opportunity to be healthy and happy.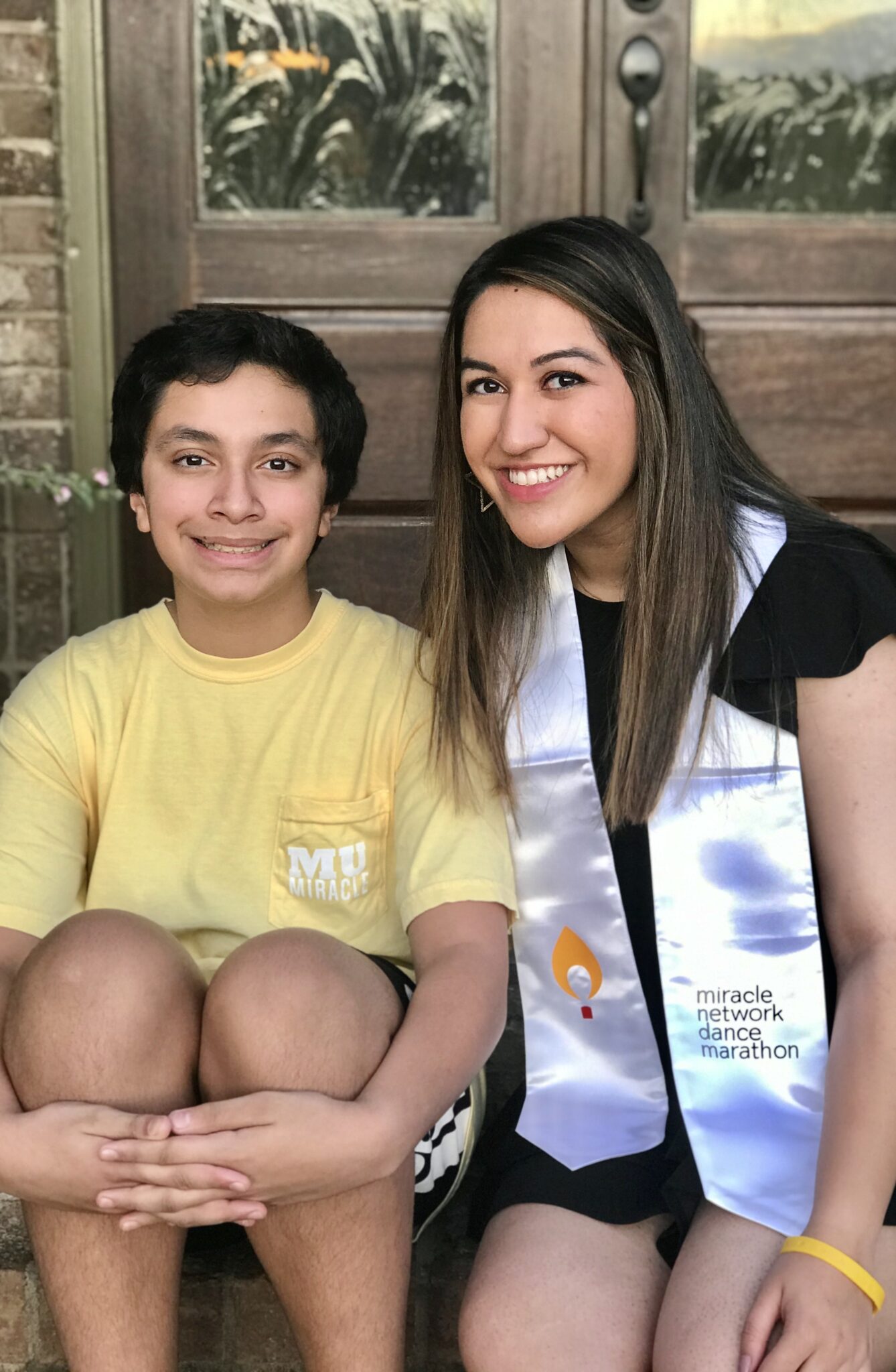 How has Dance Marathon impacted you as a student leader? What specific skills have you developed during your involvement?
I became a better person by learning how to work with a large diverse team to accomplish our goals. The specific skill I learned was how and when to delegate tasks and projects to my team and monitor their execution. I learned to control myself from not doing my team's tasks, but rather empower and support them to do it. Through each position, I learned something new and grew each year. I learned how to handle disappointment, stress and how to be positive even when times seemed the toughest. These experiences over the past four years, and the support and love from my advisors and peers, have shaped me into the leader I am today. Without Dance Marathon, I would just be an Engineer working in the lab every chance I have. With Dance Marathon, I am a student leader on campus and an Engineer who has significant experience in leadership that I can apply in my career and the future. I am forever grateful to MU Miracle and Dance Marathon for helping me grow into the person I am today, I couldn't imagine being anyone else now nor would I want to be.
What personal accomplishment/contribution are you most proud of from your involvement in Dance Marathon?
My proudest accomplishment was exceeding my personal fundraising goal on Spring push day this year. To fulfill my dare, I walked in a 7-foot tall T-Rex costume with a sign saying "For The Kids" on campus all day. I entertained Mercer students, faculty and staff. The professors played "Tag a Professor" where I was sent to various offices and classes, including the Dean of the Engineering School and his 100 student engineering class. I raised awareness on the campus for MU Miracle and our mission. I also sent videos of walking around campus to our miracle families and they all appreciated and we shared a good laugh. MU Miracle has been such a large aspect of my college career that I have innumerable moments that I am proud of. I am proud that I had the privilege of fighting with my generation, my family, and my team to fight for the next.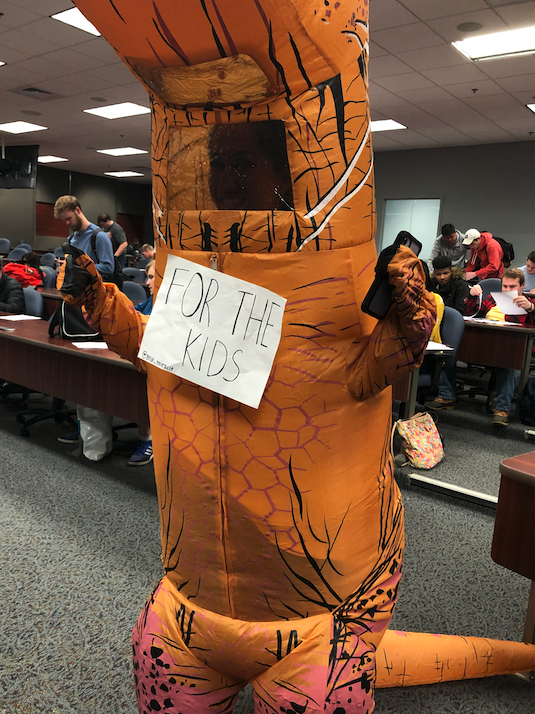 Why should students get involved with Miracle Network Dance Marathon on their campus?
Mercer University's motto is "every student majors in changing the world". Our world starts with our community. Miracle Network Dance Marathon offers EVERY student the opportunity to support our local community for the better. Dance Marathon is an organization that unites us all as one generation fighting for the next. Any and every student can join and be welcomed with open arms. Dance Marathon is home for every student who wants to make a difference and improve as a leader. To be a leader in Dance Marathon isn't defined by the title, anyone can be a leader in this organization. John C. Maxwell once said that "Leadership is more disposition than position—influence others from wherever you are". By joining Dance Marathon, students are able to follow their passion, take initiative and find a community that will support them.
Why should people donate to their local Children's Miracle Network Hospitals?
Hospitals across our country NEED funding and supplies to treat children with all types of illnesses and provide for their care. People should donate to their local CMNH hospital to protect their community, their friends, and their loved ones. You may not have someone right now that has been in the hospital or had any of these experiences. But if you did – wouldn't you want your community and others fighting for your loved one as well? Children's health has impacted or will impact us all. Things happen that we have absolutely no control over. But we have control over how we respond and support each other as human beings. No matter what differences people may have and the different experiences in our lives, there is one thing we can all unite on. An idea that is so simple – every kid deserves the opportunity to be healthy and happy.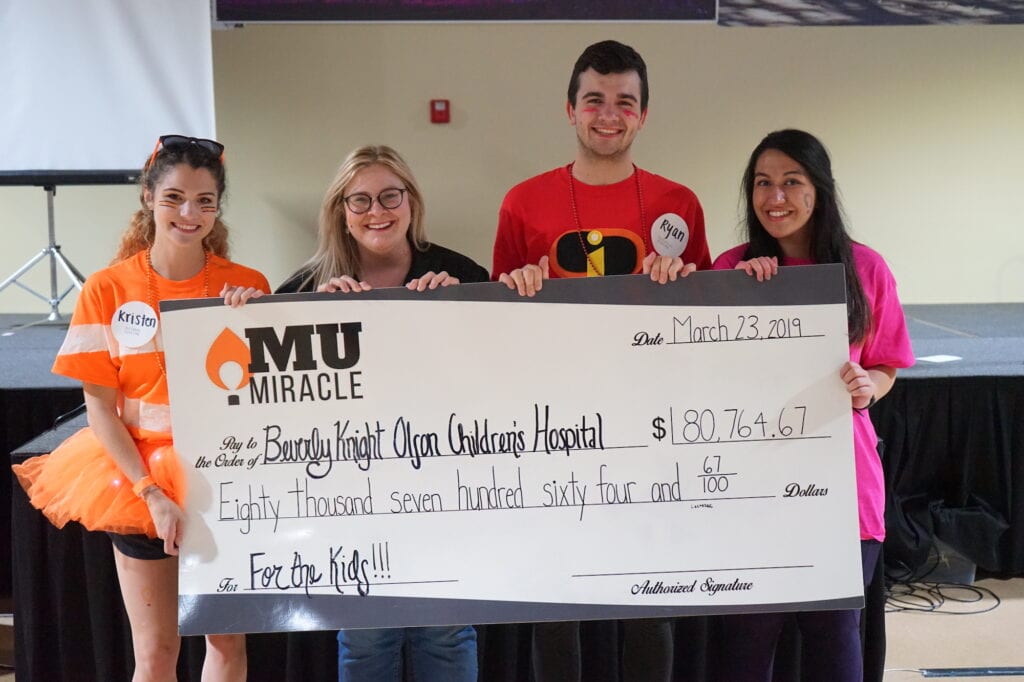 ---
Miracle Network Dance Marathon is an international movement, involving over 400 colleges, universities and K-12 schools across North America that fundraise for their local Children's Miracle Network Hospitals. These students work tirelessly throughout the year to raise funds one dollar at a time by making the ask to family and friends. Their hard work culminates in a 6-40 hour celebration on their campus, where participants have the opportunity to rally together as a community for their local Children's Miracle Network Hospital. Students involved in Dance Marathon gain valuable skills in fundraising, peer management, delegation and philanthropy. Miracle Network Dance Marathon programs have collectively raised more than $300 million since 1991.
Learn more about Miracle Network Dance Marathon: